Ron Howard says there's been talk of a Willow sequel. Ed Solomon teases what to expect in Bill & Ted Face the Music. Paul W.S. Anderson's Monster Hunter adaptation casts an unsurprising star. Plus, the Supernatural spinoff Wayward Sisters is no longer happening, and a new look at Agents of SHIELD's season finale. Spoilers now!

Willow 2
Speaking with Comic Book, Ron Howard revealed discussions are underway for a sequel to 1989's Willow.
I don't want to give away too much, but there is a little talk of Willow. We wouldn't call it Willow 2, I think it would focus a lot on Elora Danan, although Willow would have to be significantly involved.
---
Bill & Ted Face the Music
Writer Ed Solomon gave Collider a more in-depth synopsis of the film's plot.
Bill and Ted were told at 16 that they were going to be the greatest people who ever lived. That they were gonna write a song that is going to save the world, and it hasn't happened. And now they are middle-aged men. They've got wives who used to be princesses in medieval England who are now working double shifts at Denny's, they've got teenagers that are about to leave home, money is tight, and they've been chasing this dream, writing song after song, when somebody from the future shows up and says, "You have 24 hours. The fate of all of space/time depends on it – and if it doesn't happen now, it's never gonna happen." Bill and Ted are confused because they know they had to have written it, because after all the people in the future told them they did.. so they just must not have written it yet. So in their desperation they decide their only option is to go into the future – to when the have written it – and to steal it from themselves. What follows is a kind of utterly absurd, Christmas Carol-like journey through their lives past, present, and future. Their daughters (Bill has a daughter named Thea, Ted's daughter is named Billie) are also very involved in trying to help them.
It's a total comedy, but I think it's really, really grounded in the sweetness that is Bill and Ted and the emotion of where they would be at this point in their life.
G/O Media may get a commission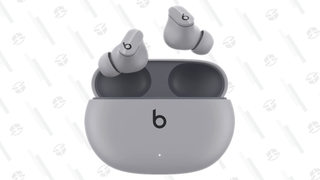 Meanwhile, actress Diane Franklin may have hinted she'll be reprising her role as Princess Joanna in a recent Facebook post.
---
Monster Hunter
Variety reports Milla Jovovich has signed on to carve up some Great Jagrases (Jagrasi?) in the Monster Hunter adaptation from director Paul W.S. Anderson. In a press release, Anderson cited the game's plotlessness will be a boon for creative license.
There are no real central characters so it's a bit like when we first approached Resident Evil and imposed our own characters and story on that world. I think this is a perfect IP for us to do exactly that same thing again. The Monster Hunter world includes these huge deserts that make the Gobi Desert look like a sandbox, and they have ships that sail through the sand. These full-on galleons, but rather than sailing on the ocean waves, they sail through waves of sand…You're fighting these giant creatures, some as big as a city block. They live underneath the Earth and when they burst out, it's like the best of Dune. You also have these flying dragons, giant spiders, the most wonderful creatures.
---
Rabid
Deadline reports Jen and Sylvia Soska (American Mary) are set to direct a reboot of David Cronenberg's Rabid, with Laura Vandervoort attached to star as Rose, a "young woman who becomes a ravenous bloodsucker after undergoing an experimental stem cell treatment."
---
F.E.A.R.
Machinima Studios is teaming up with Monolith Productions for a live-action adaptation of the video game franchise, F.E.A.R. The series concerns an organization known as the First Encounter Assault Recon accepting dangerous missions involving the supernatural. Greg Russo (who is also writing the upcoming Mortal Kombat and Resident Evil reboots) is slated to write the screenplay. [Screen Rant]
---
The Gingerbread Girl
Craig R. Baxley (Storm of the Century, The Triangle, Kingdom Hospital) is slated to direct a film adaptation of Stephen King's short story The Gingerbread Girl for Brainstorm Media. The story concerns a woman running afoul of an early bird serial killer during her morning workout routine. [Bloody-Disgusting]
---
Wonder Woman 2
Omega Underground reports Wonder Woman 2 is set to film on Tenerife in Spain's Canary Islands. The outlet speculates this could be the location Dr. Barbara Minerva is transformed into Cheetah.
---
Shazam
Filming has wrapped on Shazam, according to director David F. Sandberg on Twitter.


---
Incredibles 2

Frozone suits up in the latest TV spot.


---
Young Justice: Outsiders
Warner Bros. has released several pieces of promotional art for exclusive shows coming to its recently-named DC Universe streaming service, including the first officially-released promo art for Young Justice's long-awaited continuation—featuring some familiar faces alongside a few fresh ones.
---
iZombie
Good news! iZombie will live to bite another day, thanks to a fifth season renewal. [TV Line]
---
Charmed
TV Line reports The CW has officially ordered the Charmed reboot to series.
---
Roswell
Proving you can go back in time, the CW has also ordered the Roswell reboot to series. [TV Line]
---
The Wayward Sisters
Now for the bad CWnews: The network has decided not to go forward with the Supernatural spinoff.
---
The Greatest American Hero
ABC has also passed on their reboot of The Greatest American Hero starring Hannah Simone.
---
The Passage

Entertainment Weekly has our first look at Mark-Paul Gosselaar as Agent Brad Wolgast in Fox's adaptation of the vampiric saga.
---
Fear the Walking Dead
Naomi can't escape the stadium in a clip from next week's episode, "Just in Case."
---
Westworld
The trailer for next week's episode, "Akane No Mai," welcomes you to Shōgun World.
---
Agents of SHEILD
Finally, Coulson's life—and perhaps the fate of the world itself—hangs in the balance in the trailer for the season (and possibly series) finale of Agents of SHIELD, "The End."
---
Banner art by Jim Cooke.