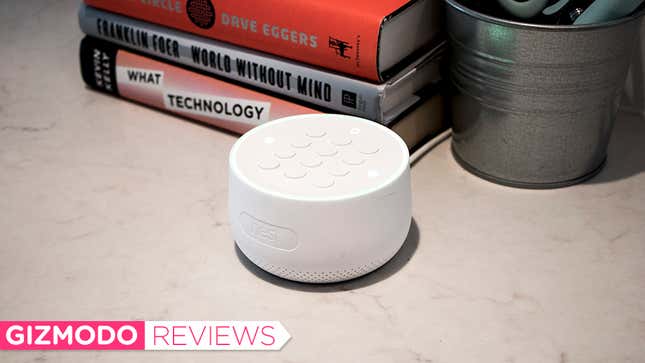 Nest's next big thing underwhelmed me at first glance. It wasn't anything different, just a home security system and some sensors. This, from the company that made me believe thermostats were incredible and futuristic. The product's announcement felt disappointing, but after spending some time with the system, Nest Secure, I have another feeling. Because innovation doesn't need to be mind-boggling to be interesting.
The Boogeyman's Sophie Thatcher Reveals What Draws Her to Dark Characters | io9 Interview
The fact that almost anyone can set up this modular security system and start guarding their home in a matter of minutes is neat. Paranoid suburbanites will love it. Beyond that, the high quality, modular hardware opens up loads of interesting possibilities for customizing your home security system—though the various Nest Secure components are expensive. Still, Nest appears to be forging a new type of home security experience, one that bucks that awful trends of legacy systems offered by companies like ADT.
The Nest Secure alarm system is a slickly designed series of products that work together to help you keep track of what's happening in your home. The centerpiece of it all is a hamburger-sized module called the Nest Guard. There's a simple keypad on the top that lets you use a passcode to arm and disarm the system. The Nest Guard also features a motion sensor on the front, a (very loud) siren, as well as a panic button on the back. Inside is a sensor that works with a small fob called the Nest Tag to arm and disarm the system.
Theoretically, you could just use the Nest Guard as an alarm system, but it would be pretty limited. The motion sensor on the module can only detect movement 10 feet directly in front of it. That means that the sensor won't trip when pets are running around if you put the Nest Guard on a counter. The sensor won't pick up movement beneath it. Still, the hardware's limitations is probably why Nest only sells the Nest Guard in a $500 starter pack with two Nest Tags (additional units cost $25) and two slick sensors called Nest Detects (you can buy more for $60 a piece).
The Nest Detect is a little widget that looks like a slightly elongated AA battery and sticks to your door or wall, where it can detect a couple different types of motion. Alone, a sensor can spot motion within a room, and the Nest Detect comes with a special mounting bracket so you can install it in the corner of the room for maximum functionality. Coupled with a small magnet the Nest Detect can sense when a door or window is opened. So you can pepper your house with Nest Detects and create an invisible fortress through which snoopers cannot pass. More or less.
The simplicity of the Nest Secure system is both a boon and a bane. It's true that you could set up a Nest Guard and a couple sensors in a small house or apartment in order to create a basic security system. That's what I did for my initial testing, and everything worked as advertised. When the front door opened, I'd get a notification from the Nest app on my phone. If I suspected that it was an intruder, I could trip the alarm or even call the police right away. This would be very handy if I were hiding in the closet waiting for the robbers to breach the threshold. It's less useful if I were across town and wondering if my girlfriend just got home early from work.
If it sounds too simple, don't worry. Nest will sell you some good old fashioned Nest Cams too. These wi-fi cameras have been around a while, so they're tried and tested. Prices range from $200 for a basic Nest Cam to $350 for a Nest Cam IQ Outdoor with facial recognition technology. Adding a Nest Cam or four really does turn the Nest Secure alarm system into a full-featured home security solution, one that blows its competitors out of the water in terms of usability and range.
The Nest software is equally elegant, although limited in its ability to work with non-Nest devices. If you're already a Nest fanatic, you'll love how Nest Secure connects to Nest Cams. You can easily add both indoor and outdoor Nest Cams to your security system and manage everything within the Nest app. That means you can do cool stuff, like see who just walked in the front door in real time. The newer Nest Cam IQ devices also feature facial recognition software that will let you know when an unknown face appears in the frame. This feature doesn't work perfectly out of the box, as different angles tend to confuse the facial recognition software, but it gets better in time.
Tying all of these things together is a new subscription service for Nest Cams called Nest Aware. For $10 a month (or $100 a year), Nest Aware will save your video history for 10 days at a time. You can expand that history to 30 days for $30 a month ($300 a year). The service also comes with some upgraded features like Intelligent Alerts, which distinguish between familiar faces and strangers, as well as Activity Zones, which track specific areas of view like a crib or a dog bed so you get more alerts when stuff happens there. Lastly, Nest Aware offers timelapse clips that sum up what happened over longer periods of time. Having spent a few days with the free trial, I can comfortably say that the additional functionality isn't necessary, but some people might find the video history handy.
So to sum up the proposition, the $500 Nest Secure starter pack will essentially let you secure two rooms. That's what I did. I installed the Nest Guard on my kitchen counter, offering limited motion detection in my living room. I also installed one Nest Guard on my front door, and one on my bedroom window. Additionally, I installed a $300 Nest Cam IQ in the foyer area so that it could track who's coming and going. That's $800 for a simple but effective home security system that I can control from my phone.
Now let's think bigger. If you own a three-bedroom house in the suburbs, you'll need to buy more than the basics. The $500 Nest Secure starter pack will cover your kitchen and garage. You'll probably want an additional $60 Nest Detect for the living room and all three bedrooms. If you're married with kids, you'll need a couple extra $25 Nest Tags. That brings the cost of the basic security system over $1,000. At this point, you might as well spring for two $350 Nest Cam IQ Outdoor cameras for the front and back of the house and at least one $300 Nest Cam IQ Indoor camera for thing your living area. This brings the grand total north of $2,000, If you want video storage, you'll spend at least $100 a year for Nest Aware, so just include those costs ad infinitum. For what it's worth, ADT's comparable Pulse service will cost you at least $2,100 over three years plus equipment and installation charges.
In a perfect world, I'd want the Nest Security system to operate as the hub of a futuristic smart home experience. I'd want the front door sensor to turn on certain lights throughout the house, and I'd want some soothing music to turn on when I disarm the system. Basically, I'd want full control, which Nest Secure does not offer.
The Nest Secure system does integrate with various Works With Nest Products. The functionality is limited, especially when integrating non-Nest products. My Philips Hue lights will work with Nest Secure, for instance, but only to run a preprogrammed routine that turns the lights on and off randomly when I'm not home. It's useful from a security standpoint. It basically sucks from a smart home angle.
This was never meant to be a review of a smart home solution, however. The Nest Secure is a home security system, and right now, it doesn't promise to be anything more. It works well at that, too. It's expensive. It could be more flexible, which it might be since new features are only a software upgrade away. The alarm is loud, which is what you want. The software is simple and stable, which is essential. The hardware actually looks nice, which is ground-breaking.
These accolades seem simple—but only if you haven't used other security systems. Other options in this category suck. Nest Secure does not. In fact, it's a delight to use. If you can afford it.
README
Modular components let you make your home security system as big or small as you need it to be
Each piece of hardware is beautifully designed, and the software is refreshingly elegant
Owners of large homes could end up spending thousands on sensors
Requires a Nest Cam and Nest Aware subscription to provide the very best security