How do you get your awesome iPhone pictures onto your computer? Plug it in? No! That's beyond annoying. Instead, use PhotoSync for iPhone and iPad. It wirelessly transfers photos to and fro your iOS device and computer. No cables allowed.
What is it?
PhotoSync, $2, iPhone and iPad. It's genius, really. It's an app that can get your pictures from your iPhone and bring it to your iPad or computer. Or get pictures from your computer and bring them to your iPad or iPhone. Or...yeah you get the point. It's wireless photo syncing that Apple should have implemented to iOS a long, long time ago. And it's fast! Grab your pictures and go, works over Wi-Fi and Bluetooth.
There are some steps you need to do to get started though. Namely get the free counterpart PhotoSync software onto your computer (Mac or PC) and connect both devices to the same Wi-Fi network.
So let's say you start with your iPhone, the app displays the images in your camera roll in a grid format and you just start checking off the images you want to bring over to your computer (alternatively, you can sync all). Once you're finished picking your pics, you hit the red sync button in the corner, select your computer and your pictures will pop into either a folder, iPhoto or Aperture (whichever you pick). If you want to bring your iPhone pictures to your iPad instead of your computer, you just select iPad instead of your computer after hitting the red sync icon.
G/O Media may get a commission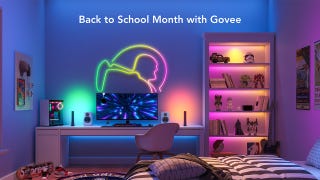 Back to School
Back to School Month with Govee Sale
Dropping pictures from your computer to your iPad is simple too. You can either drag and drop pictures from iPhoto or Aperture into the dock bar icon or find your images through the app (with Finder). You probably have more pictures on your computer than your iPhone so you'll be digging a bit, though it's still better than being tied up to a USB cable.
Who's it good for?
People who take a lot of pictures on their iPhone. People who never plug in their iPhone to their computer. People who want to see their lovely pictures on their iPad. People who think having to plug in to a computer to sync is just plain dumb in 2011.
Why's it better than alternatives?
Other apps can kind of do the same thing but they're using a workaround with a Dropbox set up. There's also no limits to how many transfers you can do at one time. And it's absolutely better than using Apple's prehistoric method of plugging in and iTunes.
How could it be even better?
The app is easy, this is true, but it takes a little time to get to know before you start flying with it. I found the design of the app to not be as streamline with what we're used to on iOS (not necessarily a bad thing, just different!). The software on the computer is too bare bones, I'd like an option to choose pictures straight from an iPhoto-esque program instead of dragging and dropping or going through Finder. For some reason, the app doesn't seem to be able to keep the photo's metadata, each loaded picture, no matter how old, is uploaded as the newest picture.
PhotoSync | iTunes
We're always looking for cool apps—for iOS, Android, Windows Phone or whatever else—to feature as App of the Day. If you come across one you think we should take a look at, please let us know.
For more apps, check out our weekly app roundups for iPhone, iPad, and Android