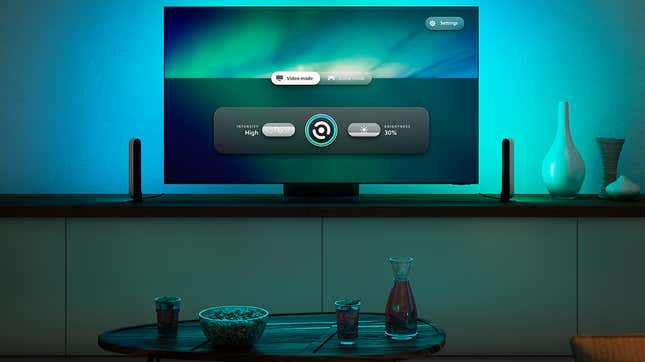 Signify, makers of Philips Hue smart bulbs, announced on Wednesday that it's bringing its Philips Hue light syncing technology to Samsung TVs. Philips Hue Sync TV is a paid app that lets you sync your Hue lights with whatever you're watching or playing. All you need is the requisite hardware.

Hey Google, Where Did My Watch's Battery Life Go?
The Hue Sync TV app works with Samsung QLED TV models Q60 and higher that were manufactured in 2022 or later. Like the Hue Play, once configured, you can personalize which lights sync up with your TV, including the intensity of the syncing, brightness, and whether it's a video you're watching or a game you're playing. The app supports content in various image formats, including 4K, 8K, and HDR 10+.
The Philips Hue Sync TV app will be available to download beginning January 5. It isn't cheap. It costs $130, a little less than the Philips Hue Play HDMI Sync Box, the original device to introduce light syncing to the Hue ecosystem. That device costs $250 and is a standalone box with an HDMI 4K splitter plus four HDMI inputs, which is how the box determines where the content is playing. On Samsung TVs, it determines this by what's playing on the screen. And like the Hue Play HDMI Sync Box, Philips requires lights connected through the hardwired Hue bridge.
As part of its CES 2023 announcements, Signify also announced a new set of PAR38 white and color ambiance bulbs for use outside to serve as floodlights or light pathways. For a quick access button to oft-used lights, there's the Hue Tap Dial switch with a mini mount, which is now round instead of rectangular. The PAR38 bulbs will cost $80 for a single bulb and $150 for a two-pack, while the Tap dial switch will cost $50. They're all available beginning March 14.