With a film like Finding Dory in theaters, it's hard to argue against Pixar and their sequels. The movie is a delight and it's doing gangbusters. Several more sequels are coming in the next few years: Cars 3, Toy Story 4 and Incredibles 2.
After that though, the president of Pixar Jim Morris revealed there are no more sequels in development. "Everything after Toy Story and The Incredibles is an original right now" he told Entertainment Weekly.
Let's break this down. Finding Dory is in theaters. The next Pixar film, Cars 3, will be out June 16, 2017. Later in 2017, an original film, Coco, will be released on November 22. Then 2018 brings Toy Story 4 (on June 15) and 2019 has The Incredibles 2 (on June 21). Morris then said there are two original movies in development after that, both still mysterious.
That's a lot of sequels, to be sure. Plus we've already seen Monsters University, Cars 2 and two Toy Story sequels. But this statement means none of the other properties that Pixar has worked on in the past 20 years are currently on the table for a follow-up. No Wall-E, no Ratatouille, no Inside Out, no Up. That's not to say sequels to those can't happen (Finding Dory took 13 years to hit theaters, The Incredibles 2 will be released 15 years after the original) but, after the next three, Pixar is going to originals for a while.
G/O Media may get a commission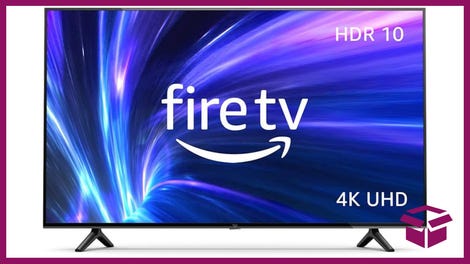 42% Off
Amazon Fire TV 50" 4K Smart TV
To be far, if one or a few of those are hits, you can bet those new original films may get sequels.
So really, Pixar doesn't have any more sequels planned after 2019...for now.
Read more of Morris' interview below.
[Entertainment Weekly via /Film]