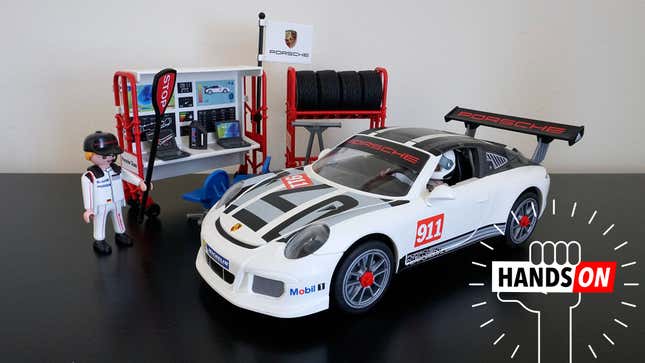 Last year I hit that birthday milestone when I'm apparently due to suffer a mid-life crisis and make some irrational purchase decisions. But as much fun as an exotic sports car might be, I don't want that fiscal responsibility. I will, however, happily shell out $45 for Playmobil's new Porsche 911 GT3 Cup racer; a welcome addition to my toy-packed desk.
The Boogeyman's Sophie Thatcher Reveals What Draws Her to Dark Characters | io9 Interview
Mixed in amongst boxes of Lego, Transformers, and Hot Wheels, most of us had a handful of Playmobil figures and vehicles when we were younger. The toymaker has been around for almost 44 years, and in recent years, has started to expand its offerings with playsets based on Ghostbusters and other kid-friendly properties.
But nostalgia is an easy way to sell toys to grownup '80s kids like me, and while I have little interest in Playmobil pirate ships anymore, the company's recent partnership with Porsche has successfully lured me back into collecting toy cars. Following up on perfect replicas of the Porsche 911 Carrera S and Porsche 911 Targa 4S, this year Playmobil is introducing a miniature version of the Porsche 911 GT3 Cup racer, which scratches a few fantasies off my bucket list.
The real Porsche 911 GT3 Cup, introduced in late 2016, features a 4.0-liter flat-six engine producing 485 horsepower. It also comes with a price tag well over $200,000. Playmobil's version features neither a race-tuned engine, nor a price tag that will jeopardize your marriage. As a result, taking it for a spin around your desk will require you to provide all of the sound effects and excited cheers from non-existent race fans. How else are you supposed to procrastinate at work until HQ Trivia comes on?
What Playmobil's Porsche 911 GT3 Cup does have is an amazing attention to detail, even when it comes to including all of the real car's livery and sponsor decals. Even better is the fact that it comes with two sets of tires, racing slicks and a set for wet weather conditions, that you can quickly swap using a tiny wrench, fulfilling your pit crew fantasies in the process. I'd like to see a Formula One crew try to swap four tires in just two minutes: my personal best.
Playmobil suggests this $45 set is targeted at kids aged four and up, but it's probably going to be even more popular with the 40 and up: even if they're not suffering from a mid-life crisis.
Correction: A previous version of this article referred to the Porsche model as the 9111 GT3 Cup. It is in fact the 911 GT3 Cup. We regret the error.