We've reached the point where buying a "new" Android phone could still mean you're using firmware that's 18 months old. There's got to be a better way.
Today's release of the Android 1.5-laden Dell Aero might be the most recent (and egregious) example of a manufacturer gimping its product's operating system, but it's a problem that affects nearly every phone release these days.
It's a rough landscape for cellphone shoppers, who've faced four major releases with four different firmwares in just the last couple of months: Droid X launched with Android 2.1, Droid 2 followed with Froyo, while Dell Streak had Android 1.6 along for the ride. And today, Aero.
G/O Media may get a commission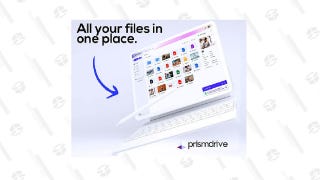 Save 97%
Prism Drive Secure Cloud Storage: Lifetime Subscription
And that's to say nothing of the capriciousness of updates: typically, when a company releases a handset running a musty Android version it promises that it'll bestow the new hotness on the device at some point. But when that update comes—short of various hacks—is totally beyond the consumer's control. And in some cases, as with the Samsung Behold II, you're stuck forever with an outmoded jumble of a mobile OS.
So here's the plan. Hardware manufacturers, once a new firmware is released, stop churning out old phones and get what's already on the market updated asap. Stop putting crazy skins on top of Android that do more harm than good and slow the update process. And—especially when an Android update has been in the open for a few months already already—take the time to incorporate the latest and greatest firmware onto your handsets so that your customers know exactly what they're getting. It's time to get serious about hardware/software synchronicity.
What do you think? How much does firmware freshness factor in when you're deciding which phone to buy?
Imagery by Sam Spratt using Rich D's awesome Android 3d Render. Check out Sam's portfolio and become a fan of his Facebook Artist's Page.