When Cisco decided last April to kill its Flip camcorder—arguably the most popular product in a category that the Flip created almost single-handedly—everyone concluded than the pocket camcorder market was dead. Everyone was wrong. If you're the least bit interested in shooting casual videos, don't whip out your smartphone. You'll be much happier with the results you'll get from a pocket camcorder. Here's what Maximum Tech thinks of four recent and inexpensive models.
We're not talking about high-end cameras, here. Your chances of shooting the next Citizen Kane on an inexpensive camcorder are somewhere between slim and none. But if you're looking to produce short videos to share with friends and family or post on YouTube, a purpose-built camcorder is definitely the way to go. We've found that even the least expensive pocket model boasts more features and better optics than any manufacturer can jam into a smartphone.
We gathered four inexpensive camcorders from DXG, Kodak, Sony, and—yes, Cisco—to determine which delivers the best bang for the buck when you're ready to expose your inner Orson Welles.
Cisco Flip Mino HD: Live fast, die young
As we've already mentioned, Cisco's Flip digital camcorder line isn't long for this world. But Cisco isn't exiting the camcorder market because the market isn't viable, it's getting out of the camcorder business because it doesn't fit with the rest of the company's core competencies. Truth be told, we never understood why Cisco acquired Flip in the first place, and we think it's a shame that the Flip will eventually disappear.
G/O Media may get a commission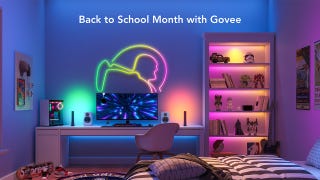 Back to School
Back to School Month with Govee Sale
Cisco went back to the basics that made the original Flip such a success, but it wasn't enough to save the business unit from being shuttered.
Worried about buying an orphaned product? Don't be. Cisco is committed to honoring the one-year warranty on all Flip products, and if you need support beyond that, Cisco will continue to support the Flip line until the end of 2013. You'll be expected to pay a small fee for out-of-warranty repairs, but these camcorders are practically disposable and you'll likely be jonesin' for something new by then anyway. You'll find all the details here:
The Flip Mino HD is tremendously simple to operate: There's an oversized red button on the back of the device for recording (right beneath its two-inch LCD). This button is surrounded by four smaller dual-function buttons: Plus/minus buttons control zoom during recording and volume during playback, while left and right arrow buttons skip to the next video sequence when playback is paused and control fast-forward/rewind during playback. A larger arrow button above these four is used for play/pause functions, and a trash-can icon deletes selected files (it can be locked to prevent unintended deletions). Call us old school, but we've found that conventional buttons are much easier to use than most touch-screens.
Cisco eliminates the need to carry a USB cable with the camcorder by integrating a flip-out USB client connector into the top of the device. Simply push a button and plug the camcorder into your computer's USB port to transfer videos to your computer. If you'd rather leave the videos on the camcorder and watch them on your big-screen TV, there's a handy mini HDMI port on the bottom of the device. While its body, which measures 4 x 2 x .06 inches, is fabricated entirely from plastic, the Flip Mino HD feels surprisingly sturdy.
The Flip Mino HD captured our indoor scene with ambient lighting more accurately than any of the other camcorders in this field. Its 1.6-megapixel CMOS image sensor was snappy and precise, and the camcorder produced a smooth video image that none of its competitors could match. The Flip performed well outdoors, as well, although we thought the Kodak Playfull captured a more vivid color palette.
The Flip Mino HD would be the clear winner in this roundup but for one limitation: It's maximum capture resolution is 720p. It doesn't offer visual effects or an abundance of manual controls, but it produces gorgeous footage in a wide range of lighting conditions, and that's what really counts. The fact that it's destined to become an orphan is another reason we're denying it a Kick Ass award; but the silver lining in Cisco's decision to kill the Flip, rather than sell the product line to another manufacturer, is that buyers won't get screwed out of warranties. Cisco might be sloughing off jobs like a sun-burned red-head sheds skin, but the company isn't about to disappear.





Price: $140, www.theflip.com
DXG Luxe Ultra Slim: Looks aren't everything
The camcorders in DXG's Luxe series are uniformly ugly, with garish designs that range from the faux-quilt-and-rhinestone look on this Red Riviera model to retro patterns such as paisley, houndstooth, and plaid. Paris Hilton would love them, but she can afford to hire an assistant to actually use them.
This Luxe Ultra Slim model is a candy-bar form factor, with a large, 3.0-inch flip-out touch-screen that serves as both a viewfinder and a playback screen. The touch-screen user interface is extremely rudimentary, with colorful, oversized icons that make the device look as though it was designed for a child to operate. Several mechanical buttons on the camcorder's body duplicate most of the on-screen buttons, but the Luxe Ultra Slim is frustrating to operate no matter which set of controls you use.
DXG's Luxe Ultra Slim is positively gauche, dahling.
DXG packed a number of attractive features into this camcorder's unpleasant shell, including an SD card slot that can accommodate up to 16GB of flash memory (although you'll find only a 2GB card in the box), an LED flash for video, and an HDMI port. DXG also claims to have outfitted the Luxe Ultra Silm with a 5.0-megapixel image sensor, so we were surprised by the poor quality of the video it produced. Noise and fuzz were particularly troublesome in our low-light, indoor shoot. The situation didn't improve much outdoors, with subjects in direct sunlight becoming severely washed out. Image quality was downright bland overall.
Unless you want everyone to see how fabulous you look while shooting video in public, steer clear of this one.





Price: $250, www.dxgusa.com
Kodak Playfull: Honey, I shrunk the LCD!
Kodak has obviously studied the Flip and understands why that product became so successful so quickly. This is the smallest, thinnest camcorder in the bunch, it's very easy to use, and it delivers very good image quality along with a bunch of nifty features. Kodak made one misstep, however, and it's a big one: The Playfull is equipped with an itty-bitty 1.5-inch display.
A large circular button on the Playfull's back panel, just below the display, performs several functions, including recording, play/pause, and fast-forward/rewind. Other important buttons-for changing the camcorder's settings, changing record modes, and deleting files-are arrayed around the record button. The "share" button beneath the record button deserves special attention, because it allows you to instantly upload your videos to your favorite social-networking site (Facebook, Flickr, and YouTube). You can also upload still images to your account on Kodak's website, where they can be automatically downloaded to your Kodak Pulse digital picture frame (if you're convinced digital picture frames are lame, you need to check this one out).
We dig the Playfull's tiny dimensions, but this small body could easily have accommodated a larger display.
The Playfull's SD memory card slot can accommodate cards with up to 32GB of capacity, and you'd better buy one with the camcorder because Kodak doesn't include one of any capacity in the box. That's a good way to cheese off your customers, Kodak. As with the Flip, the Playfull has an integrated USB interface that you can plug straight into your computer to transfer files. As with the other camcorders we examined, the Playfull is outfitted with a mini HDMI, but unlike the competition, Kodak also offers an optional handy infrared remote, so you can plug the device into you HDTV and control it from across the room (Kodak offers a host of other handy accessories, too).
You won't be able to tell by looking at the Playfull's tiny display, but this camcorder delivers superb video quality for its price class. In our outdoor shoot, the Playfull's f2.8 lens and 5.0-megapixel image sensor captured the sharpest and most vivid colors of the bunch, and it placed a close second to the Flip in our controlled-lighting indoor shoot. But don't be taken in by Kodak's trumpeting of the Playfull's in-camera video-editing features: You can trim the beginning and ending of a video clip, and you can save individual frames as digital photos, but that's about it. There are no visual transitions-fades, dissolves, or wipes-that you'd find in a real video editor. Kodak does include some fun special visual effects, including "vivid color," "sepia," "black-and-white," and "70s Film," but these are available only while you're shooting-they can't be added after the fact.
The Kodak Playfull is a very capable shooter with several great features and one major shortcoming-a too-small display-but the fact that we found it selling at multiple online retailers for less than $100 goes a long way to make up for that deficiency.





Price: $130, www.kodak.com
Sony Bloggie Touch: Someone failed product-naming 101
If we were judging these camcorders solely in terms of industrial design, Sony's Bloggie Touch would win hands down: This sleek device is very pretty to behold, with a brushed-aluminum front, a 3.0-inch touch-screen LCD covering almost the entire back, and a body that's just 5/8 of an inch thick. It could be easily mistaken for a recent-vintage smartphone. But we have a lot more requirements for a camcorder than good looks.
The Bloggie is equipped with just one button, which starts and stops recording. You manage all the camcorder's other features using its touch-screen. Fortunately, the touch-screen user interface is well designed, easy to learn, and-most importantly-doesn't get in your way while you're shooting.
Sony's Bloggie Touch is undisputedly pretty, but it's not the best camcorder in this bunch.
The Bloggie's memory can't be expanded because it lacks a memory-card slot-it won't even accommodate one of Sony's lame Memory Sticks (this is not progress, Sony). Once you've filled its 8GB of flash memory, you'll need to delete some files-hopefully after transferring them to your Mac or PC-before you can shoot more. Fortunately, a slide-out USB interface renders file transfers easy. The only other interface you'll find on the device is a mini-HDMI port for displaying your videos and still images on an HDTV.
The Bloggie's f2.8 lens and 12.8-megapixel image sensor accurately captured the scene in our indoor shoot, where we were able to control the lighting, but only after taking a second or two to comprehend the situation. This is irritating when you're trying to capture an action scene, whether it's your child's first steps, your cat chasing a laser pointer, or any of the other impromptu events you might want to capture and share with friends and family. The Bloggie's outdoor performance was very similar. The large touch-screen made it easy to frame our outdoor shot, and the camcorder did a good job of recording color in the ambient light, but it took its sweet time settling down. And when it finally did, its image quality fell short of the entries from Cisco and Kodak.
The Bloggie Touch is attractive, well designed, and it has a great touch-screen display, but the far less expensive Flip and Playfull camcorders produce much better-looking videos.





Price: $200, www.sonystyle.com
---
Maximum Tech brings you the latest in tech news, reviews, and how-tos.