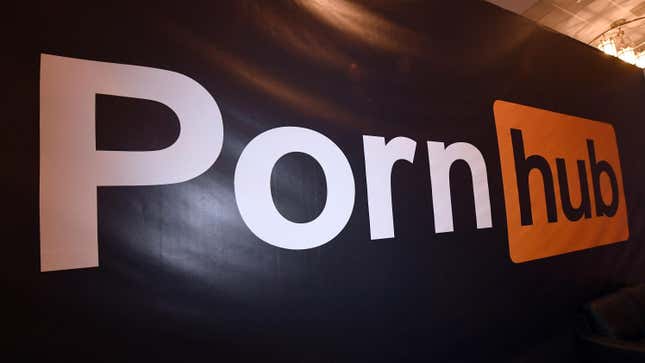 Pornhub did something fairly unusual this week: instead of encouraging its slack-jawed users to keep their eyes glued to an endless stream of debauchery, the adult video site instead begged them to get off the couch, quit jerkin' it, and reach out to their elected officials.
Why is one of the world's biggest smut distributors encouraging its user base to get more civically engaged? To fight profit-curbing regulations, of course.

In recent months, a slew of conservative legislatures have passed age verification laws that would force users of adult sites to prove that they're 18 years of age or older before watching porn. The idea is to protect children from being exposed to potentially harmful material at an early age. In Utah, where one such law was recently enacted, adult sites are now required to provide "reasonable age verification methods" for their users—the likes of which involve digitally submitting a state issued ID to adult sites before content can be accessed. As a result of the new law, which would also hold companies liable if they deliver adult content to minors, Pornhub recently pulled its service out of Utah entirely.
But Utah isn't the only state that's headed towards this kind of regulatory reform. The state of Louisiana was the first to pass an age verification law in late 2022 and, since then, a bevy of other states have introduced similar "copycat" legislation. Bills in Arkansas, Virginia, and Mississippi were recently passed into law, while other states are said to be mulling their own bills.
Pornhub clearly doesn't want to foot the bill for this kind of undertaking so, to combat this legislative threat to its profits, it spent recent days blasting users in Arkansas, Virginia, and Mississippi with a pop-up notification about the laws. The notification encouraged users to contact their state representative and complain, and featured a video of porn star Cherie Deville begging users to "click the button below to contact your representatives before it is too late." The aforementioned button adds the user's name to a letter that will supposedly be sent to relevant lawmakers. In the video, Deville doesn't protest the idea of ID verification itself; instead, she goes on at length about Pornhub's alternative plan for verification—one that sounds like it offloads the cost of this process from websites to mobile phone and hardware makers:
"While safety and compliance are at the forefront of our mission, giving your ID card every time you want to visit an adult platform is not the most effective solution for age verification, and in fact, will put children and your privacy at risk...The best and most effective solution for protecting children and adults alike is to verify users' age at the device level and allow or block access to age-restricted materials and websites accordingly. Many devices already offer free and easy-to-use parental control features that can prevent kids from accessing adult content without risking the disclosure of your sensitive data."
As Vice News has pointed out, it's not exactly clear what Pornhub expects to accomplish here, since the bills in question have already been signed into law.
As the legislative screws tighten, Pornhub has apparently been pushing this "device-level" ID verification idea on some of the tech industry's biggest companies. CNN reports that Ethical Capital Partners (ECP), the private equity firm that owns Pornhub, has been courting companies like Google, Apple, Microsoft, and other Silicon Valley giants, in the hopes of encouraging them to develop and implement some sort of age verification mechanism in the products and software that they sell. CNN reports that the solutions being pitched to tech executives involve a number of hypothetical solutions; one apparently suggests that companies develop a way to "securely store a person's age information on a device and for the operating system to provide websites requesting age verification with a yes-or-no answer on the owner's behalf — allowing sites to block underage users without ever handling anyone's personal information."
Whether Big Tech has any actual interest in going out of its way to accomplish something like this—purely to appease the porn industry and offload the costs of age verification onto itself—is anybody's guess.
One thing's for sure: Pornhub's parent company, MindGeek, has been having a pretty tough time lately. The company—which also owns adult sites YouPorn, RedTube, Thumbzilla, and Tube8, as well as several porn production companies—is not only facing a hostile regulatory environment but has been the subject of recent legal attacks. In 2021, a lawsuit was filed that called the company a "criminal enterprise" and alleged that it had profited off of non-consensual videos and child porn. The suit, which is ongoing, has been accompanied by a flurry of bad press about similar toxic issues on its sites. Two of MindGeek's longtime executives resigned last year under a swirl of controversy.