Have you ever found a great article on the web, and wanted to share it, but couldn't figure out the wittiest/snarkiest/ironic-est way to Facebook or tweet about it? Potluck promises to take the anxiety out of sharing links, by creating conversations between friends and friends of friends who enjoyed the same article. Now they're offering this "house party on the internet" in iOS app form.
What does it do?
Basically, the same thing the web version does, in slick iDevice format. You can post your own links or just browse through links shared by friends, each of which opens up a conversation page. You won't see who's participating until you've clicked the link, so you'll be among friends when you click that terrible Twilight fanfic article. The conversations include your friends and friends of friends, so you can meet new people who share your interests, without the creepy factor of Facebook cross-commenting. Like most social media apps, Potluck has the traditional host of profiles, notifications, and activity alerts.
Why do we like it?
"A house party on the internet" sounds like a goofy claim, but it really is a good way to describe Potluck interactions. Until you enter a conversation, the articles themselves do the talking, rather than someone's dumb description. Like walking through a dinner party, you get a little glimpse of what each conversation is about, and choose the one you'd most like to enter. It works best when you've got a bunch of people involved, which makes the friends of friends feature nice. It's a little basic compared to the web app, but if you've used one you'll understand the other.
G/O Media may get a commission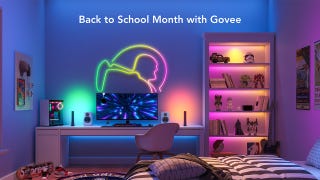 Back to School
Back to School Month with Govee Sale
Potluck, Download this app for: iOS, free
The Best: It's like a well-mannered mini-Reddit
The Worst: No Android app yet