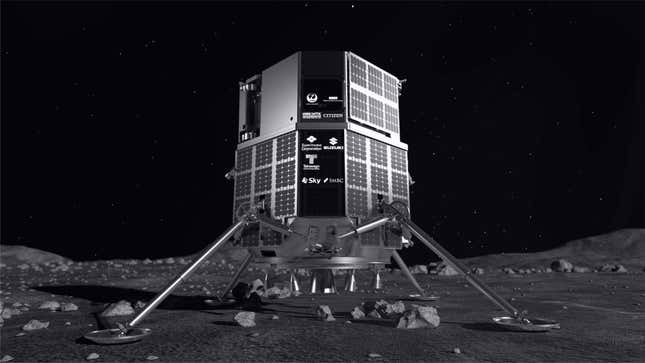 After traveling through space for more than three months, Japan's Hakuto-R lander has entered lunar orbit, as it prepares to land on the dusty surface of the Moon.
Astronomers Could Soon Get Warnings When SpaceX Satellites Threaten Their View
On Tuesday, Tokyo-based company ispace announced that its Hakuto-R Mission 1 Lunar Lander successfully pulled off a lunar orbit insertion maneuver and is now orbiting the Moon. "While the lander has performed multiple deep space maneuver operations, this maneuver represents the longest burn performed by the propulsion system during the mission," the company wrote in its statement. The Hakuto-R spacecraft launched on December 11 atop a SpaceX Falcon 9 rocket.
The Hakuto-R lander will attempt to land on the Moon in late April, with the exact date of the landing to be determined soon, according to ispace. If it manages to stick the landing, Japan's lunar lander will become the first private mission to do so. In 2019, Israel's private Beresheet lunar lander attempted to land on the Moon but ended up crashing on its surface.
The Hakuto-R lander is carrying both government and commercial payloads, including the Emirati-built Rashid rover. The four-wheeled rover was developed by the Mohammed bin Rashid Space Centre in the United Arab Emirates and is designed to study the geology of the Moon.
The Rashid rover marks the UAE's first mission to the Moon, but the oil-rich country is determined to make its mark on the global space race. The UAE previously launched the Mars Hope Probe in July 2020, which went into orbit around the Red Planet in February 2021. Emirati astronaut Sultan Al Neyadi is currently on the International Space Station as part of the Crew-6 mission, which launched earlier this month.
If Hakuto-R is able to successfully land on the Moon, it would mark a tremendous milestone for both Japan and the UAE. The Mission 1 lander (M1) is also carrying commercial payloads from Canada: Canadensys Aerospace's lunar camera and Mission Control Space Services' AI flight computer. The Japan Aerospace Exploration Agency (JAXA) is counting on M1 to deliver a tiny, two-wheeled transformable robot to the surface. JAXA will also attempt to deploy its Smart Lander for Investigating Moon (SLIM), which is roughly the size of a baseball and is designed to test techniques for future missions to the Moon on a smaller scale.
Hakuto-R M1 is the inaugural mission of ispace's lunar exploration program, which aims to provide a low-cost delivery service to the Moon by deploying payloads on the lunar surface for both public and private partners. The M1 lander will also serve as a stationary probe for exploring the surface of the Moon.
For more spaceflight in your life, follow us on Twitter and bookmark Gizmodo's dedicated Spaceflight page.