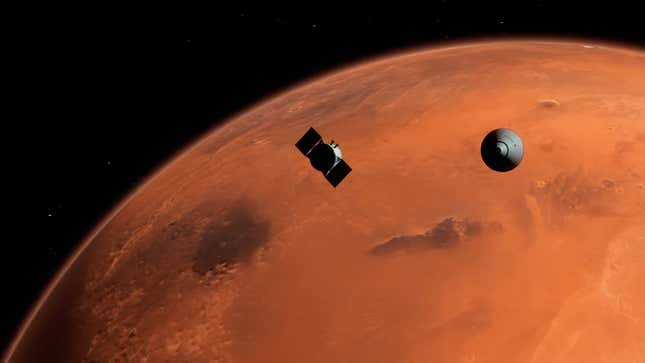 A commercial landing on Mars will have to wait a little longer as two private space companies updated their plan to touchdown on the Red Planet, delaying it by two years for reasons not made explicitly clear.
Astronomers Could Soon Get Warnings When SpaceX Satellites Threaten Their View
Speaking at the Humans to Mars Summit, which was held from May 16 to 18 in Washington, D.C., executives from private space companies Impulse Space and Relativity Space announced that their joint venture to Mars is now slated for launch sometime in 2026, SpaceNews reported.
The two companies first announced their plans to launch the first commercial mission to Mars in July 2022, with a tentative launch date in 2024. Although the executives did not disclose the reason behind the delay, it may be related to Relativity Space's decision to scrap its Terran-1 rocket after it failed to reach orbit during its inaugural flight in March. Instead, the company, which builds its rockets using 3D metal printing, is now focused on developing its successor Terran-R, which is set to debut in 2026, two years later than expected.
Terran-R is designed to be a 3D printed, medium-to-heavy lift orbital launch vehicle capable of carrying 33.5 metric tons to orbit, which the company wants to use for its upcoming mission to Mars. Impulse Space, on the other hand, will contribute a Mars Cruise Vehicle and Mars Lander.
The two companies are not only hoping to become the first commercial venture to land on Mars, they also want to launch regular missions to the Red Planet to create a "constant supply chain to Mars," Josh Brost, senior vice president of revenue operations at Relativity Space, is quoted as saying in SpaceNews. The launch window from Earth to Mars opens up every 26 months, and the two companies want to send "at least one mission up" for every launch window, SpaceNews reported according to Barry Matsumori, chief operating officer of Impulse Space.
"By making transport to Mars more affordable, you open up that iteration loop that can lead to advancements that just could not have been envisioned previously," Brost added.
Private space companies are starting to aim big. California-based company Rocket Lab wants to launch the first commercial mission to Venus and explore the planet's clouds for potential habitability. But as the Tokyo-based ispace's failure to become the first private company to land on the Moon demonstrated, space can be, like, really hard. And perhaps commercial space ventures still need some more experience before they stick the landing.
For more spaceflight in your life, follow us on Twitter and bookmark Gizmodo's dedicated Spaceflight page.