For years now, the Razer Blade has been the go-to laptop for gamers who want a little style mashed up with their function. The 2016 version is the best yet: It's lighter, faster, and—critically—$400 cheaper. Yup, Razer made its sharpest Blade yet.
Last year's Razer Blade was the best gaming laptop you could buy if you wanted something that performed well but didn't weigh a metric ton. Alienware and Aorus both make damn fine laptops that are wicked fast, but unfortunately, they're also chunky behemoths that belong on a desk more than they do on your lap.
The new Blade's a total workhorse. This thing is HOT! And I'm not just talking about how badly I want to own one. I'm talking about the actual temperature. Man oh man will it roast your legs. Playing Firewatch, a graphics-intensive exploration game, for thirty minutes switching back and forth between Ultra and High settings, the bottom of the Razer Blade got hot and the fans whirled and more than one person in the office asked me if it was going to die.
Scorched thighs are the price you pay when you want quality PC gaming on the go. Especially if you want it in a slim laptop like the Blade, the Aorus X7, or even the Macbook Pro Retina. Gaming PCs produce a lot of heat as they render loads of 3D graphics at insane resolutions (the Blade maxes out at 3200x1800). The thinner they get the harder it is to dissipate all that heat. So you're stuck with roaring fans and a toasty lap.
G/O Media may get a commission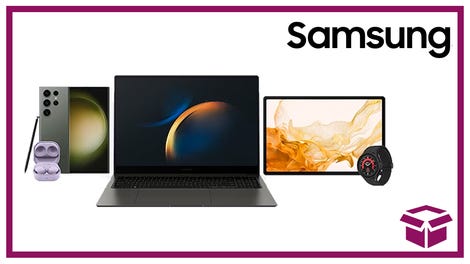 24 hour deals
Discover Samsung - Daily Deal
Looking at the specs of the Razer Blade (and other laptops of its svelte ilk), the thigh roasting doesn't always feel worth it. You see, thin laptops have to go with less powerful GPUs. For example, the Blade packs an Nvidia 970M video card inside. It's plenty powerful, sure—especially if your old laptop is long in the tooth—but it's not the fastest mobile video card available. It handles most games on high graphics settings with few stutters. Firewatch managed an average of 48 frames per second when I played it on High. And then it plummeted to a passable, but hardly ideal, 28 frames per second when I bumped the graphics to Ultra. Comparatively the 980M found in the MSI GT72s G Tobii we reviewed back in February performed much better, clocking in 75 frames per second on High and well over 40 on Ultra.

The 970M (the same card found in the 2015 Razer Blade) will not—cannot—wow your friends or melt faces with its speeds. That could seem like a dealbreaker. But these performance shortfalls are problems endemic to the entire class of laptops, and the Razer Blade wows in so many other ways that heat and "good enough" performance feel like minor complaints.
The Razer Blade is gorgeously engineered. It's got that Apple quality to it—only without being an Apple device. Which means high build quality, appealing looks, and none of the gaudy flashiness other PC makers embrace. Though the black matte finish on the anodized aluminum eagerly hunts for your every fingerprint and then holds onto it... forever. You can clearly see the greasy hand marks in the pictures I took. And those were just acquired in the time it took me to unpack the laptop and photograph it. Please keep all chips, chicken, and other greasy foodstuffs away.
Considering the solid specs and premium design, the Razer Blade is quite affordable. It's loaded with a gorgeous screen, fancy Skylake CPU, and decent Nvidia 970M GPU, but is only $2,000. That's $400 cheaper than both the 2015 version—which was spec'd nearly identically, apart from a slower CPU—and any Mac with even remotely similar specs. This means that the best thin gaming laptop available is now more powerful and affordable.
Razer also improved the super customizable backlit keyboard, dropping the goofy font that it has been using for its keyboards and going with something that's actually easy to read.
Between the price drops and the minor improvements, the Razer Blade has gone from a solid performer to one of the best laptops currently available—for gamers and non-gamers alike. If you're a PC fan who longs for the smart design flourishes found in Macs, then shift your focus to the Razer Blade. It's thin, capable, and fast enough for most of your computing needs. Just don't leave it on your lap all day.
README
It's like the 2015 Razer Blade, but faster, cheaper, and with less goofy keyboard fonts.
The finish invites your fingerprints to stick around. Forever. Keep a microfiber cloth handy.
Graphics won't melt your face, but are perfectly acceptable for most gaming needs.
Battery life isn't shabby. I got more than five hours out of it while downloading gigabytes of games and then playing said gigabytes of games.
This is definitely our new Best Thin Gaming Laptop.