Here's an exclusive sneak peek of DC Comics' new comic book O.M.A.C. In this series, Jack Kirby's One Man Army Corps gets a 21st century cybernetic update, complete with espionage thrills and battles with Frankenstein.
Also, we chatted with O.M.A.C. co-author Dan DiDio about the hero's upcoming trials that can't simply be vanquished with the slice of a mohawk.
The first issue of O.M.A.C. hits stores Wednesday, September 7. Here's the solicitation information:
O.M.A.C. #1
Written by DAN DIDIO and KEITH GIFFEN
Art and cover by KEITH GIFFEN and SCOTT KOBLISH
The all-seeing Brother Eye satellite has unleashed a new beast upon the DC Universe in this smashing new series! Kevin Kho has become an unwilling participant in a war between Checkmate and Brother Eye as he is transformed into the One Machine Army Corp known only as O.M.A.C.!
G/O Media may get a commission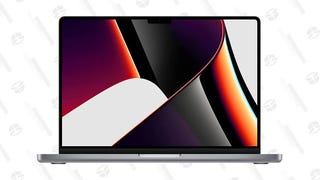 Save $300
2021 14" 1TB MacBook Pro
---
At the DC relaunch party last Tuesday, we asked O.M.A.C. scribe and DC co-publisher Dan DiDio about what's in store for this bemohawked hero. (You can also read our previous interview with Dan about O.M.A.C.'s mohawk and strange rogues gallery here.)
Can you tease any big stories O.M.A.C. ?
Dan DiDio: O.M.A.C. #5 and Frankenstein, Agent of S.H.A.D.E. #5 will have a crossover of the two different heroes as they battle it out. It's the same story told from two different perspectives — that's the fun part about it. I've always been attracted to the eclectic parts of the DC Universe and so has Frankenstein writer Jeff Lemire, so it feels like a natural fit. So much of my story is built on the war of Brother Eye and O.M.A.C. versus Checkmate, and S.H.A.D.E. gets brought into the middle of it.
Besides the obvious Jack Kirby influence, what else informed your depiction of O.M.A.C.?
Dan DiDio: One of my biggest inspirations was The Prisoner, in the sense that you think you have a certain level of freedom in your life and it turns out that you're controlled by everyone else around you, no matter what you do.
Both were unapologetically idiosyncratic.
Dan DiDio: Yeah, if you look at Kirby's original eight issues of O.M.A.C., it's like an exposed id. There are so many brilliant ideas in there, and we're bringing it to a contemporary setting hopefully with the craziness intact.