For the past two years, one of the most consistently readable comics on the stands has been writer/illustrator Jeff Lemire's end-of-the-world fable Sweet Tooth. Lemire — whose work you may know from books like The Nobody and Animal Man — tells the tale of Gus, an antlered boy born after a mysterious disease wipes out most of humankind. Gus is but one of many half-animal children to begin replacing the human population. Courtesy of DC Comics, here's an exclusive sneak peek at this week's issue.
The latest arc, "The Taxidermist," is a flashback to 1911 Alaska, where an Arctic expedition may have revealed the roots of the modern-day plague and strange manimal births. This arc is ethereally illustrated by Matt Kindt, whose recent graphic novel The Tooth we enjoyed thoroughly. And for another sampling of Lemire's writing, check out our preview of this week's issue of Animal Man.
G/O Media may get a commission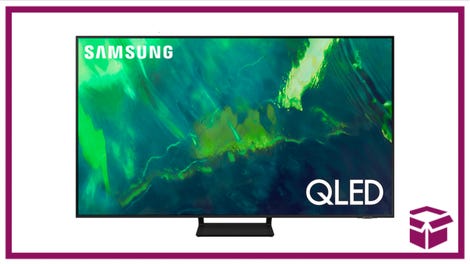 35% off
Samsung Q70A QLED 4K TV
Save big with this Samsung sale
If you're ready to drop some cash on a TV, now's a great time to do it. You can score the 75-inch Samsung Q70A QLED 4K TV for a whopping $800 off. That knocks the price down to $1,500 from $2,300, which is 35% off. This is a lot of TV for the money, and it also happens to be one of the best 4K TVs you can buy right now, according to Gizmodo.
Sweet Tooth #28 is out Wednesday, December 7. Here's the plot synopsis:
Sweet Tooth #28
Written by Jeff Lemire
Art by Matt Kindt
Cover by Jeff Lemire
"The Taxidermist" concludes as Thacker leads his crew on an all-out assault on Simpson's camp in an attempt to slaughter the mysterious antlered child! But will the child live on, or will the plague spread? Jeff Lemire and Matt Kindt conclude their mini-epic in bloody fashion with implications that will affect Gus, Jepperd and more.