The March 1, 1959 edition of Arthur Radebaugh's Closer Than We Think! featured "rejuvenated downtowns" of the future. I travel the United States often imagining what the downtowns of our major cities once looked like. Few American downtowns are thriving, or barely surviving. The downtown of the city in which I live (St. Paul, MN) is certainly struggling. Good luck finding much open past 5PM.
Radebaugh's mention of downtown Detroit is particularly jarring for our 2009 eyes. The recent photo essay in Time magazine titled, "The Remains of Detroit" really says it all. I recently picked up the book Downtown: Its Rise and Fall, 1880-1950, which appears to shed some light on precisely what happened to the American urban center.
The text from "Rejuvenated Downtowns" appears below. Thanks again to Tom Z. for the color scans.
Traffic-choked downtown sections will be rejuvenated and transformed into airy, wide pedestrian malls when the designs of city planners are adopted in a none-too-distant future.

Large-scale plans and programs are springing up all over the country. One example is fashionable Lincoln Road in Miami Beach, being studied today for conversion into a traffic-free shopping promenade. Another is utilitarian Woodward Avenue in downtown Detroit. There are many more in between.

Traffic will be parked in adjoining areas. Store fronts will be modernized and beautified. New lighting at night and newly planted trees, shrubs and flowers will give these malls an exciting air. The aim is to regain for downtowns their former status as urban headquarters.

Next week: All-Seeing Eye
This post originally appeared at Paleofuture.com.
G/O Media may get a commission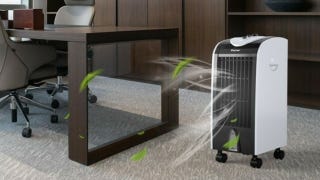 Save $10
Evaporative Portable Air Conditioner Cooler with Filter Knob