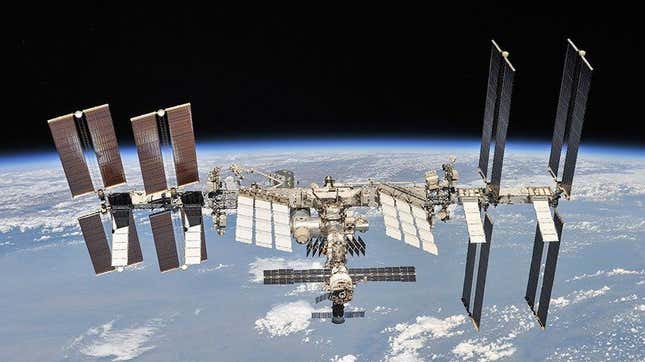 Russia has agreed to keep its cosmonauts on board the International Space Station (ISS) until 2028 despite earlier threats to withdraw from the orbiting lab.
Astronomers Could Soon Get Warnings When SpaceX Satellites Threaten Their View
NASA announced that its Russian counterpart "has confirmed it will support continued station operations through 2028," the space agency wrote in a blog post on Thursday. Russia was the last to sign on to extended operations on the ISS, with Japan, Canada, and the participating countries of the European Space Agency (ESA) having already agreed to support space station operations until 2030, when the ISS is due to retire.
In light of geopolitical tensions between Russia and its Western counterparts, Russia had previously threatened to pull out of the ISS in a series of vague statements. The Russian space agency then downplayed its threats, stating that it was planning on leaving the ISS after 2024.
"We will fulfill all our obligations to our partners, but the decision to leave this station after 2024 has been made." Yury Borisov, the head of Russia's space agency Roscosmos, told Russian President Vladimir Putin during a meeting in July 2022. "I think that by this time we will begin to assemble the Russian orbital station." At that time, it still wasn't clear whether that meant Russia was planning on staying beyond 2024, or if that was the hard cutoff.
Russia is planning on building its own space station in low Earth orbit. The Russian Orbital Space Station, nicknamed 'ROSS,' would launch in two phases. The first phase, which Russia hopes to launch in 2025, would include four modules, while the second phase would add two more modules and a service platform.
NASA and Roscosmos have had a longstanding partnership aboard the ISS for more than two decades. There has been at least one NASA astronaut and one Roscosmos cosmonaut on board the space station at all times since the ISS launched in 1998.
But the Russian space agency has not been on its best behavior, aggressively retaliating against Western sanctions imposed against Russia in light of the invasion of Ukraine. In July 2022, former Roscosmos head Dmitry Rogozin commanded the cosmonauts on board the ISS to discontinue their work on a European robotic arm, challenging ESA's Director General Josef Aschbacher to "fly to space" and do it himself. Earlier that same month, Roscosmos posted photos on its official Telegram channel of three cosmonauts holding up the flags of Russian-backed regions in Ukraine to show support of the ongoing invasion.
Despite these tensions, NASA seemed certain that Roscosmos wouldn't leave the ISS until 2028; still, the space agency had a backup plan should the Russian space agency suddenly decide to pull out of the orbital outpost.
With Russia leaving in 2028, and with the ISS hanging out in low Earth orbit until 2030, NASA and its partners will have to manage the station on their own. As Russian spacecraft are currently used to maneuver the ISS, the remaining partners will have to find or develop that important capability. The space station occasionally has to dodge satellites and errant space junk, and also alter its orbit to maintain operations.
The ISS was originally meant to retire in 2024, but NASA and its international partners recently agreed to extend its lifeline in space. "Extending our time aboard this amazing platform allows us to reap the benefits of more than two decades of experiments and technology demonstrations, as well as continue to materialize even greater discovery to come," Robyn Gatens, director of the ISS Division at NASA Headquarters, said in the blog post.
For more spaceflight in your life, follow us on Twitter and bookmark Gizmodo's dedicated Spaceflight page.