Sure, shaving accessories like self-cleaning stands, high-RPM heads, and gaggles of trimmer attachments are cool and all, but not everybody needs or wants all that. For anyone that's just looking for a solid shave without a bunch of bells and whistles, check out the Remington F5800.
What Is It?
A wireless electric razor with a three-stage linear head that de-stubbles your face.
Who's it For?
Guys that don't necessarily shave everyday but want a close, expedient trim when they do, without the bother of wetting their faces.
Design
Butch chic. The wide black body is split by a dark grey insert that holds the chrome power button and either a "fuel gauge" (as the tested unit did) or a digital readout of the remaining battery life in the 7800 model. It's pivoting head is accented with chrome while the head foils are coated in "diamond-like" carbon that reportedly reduces friction and the resulting skin irritation.
G/O Media may get a commission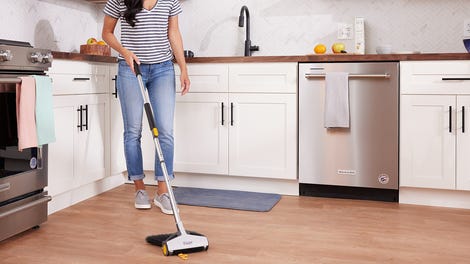 BOGO 50% Off
Flippr - BOGO 50% Off
Using It
The razor can be used either left- or right-handed but is really wide and takes some getting used to—definitely a bit wider than the Braun Series 7 we recently tested but not awkwardly so. The trimmer is about an inch wide, which is handy when trying to square off sideburns in one go.
The Best Part
The speed and closeness of the shave. Its pair of linear cutting heads make short work of short, day-old stubble while the "intercept trimmer" sandwiched between them catches and cuts longer multi-day growth. The interceptor can be a bit prickly, especially around the throat, but is really effective. It powered through three days of neck-beard without breaking a sweat. The results are fantastic, about as close as what I get with a manual razor.
Tragic Flaw
When you shave with the Black Diamond, you know it. While the results are on par with the Norelco SensoTouch 3D I did notice a fair amount of hair tugging and nips from the interceptor.
This Is Weird...
There's no pivot lock, typically engaged to keep the head isolated when shaving the upper lip, on the Remington.
Test Notes
The replacement heads run $25 a set and only last about six months.
A two hour charge nets 60 minutes of shave time, enough for about 2-3 weeks of daily use
A 4-5 minute quick charge is enough to squeeze in a single emergency shave's worth of power.
While the head can be rinsed under a tap, this is not a wet/dry shaver and should not be used in the shower or around standing bodies of water.
Should You Buy It?
Yes, in fact, buy two. Sure, the shave can be a bit brusque and the unit looks like it was designed by a Raiders fan, but at just $50, the Remington F5800 is a fantastic value.
Reminton Series 5 Razor: Black Diamond Edition Specs
• Dimensions: 3.375 x 5.125 x 8.5
• Display Type: LED Fuel gague
• Head Type: Surgical Stainless Steel
• Charge Time: 120 Minutes
• Run Time: 60 minutes
• Weight: 1 pound
• Price: $55 MSRP, $50 at Target
• Gizrank: 4 Stars


That 360 degree view comes compliments of our very own Gizmodoscope. Check out more of its handiwork here