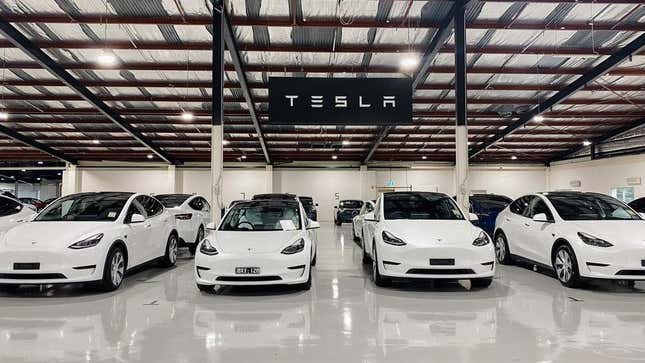 Tesla CEO Elon Musk is reportedly discussing opening a new manufacturing facility in Saudi Arabia, according to a report on Monday, which cited numerous sources close to the matter. Reports of the potential collaboration come only hours after Musk and Turkey's President Recep Tayyip Erdoğan met in New York to discuss building a Tesla factory in Turkey.
Did Elon Musk Regret Buying Twitter? | Walter Isaacson Interview
The Wall Street Journal reports that its sources say Saudi Arabia has been appealing to Tesla by offering "the right to purchase certain quantities of metals and minerals the company needs for its EVs from countries including the Democratic Republic of Congo." The Republic of Congo provides roughly 70% of the world's cobalt.
Musk claimed the reports of talks with Saudi Arabia are "utterly false" in a Twitter post on Monday, specifically addressing the Wall Street Journal article, but the deal could help Musk toward his expansion plans to open roughly a dozen Tesla factories around the world. If the deal does come to fruition, the additional factory could give Tesla the push it needs to reach its goal of selling 20 million vehicles per year by 2030. The company sold just 1.3 million vehicles last year.
Earlier this year, Musk went to trial in a class-action lawsuit filed by Tesla investors who claimed they lost $12 billion over 10 days as a result of a 2018 tweet in which Musk wrote that he was "considering taking Tesla private at $420" per share, claiming he had "funding secured." Musk claimed in January that he believed Saudi Arabia's Public Investment Fund was providing financial backing when he posted the tweet.
The Journal's report indicates that Musk is looking to deepen his financial ties with the Kingdom of Saudi Arabia. When Musk took over Twitter (which he subsequently renamed X), Saudi royals were the second-largest investors to hang in there with the SpaceX founder and they contributed huge sums to the takeover, raising concerns about how much influence the authoritarian regime would have over the platform and how it would protect users in the region.
In August, Saudi Arabia sentenced a man to death over a handful of tweets and retweets that were critical of the government. A Saudi court ordered the execution of Mohammad bin Nasser al-Ghamai, a 54-year-old retired teacher to death following charges including "betraying his religion," "disturbing the security of society," "conspiring against the government" and "impugning the kingdom and the crown prince," AP News reported.
Although Musk quickly disputed the reports that he was in talks with Saudi Arabia about building a Tesla factory, the self-proclaimed free speech absolutist kept his silence after Nasser al-Ghamai was sentenced to death. Only a few weeks prior, Musk had tweeted: "If you were unfairly treated by your employer due to posting or liking something on this platform, we will fund your legal bill."
Tesla did not immediately respond to Gizmodo's request for comment.