When I discovered the LCD Clock iPhone app, I was thrilled because I have trouble getting to work on time every morning. For a $1, it wasn't the clock I needed in my life.
I needed something that would successfully wake me up and it failed in that respect. Also, the calendar failed in it's most interesting feature—it didn't show me the holidays. You can't really go wrong with showing a time, so its other features needed to make up for it.
Settings
If you double-tap the screen twice, it'll take you to the appearance settings where you can pick out the color display and set the brightness. Figuring out where the other settings wasn't so easy. For that, you'll actually have to go into Settings on your iPhone or iPod Touch. Here, you can change your display, clock behavior and calendar behavior.
Time
The time display is simple: choose your time separators, format, and whether you want to display it in 24-hour or 12-hour time. Back in the application, all you have to do is tap the time once to switch between 24-hour or 12-hour time (since I'm constantly switching back and forth between military time, I found this feature useful). When the iPhone is a horizontal orientation, the clock will switch to a larger display making it easier to read.
G/O Media may get a commission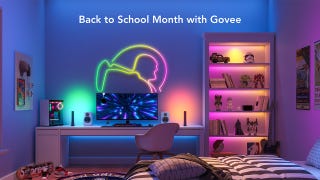 Back to School
Back to School Month with Govee Sale
Calendar
In calendar settings, you can choose if your week starts on Monday. You can also choose whether you want to see holidays on a U.S. or a Japanese calendar. You can also have the calendar display up to 7 months (you use your finger to swipe across to change the months). Unfortunately, there's no way to make the calendar display larger. A quick look-through to find out what day St. Patty's day was on this year also proved fruitless.
Alarm
There's a clock icon in the upper right-hand corner of the app. Here you can click to turn on the alarm and set the time. The makers claimed that it might not work if the screen went dim or auto-locked (fortunately, there's an option to disable auto-locking in Settings—I turned this feature on). I tried using the alarm while it sat charging on my desk, and right beside me undocked. The results? Each morning, I rolled into work and told my boss, "I'm so sorry about this morning..."
Verdict
Go buy yourself a double cheeseburger with that dollar.