It's not an easy thing, admitting you were wrong. But with the 2010 iPod Shuffle, Apple's owned up to the previous generation's follies in the best possible way: fixing them. Mostly.
This new Shuffle, this little square nubbin of an MP3 player, is equal parts retreat and evolution. Gone entirely is the BIC lighter styling of its immediate predecessor. In its place, a truncated version of the 2006 Shuffle, buttons and all. It's that last part that's crucial.
Design
You'd be hard-pressed to place the 2010 iPod Shuffle in the same genus as last year's model based on looks alone. The two next to each other look like Abbot and Costello—long versus squat. The new guy measures 1.24 inches wide by 1.14 inches tall by 0.34 inch thick, with a control wheel that's almost exactly the diameter of a quarter. This Shuffle weighs just under half an ounce, light enough to be essentially imperceptible—to the point that you may forget you have it clipped to your shirt pocket until halfway through an important meeting, like I did.
G/O Media may get a commission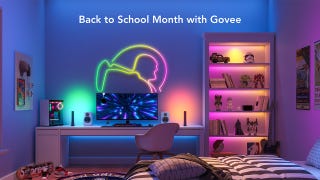 Back to School
Back to School Month with Govee Sale

[Photo Credit: Macworld]
It's really all about the control wheel, though. If you don't have much personal experience with last year's Shuffle, don't worry! You weren't missing out. The biggest gripe, bar none, was its lack of on-board user controls. Entirely. And while the mini-monolith form factor had its own appeal—sort of—having to use Apple's crappy earbuds to play, pause, skip tracks, and adjust volume was a nightmare. There are casualties from the Apple design team's has outsized pull in the company. This was one of them.
In this new Shuffle, though? Form and function, baby. Everything you need for navigation is on the device's face, while extra goodies like VoiceOver, battery indicator, playback mode, and headphone jack all coexist peaceably on top. Everything else is gleaming aluminum and rounded edges, in your choice of five Icee Pop colors.


Design complaints? If I had to pick a nit, the clip fulcrum is too close to the edge of the Shuffle, making it hard to attach and detach without skipping back a track. Honestly, though, this had practically zero actual use implications for me. I clipped the shuffle on before pressing play, and stopped the music before I unclipped. I'm having a hard time thinking of a scenario in which you'll want to do otherwise, but head's up if that seems like something you'd be into.
Features
It's not that Apple scrapped last year's model entirely. The kept the brains, the interface, the sheer usability that—physical control issues aside—made the audio interface the third-gen Shuffle's redeeming quality.
Press down on the Shuffle's top button once, and VoiceOver kicks in to give you a track listing. The synthetic voice isn't overly mechanical, and has been expanded to support 25 languages (11 more than last year). It handles complicated words well, and I actually found its stumbles—read: "Blink One Hundred and Eighty-Two"—kind of endearing. It's great feature, decently executed, without much changed from last year.
Two pushes of the top button gives you battery life. And an extended press lets you switch between pre-loaded playlists, Genius Mixes, podcasts, etc. The level of effort, from a quick press to a long one, corresponds nicely to the immediacy of what you're trying to do.
What's missing? A display, and everything that comes with it. An FM tuner. WMA compatibility. More than 2GB of storage. And if you want any of those things (well, except for WMA), you'll be much better served by the Nano.
In terms of actual use, the Shuffle seems best suited as a secondary iPod. More specifically: it's an ideal exercise iPod. If I want music while I'm walking around the city, I've got my iPhone. When I embark on my bimonthly jog, though, it's a relief to just clip on the Shuffle instead of strapping on an awkward Nano armband. And because that's what I primarily see this being used for, I don't so much mind that it maxes out at fewer than 400 songs. I'm lucky if I make it through ten.
The low storage ceiling isn't reflected in the battery life, though. The 2010 Shuffle's listed at 15 hours of continuous playback, and lasted closer to 14 when I left it rocking unattended. That's more than a full day, and more than enough. Understandably, there's no room here for a dock connector, so hold on for dear life to the headphone jack-compatible USB connector that comes in the box.
Also in the box are those dreaded Apple-issued buds, which also come with a set of controls. I'd recommend a BYO headphone strategy though, for sound quality's sake. Combined with a decent pair, the Shuffle cranks out impressively good audio for something no bigger than a couple of Chiclets.
Apple's Shuffle Shuffle
Why such a dramatic change in design? Why bounce back and forth from long to square with each successive generation? If I were an even bigger cynic, I'd chalk it up brilliant marketing—by forcing us to talk so much about how it contrasts so starkly to its predecessor, Apple keeps us on the reservation. Otherwise, we might start noticing that competitors are cranking out some comparably priced PMPs that still manage to include, say, a display.
But I don't think that's what happened here, largely because the Shuffle more than holds its own. Shuffle's a bit of a misnomer at this point, anyway. Just take the 30 seconds to make a playlist or the two clicks for a Genius Mix, and you've got more than enough control over what you're listening to. The design backtrack isn't a ploy, it's an acknowledgment. An admission that no matter how great something looks, we still have to be able to use it.