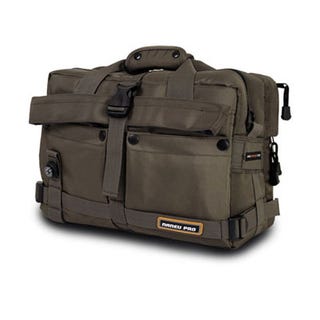 We first mentioned the Naneu Pro Sierra bags earlier in the summer and now reviews are starting to hit the Internets; they're mainly positive.
The bag is supposed to be a dual purpose SLR camera and laptop, letting the two devices, in the words of the reviewer, "cohabitate like college virgins discovering the first taste forbidden love." Put through its paces, the Sierra performed admirably, though there's very little room for any other items, be they magazines or other lifestyle accessories.
Should you be in the market for a bag designed to hold your expensive camera and expensive laptop (and who isn't these days?), Naneu's pretty much got you covered. You can grab one for $89.99 online.
Naneu Pro Military-Ops Sierra Review [CrunchGear]
Product Page [Naneu Pro]