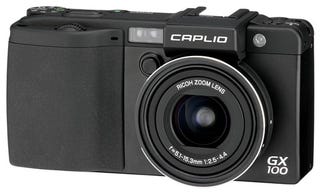 The new Ricoh Caplio GX100 doesn't only include a 10 megapixel CCD and 24-72 mm lenses in a surprisingly tight 1 inch-thick package, but it also does it in style, losing the G8's common shiny black compact look in favor of the - beloved by same, hated by others - Ricoh GR's retro style. In fact, I think the GX100 bests the GR, and let's face it, sometimes that's all that matters.
For those of you who actually care about those pesky technical details, like the 2.5" TFT or the 3x optical zoom or its F2.5-4.4 aperture or the RAW DNG support, they are all available, along with photos of the back and front, right after the jump.

The GX100 includes rechargeable battery, battery charger, lens cap, USB Cable, AV Cable, handstrap and software, but probably one of the coolest things is what you don't get in the package: the VF-1 LCD electronic viewfinder included in the GX100 VG Kit, which you can tilt and remove.
Ricoh announces GX-100 [DPreview]
Technical details

Sensor
• 1/1.75" Type CCD
• 10.3 million pixels total
• 10.01 million effective pixels

Maximum image size: 3648x2736
Type: JPEG, RAW (DNG)*1, RAW & JPEG*2

Video: 640x480 or 320x240 AVI, 15 or 30 fps
Type: AVI (Open DML Motion JPEG Format Compliant)

Lens
• 5.1-15.3mm (24-72 35 mm equivalent) 3x optical zoom
• F2.5-4.4

Image stabilization, CCD-Shift

Focus
• Autofocus
• Manual focus
• Snap-focus (hyperfocal)
• Infinity lock

Focus distance
• 30cm - ∞ (wide & telephoto)
• 1cm - ∞ (wide macro)
• 4cm - ∞ (tele macro)
• 1cm - ∞ (zoom macro)

Metering
• TTL-CCD Metering
• Multi (256 segments)
• Centre-weighted
• Spot Metering

ISO sensitivity: ISO80 to ISO1600

Exposure compensation
• +/- 2.0EV
• 0.3EV steps

Exposure bracketing
• +/- 0.3EV
• +/- 0.5EV

Shutter speed
• Still images: 180 - 1/2000 sec
• Movies: 1/30 - 1/2000 sec

Aperture
• F2.5 - 9.1 (wide)
• F4.4 - 15.8 (wide)

White balance
• Auto
• Outdoors
• Cloudy
• Incandescent
• Fluorescent
• Custom

White balance bracketing Yes

Flash
• Auto
• Forced off
• Forced on
• Red-eye reduction
• Slow-sync
• Soft Flash
• Range: 20cm - 5m (wide), 15cm - 3m (tele)*4

Removeable electronic viewfinder is included in "GX100 VF KIT"

LCD monitor
• 2.5" TFT LCD
• 230k pixels

Connectivity
• USB 2.0 Hi-speed*5
• AV-out
• NTSC/PAL switchable

Print compliance
• EXIF 2.21
• DPOF*6

Storage
• SDHC/SD/MMC card
• 26MB internal memory

Weight
220g (7.8oz) without battery
Dimensions 112 x 58 x 25 mm (4.4 x 2.3 x1.0 in)