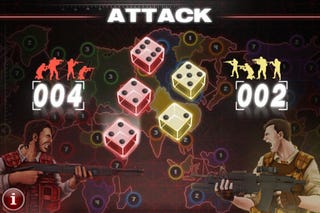 The iPhone has been out for a while now, so the biggest RISK fans have most probably sought out generic versions of the game. But for those who haven't, EA has just released an ultra official RISK: The Official Game.
So the bad news is this: It's not a universal app, so there's no iPad version bundled in the package.


However, those playing on the iPhone and iPod touch will have access to some interesting multiplayer options. Up to 6 players can share one handset to multiplay their way through a game, or up to 4 can join one another over Wi-Fi or Bluetooth.
But the one, missing feature I'd like to see is online play. No, I don't want to connect to anyone in realtime over the internet, but a slower-paced, push-notification-based style of play could be perfect for killing time through the day—like Warfish, just on my phone.
RISK: The Official Game is available now for $5. [Risk App via Joystiq]