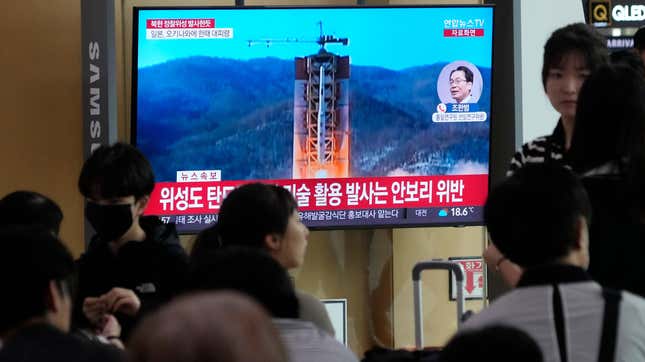 North Korea's attempt to launch a military satellite to orbit ended in failure as the rocket suffered a malfunction mid-flight, triggering air raid sirens in neighboring countries. The attempted launch was condemned as a violation of international agreements, but North Korea says it's determined to carry out a second attempt soon.
Astronomers Could Soon Get Warnings When SpaceX Satellites Threaten Their View
The Chollima-1 rocket rocket launched at 5:27 p.m. ET on Tuesday (6:27 a.m. local time on Wednesday) from the Sohae Satellite Launching Ground, carrying the Malligyong-1 spy satellite, North Korean state news agency KCNA reported. The rocket lost thrust after the first stage separation due to an "abnormal startup of the engine" on the vehicle's second stage that may have been caused by an instability in the engine and fuel system, according to KCNA.
Following its malfunction, the rocket tumbled down and crashed into the sea off the west coast of the Korean Peninsula. Its crash triggered a false state of emergency in parts of South Korea and Japan, sounding off air raid alarms and evacuation warnings.

North Korea is trying to salvage rocket parts from the sea and investigate the exact cause of the anomaly in an effort to resolve any issues before attempting a second launch of the satellite, KCNA reported.
Even before the rocket crashed into the sea, its launch was deemed controversial due to an international ban on North Korea from using ballistic missile technology. Before Wednesday's launch, North Korea had announced its upcoming attempt to launch its first military reconnaissance satellite between May 31 and June 11, its purpose being to monitor the United States' military activities.
The U.S. joined Japan and South Korea in condemning the launch of North Korea's military reconnaissance satellite, calling it an attempt by North Korea to advance its missile program. In a statement issued on Tuesday, the White House condemned the launch as "a brazen violation of multiple UN Security Council resolutions, raises tensions, and risks destabilizing the security situation in the region and beyond." Japan was on high alert ahead of the launch, ordering its Self Defense Force to shoot down the satellite if it entered into Japanese territory, Japan Times reported.
Wednesday's failed launch was the sixth satellite launch attempt by North Korea but the first one in six years. The country currently has two satellites in orbit, but neither are spy satellites.
For more spaceflight in your life, follow us on Twitter and bookmark Gizmodo's dedicated Spaceflight Spaceflight page.