Roku's Netflix box is currently a one-trick pony, but it's getting Amazon's Video on Demand later this year, meaning you can soon buy or rent and instantly stream movies and TV shows from Amazon's service.
Amazon's Video on Demand library has about 40,000 titles and releases movies on the same day they hit DVD, and anything you buy on the Roku box can be accessed on your PC or Mac too. Like Netflix, the streams will scale to your bandwidth. I think this officially makes the $99 Roku box the best value in standalone VOD boxes, since it explodes the Roku's catalog weakness by giving it access to new titles.
AMAZON VIDEO ON DEMAND BRINGS CUSTOMERS NEW-RELEASE MOVIES AND TV SHOWS TO THE ROKU DIGITAL VIDEO PLAYER

Roku adds a convenient way for customers to enjoy movies and TV shows from Amazon Video On Demand; Amazon Video On Demand connects to PC, MAC, Sony Bravia Internet Video Link, TiVo, Roku and more to come soon

SEATTLE-(BUSINESS WIRE)-Jan. 5, 2009-Amazon.com, Inc. (NASDAQ: AMZN) today announced that it will offer customers the ability to instantly purchase, rent and watch digital movies and TV episodes from its popular video service, Amazon Video On Demand, via the Roku Digital Video Player. Beginning in early 2009, the Roku Player, which currently supports only the Netflix service, will offer access to Amazon Video On Demand's more than 40,000 commercial-free movies and television shows enabling Roku customers for the first time to watch new release movies titles instantly.

With an easy-to-use interface that customers can enjoy from their couch, Amazon Video On Demand and the Roku Player will enable customers to:

∑ Access and add to their virtual library of purchases via Amazon Video On Demand's Your Video Library, and re-watch them anytime on the Roku Player or online with a PC, MAC or other compatible device.
∑ Watch new release movies the same day that they are released on DVD. Hit titles such as "The Dark Knight," "Hancock," "Pineapple Express", "Tropic Thunder" and hundreds more that are not currently available on the Roku Player.
∑ Enjoy instant playback, no downloading, no waiting and no subscription fee.
∑ Browse Amazon.com's huge selection of over 40,000 movies and TV shows for rent or purchase.
∑ Enjoy Amazon Video On Demand's high-quality video through its use of the advanced h.264 codec and an automatic bandwidth detection feature that seamlessly plays back the best quality file at either 300, 600, 900 or 1200 kbps.
∑ Easily setup their Roku Player using its built-in Wi-Fi connection and begin watching videos within minutes.
∑ Connect their Roku Player to any television set using HDMI, Component Video, Composite Video, S-Video, Stereo Audio or Optical Audio connections.

"With the subscription-free $99 Roku Player that connects to any TV, customers can now choose and watch their favorite new-release movie instantly, and access all of their titles from their video library," said Roy Price, director Amazon Video On Demand. "Amazon Video On Demand's large selection makes the Roku Player the perfect choice for hassle-free On Demand movie and TV entertainment."

"We are excited to add Amazon's massive catalog to our player – including new releases and top movie and TV titles," said Anthony Wood, Roku CEO and founder. "This makes the Roku Player the ideal choice for watching Internet content directly on TV."
G/O Media may get a commission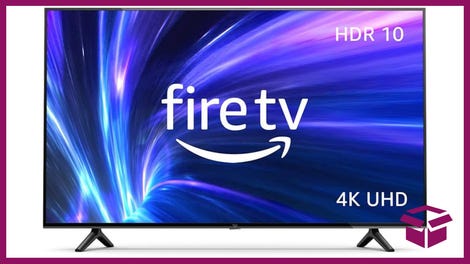 42% Off
Amazon Fire TV 50" 4K Smart TV
[Amazon]