For a month, Roland has been teasing its mysterious "Aira" products with a series of videos that invoke the TR-808 and TR-909 Rhythm Composers, classic beat machines that are amongst the best-sounding hardware, even 30 years after they first hit the market. But it turns out the new Aira series is hardly a throwback. This is the future of electronic music—and it's for everybody.
Aira tools are for both performance and production
As you might have surmised so far, Aira isn't a single product but rather a series of digital tools which use complex modeling to get classic sounds. The initial run includes a drum machine modeled after the 808 and 909 (TR-8 Rhythm Performer); a bass synth modeled after the classic TB-303 (TB-3 Touch Baseline); an advanced vocoder (VT-3 Voice Transformer), and an advanced keyed synthesizer (System 1: Plug-Out Synthesizer).
I'll get into the details of each on of those products below, but first, let's take a look at the bigger picture here. Roland's goal is to design tools that are useful for both production and stage performance. The old legacy machines like the 808, 909, and 303 were all eventually used in performance, but they were really designed as studio tools. The idea, as Roland's Casey Bishop (the dude in the video above) told me, is to make tools that "you can compose on in the studio by day, and go perform on it at night." The current generation of young music makers was raised on computers and the idea now is "get people back out of the box and out of the computer screen." Like all modern electronic music hardware, Aira products will interface with computers, but it's designed to standalone without software. According to Bishop, the manual for the new TR-8 is only one page. Learning how these instruments play is easy. Using them to make awesome music is the challenge.
G/O Media may get a commission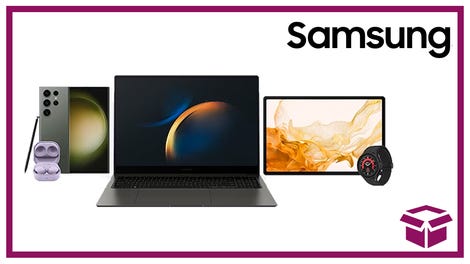 24 hour deals
Discover Samsung - Daily Deal
TR-8: Three classic drum machines in one modern package
Let's begin with the hardware that everyone is going care the most about. The TR-08 is a drum machine that's been loaded with models of the TR-808 and TR-909, as well as a TR-808 "long decay"—a popular after market modification to the 808, in which the Rhythm Composers classic burly kick burns out slowly at the end.
To mimic the sound of the classics, Roland used a component-level modeling algorithm. In other words, rather than use samples to try to reverse engineer a digital instrument that sounds like the originals, Roland actually designed an algorithm that models the behavior of the original 808 and 909 guts down to the capacitor. In this way, the sound of the drum kits varies depending on how the pattern you've built would be using power—as though the machine was actually pulling voltage through an analog circuit.
The layout will look pretty familiar, 16 pads at the bottom with 16 faders above them, which are the main controls. The built-in sequencer can record up-to 32 steps in real time, and you can populate it with with sounds from 16 different kits made up of 11 instruments. Each of the assigned instruments in a bank has individual controls for tuning and decay.
There are some modern touches, too, including delay and reverb effects that are assignable to individual steps as well as to individual instruments—so you can add vicious delay to just the snare drum and/or to just specific beats in the sequence. Besides reverb and delay, there's also a gated external input so you can bring in effects from an external module.
And then there's a new tool called Scatter, which will be used across the Aira line. Scatter is a series of 10 effects with variable intensity, which are meant to mimic some of the classic post-production effects added by music producers. When activated, the scatter effects chop, reverse, cut up, and stutter the music. You'll recognize the sounds of the effects immediately, and this is probably the first time they're being produced live, without the help of a computer. To reiterate, the idea behind Aira is to get people away from computers and using electronic music instruments like instruments.
What else? The TR-8 obviously has both analog an MIDI I/O. The digital output is 32-bit 96 kHz—this will be true across all the instruments. so I'll just say it once now.
The TR-8 will be available next month for $500. Oh my god I want one.
---
TB-3: A bassline composer with a touchscreen
Like the TR-8, the TB-3 is modeled down to the component level on a classic product, the TB-303. This time around, though, Roland opted switch up the classic keys for a touchpad to play the instrument. The reason is that the original 303 had awesome sound, but the combination keyed synth and step-sequencer were difficult to use. The responsive capacitive touch pad allows you to both play the instrument and lay down patterns easier than before. Additionally, the TB-3's touch pad allows you to draw curves for envelope modulation and decay with your finger.
The TB-3 has four banks. The first has the classic 303 set, and there are also banks for basslines, leads, and finally a bank for warped-out, crazy sci-fi madness.
The TB-3 will be available in March for $300.
---
VT-3: Way more than just a vocoder
It's hard to know when exactly it started (Daft Punk? Kanye West?) but the old-school vocoder has become a staple of modern pop music. With that in mind, Roland is bringing out a new product that's just for voice transformation. It's ridiculously easy to use. Plug in your microphone, turn the knob to one of the 9 voice characters (vocoder, 2 different auto-tunes, a megaphone, etc.), and then affect the intensity. There's also a robot button that makes what ever sound you're on sound lie a robot. And in the event that you're already on the roboty vocoder setting, well, you kind of get double robot.
The sounds this thing produces are super awesome and varied, and for $200 it feels like a steal.
---
System-1: An expandable digital synthesizer
The new System-1 synthesizer isn't a model of a previous synth but rather the result of the Aira engineering team's experimentation with what exactly a keyed synth in the line might look like. It still uses component level modeling to mimic the behavior of an analog circuit.
The System-1 is a two oscillator synth that's capable of either monophonic play or up-to four voice polyphony. It's layout will be pretty familiar to anyone who has ever used a synth before.
Probably the coolest feature of the System-1 is the Plug-Out option that allows you to switch between the System-1's default mod and another that you've loaded on from your computer. Roland plans to offer models of many of it's classic synths, but it's still ironing out details for how exactly this will work. It'll be out in April or May for $600
Bottom line
In playing with the Aira hardware a bit, and more importantly, in watching Roland's Casey Bishop use it a lot, this seems like very solid and versatile hardware. It's certainly not going to be for the nerds who never want to step away from their computers. Nor will it satisfy the analog purists who are offended at the mere thought of digital modeling—the synthesizer and drum machine world is full of these anti-digital philistines.
What we've got here is hardware that's meant to be played, and played like an instrument. It's not everything, it's not pure, but it is a very appealing combination of versatile and easy to use. Not to mention that the prices are very competitive, especially given how expensive an original 808 is. We'll reserve full judgement until we've seen (and heard) more, but Roland seems to be on to something big with it's Aira hardware. We're looking forward to hearing what people will make with it.
Photos and video by Michael Hession