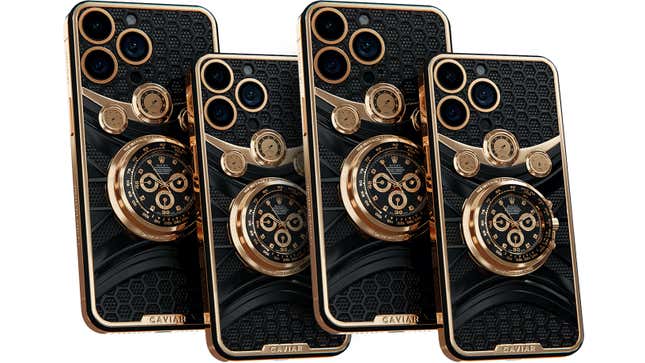 Looking for a way to tell the world "I have more money than I know what to do with" that doesn't involve buying and tanking a popular social media network? Caviar, a brand known for putting luxury before taste, has wrapped an iPhone 14 Pro Max in a case with 24K gold plating and encrusted it with a Rolex Cosmograph Daytona watch. Congratulations, you've ruined two luxury devices.
The iPhone SE Offers Almost Everything You Want In An iPhone
If you're not familiar with Caviar, you probably don't live in a house that looks like three McMansions hastily stapled together. It's a Russian company that sells upgraded versions of smartphones and smartwatches with an aesthetic that can be best described as, 'bedazzling with a big budget.' The last time we checked in with the company, it was hawking a $4,500 "iPhone X Tesla," which was an iPhone upgraded with a case featuring a built-in solar panel that could help extend the device's battery life.
Simply called the Daytona, Caviar's latest creation isn't quite as practical as an iPhone with a solar panel attached. It's an iPhone 14 Pro Max wrapped in a case made from titanium with a black PVD coating, 24K gold plating, and adorned with decorative dials on the back replicating a speedometer, oil, and fuel indicator. But the piece de resistance is a self-winding, 40mm, Rolex Cosmograph Daytona Oyster watch finished in yellow gold with a black dial.
On its own, the watch already sells for tens of thousands of dollars, but Caviar sells it bundled with the custom case and the iPhone 14 Pro Max it's attached to (from what we can tell, the watch can't be removed if you want to wear it separately). Only three of these will be made, and you get to choose which capacity of iPhone you'd prefer. They start at $182,580 for the 128GB model, but if you're spending this much money, you might as well opt for the 1TB storage option, which bumps the price to $183,750.