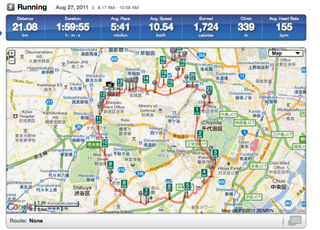 Fitness fanboy Joseph Tame is passionate about running, as his latest 13-mile trek confirms, but did you know he's pretty into Steve Jobs as well? For confirmation of that, look no further than this Tokyo satellite photo.
Tame created it using the Runkeeper app to track his progress using GPS and a special harness called iRun that he developed for the purposes of recording runs using multiple iPhones and video. As CENT notes, the signature "bite" from the Apple is actually a meandering loop around the renown Imperial Palace. [CNET]
You can keep up with Jack Loftus, the author of this post, on Twitter and Facebook.