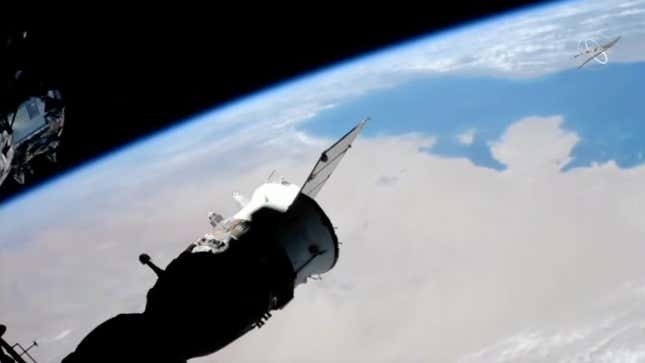 A few months after a Russian crew capsule sprung a leak while docked to the International Space Station, the MS-22 returned to Earth carrying cargo but with no crew on board.
Three Astronauts May Be Stranded on the ISS After Disturbing Soyuz Coolant Leak
Russian space agency Roscosmos's Soyuz MS-22 spacecraft undocked from the ISS on Tuesday at 5:57 a.m. ET before landing in the Kazakh Steppe, an area of open grassland in northern Kazakhstan, with the help of a parachute about two hours later at 7:46 a.m. ET, according to NASA.
The capsule carried 481 pounds (218 kilograms) of cargo, including the results of scientific experiments conducted on the ISS and equipment that will be analyzed on Earth, Russian state-run news agency TASS reported. The Soyuz MS-22 was also carrying a damaged spacesuit that suffered a power malfunction during a spacewalk outside the ISS in August 2022, forcing cosmonaut Oleg Artemyev back into the space station. Engineers will examine the suit to determine a cause of the malfunction.
Russia's MS-22 was deemed unfit to carry a crew back to Earth after a 0.8-millimeter hole was discovered in its outer skin, causing its coolant to leak out into space last December. Russia claimed that the hole was caused by a micrometeorite and not a manufacturing defect. However, in February of this year, Russia's Progress 82 freighter also began leaking out its coolant while docked to the ISS in an unfortunately similar incident. The back-to-back incidents cast doubt on the integrity of Russia's spacecraft, with a manufacturing defect appearing to be the likelier cause of the two coolant leaks. Indeed, the odds of a micrometeorite hitting two spacecraft radiators within such a short span seem, uh, astronomical.

Now that it's back on Earth, Russian engineers will likely examine the MS-22 spacecraft, but the true cause of the coolant leak may elude detection. Prior to atmospheric reentry, the Soyuz spacecraft discarded the damaged assembly compartment, so it cannot be examined by ground technicians. That piece is now long gone. As for the Progress 82 freighter, that's an expendable vehicle that burned up on reentry weeks ago. 
An uncrewed Soyuz MS-23 launched to the ISS on February 23 to replace the damaged Soyuz MS-22 and serve as a lifeboat for Roscosmos cosmonauts Sergey Prokopyev and Dmitry Petelin, and NASA astronaut Frank Rubio. The trio traveled to the ISS on board MS-22 in September 2022 and were scheduled to return to Earth in the spring of this year, but their mission has been extended until September 2023 due to the leak.

For more spaceflight in your life, follow us on Twitter and bookmark Gizmodo's dedicated Spaceflight page.