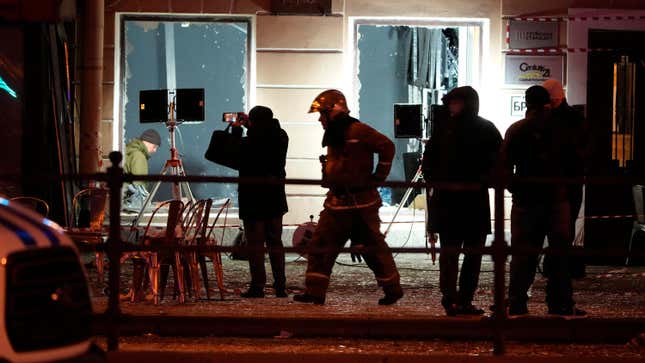 A Russian pro-Kremlin blogger who was known for his support of Russia's invasion of Ukraine was killed in an explosion on Sunday that authorities believe was inside a gift. Vladlen Tatarsky, whose real name is Maksim Fomin, was speaking at a cafe in St. Petersburg for the pro-war group Cyber Front Z when witnesses say they saw a woman give Tatarsky a small look-alike statue before moving to the back of the room.
Russian Court Says Meta Is "Extremist Organization"
"This woman sat at our table. I saw her from the back as she was turned away. When she gifted him the figurine, she went to sit in a different place by the window and forgot her phone at our table," one witness told Russian state-owned domestic news agency RIA Novosti. The witness added, "The host at the stage took the figurine from the box and showcased it, Vladlen held it for a bit. They put it back and shortly after the explosion happened… I was running and my ears were blocked. There were many people with blood on them."
Russia's Interior Ministry said on Monday that they identified Daria Trepova as a suspect in Tatarsky's murder after several eyewitnesses claimed the explosion went off after he received the figurine. Fontanka, a local news outlet reported that according to a witness, a woman introduced herself to Tatarsky as Nastya, a sculptor. Another witness told the local tabloid, Komsomolskaya Pravda that Tatarsky asked the woman to bring it to him after she said she wasn't permitted to bring the statue inside because of bombing fears, The New York Times reported.
Gizmodo was unable to independently verify the above claims.
Tatarsky was a radical supporter of the invasion of Ukraine and gained prominence after he attended a ceremony marking Russian President Vladimir Putin's illegal claims of the annexation of four regions of Ukraine. At the time of his death, Tatarsky had more than half a million followers on his Telegram blog where he expressed criticism of any Russian setbacks in the war, citing flaws in Russia's army.
The Cyber Front Z pro-war group expressed their condolences to the victims and their families in a post on Sunday, CNN reported. The group wrote, "During our regular event in a cafe we rented, there was a terrorist attack. We took certain security measures, but, unfortunately, they were not enough."
The Russian Investigative Committee for St. Petersburg opened a murder investigation and is trying to piece together what happened leading up to the explosion. According to CNN, at least 32 people were injured when the blast went off including ten people who are in serious condition.
Cyber Front Z added in the blog post, "Separate condolences to everyone who knew the wonderful war correspondent and our good friend Vladlen Tatarsky. Now we are cooperating with law enforcement agencies and we hope that all those responsible will be punished."