The kinkiest thing an automaton can wank to is the organic lifeform he's tried to kill for five years.

[Warning: This post contains some images that may not be safe for work.]
At its core, Saga is a series about family, both the ones that we're born into and the one we wind knitting together for ourselves out of friends and people who don't share our blood. Brian K. Vaughan, Fiona Staples, and the rest of the creative team behind the hit science-fantasy series understand that families are weird. You take for granted all the messaging you absorb about them when you're younger and, as time marches on, you find yourself loving people you're supposed to hate and hating people you're supposed to love.
The main plot of the series has them on the star-crossed parents from warring planets on the run from governments trying to kill or capture them, a good metaphor for the peculiar kind of isolation that comes with figuring out a life together.
G/O Media may get a commission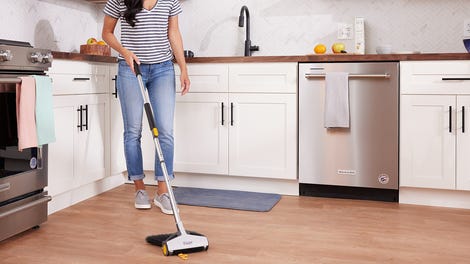 BOGO 50% Off
Flippr - BOGO 50% Off
Part of the appeal of Saga has been watching the desperately itinerate nuclear unit of Alanna, Marko, and Hazel pull other characters like teen ghost babysitter Izabel, cutie man-walrus Ghus and liberated child slave Sophie into their orbit. Each new relationship brings its own specific tensions and fresh joys to the mix, while messing with the temperature and pressures of the core bonds between mother, father, and child.

As in soap operas, telenovelas, and any serialized drama, watching old characters return and new ones step into frame in Saga makes readers tingle with worry and delight. Past storyarcs have had Marco and Alanna estranged and separated from each other and toddler Hazel, either falling into drug use or dodging with extramarital temptations. Hazel wound up in a detention center for war refugees and, after a brazen rescue, there was an emotional family reunion before the series' most recent hiatus.
This week's Saga #37 picks up after that last story arc, as Alanna, Marko and crew try to head back to the planet Quietus so Sir Robot IV can continue raising his son in exile. The former prince tries to take his mind off things…
...but wind up in a far more confusing place than he'd hoped

There's that whole part about loving (sort of who) you're not supposed to. Petrichor, a transwoman who looked after Hazel while detained, is now part of their motley crew, still struggling with the old prejudices that had the winged people on Landfall and horned denizens of orbiting moon Wreath fighting for decades. A fuel leak on their wooden spaceship forces them to head to Phang, a resource-rich comet home to a roiling polyglot society broken by the long-running war.
Once there, they meet another family in need, one whose cute looks almost certainly hide trouble of some sort.

There's probably more heartbreak ahead in Saga. It'd feel wrong if there wasn't. But, since the series is narrated by an adult Hazel, we have the assurance that she comes out okay on the other side of all this cosmic drama. Somehow, her family—blood-related and otherwise—gets her through. The heart-wrenching cost that we know they have to pay is what keeps us reading.