Rejecting Donald Trump and his associates is a simple test of moral fortitude. Sam Altman, the 31-year-old Silicon Valley thought leader and president of famed startup accelerator Y Combinator, has passed the first part of that test. He has denounced Trump's policies, calling them racist and isolationist. He has argued that Trump should be disqualified from the presidency because "he represents a real threat to the safety of women, minorities, and immigrants." He's even gone as far as to compare Trump to Hitler.
This past weekend, Altman went even further with his anti-Trump views. He made the trip down to San Francisco's airport to protest Trump's Muslim ban, tweeting a selfie while doing so. In an interview with Forbes, he argued that the ban is "anti-American." Today, Y Combinator announced it added the ACLU, who just landed a major victory against Trump's executive order, to its Winter 2017 batch. According to TechCrunch, it was Y Combinator that reached out to the ACLU. But while this posturing certainly seems to be genuine, Altman has steadfastly refused to do the one thing that would serve as a substantial rebuke of the Trump administration: Cut ties with his business partner Peter Thiel, an avowed Trump ally.
Thiel—Silicon Valley billionaire, Facebook board member, and part-time partner at Y Combinator—isn't just a casual supporter of Trump. He spoke in support of Trump at the Republican National Convention, pledged to donate $1.25 million to his campaign, and was heavily involved in the president's transition team.
This weekend, Thiel doubled down, and essentially defended Trump's Muslim ban. His spokesperson told Forbes that "Peter doesn't support a religious test, and the administration has not imposed one." Thiel can pose as a thoughtful contrarian all he wants, but a ban of immigration from seven predominantly Muslim countries with a special carveout for "religious minorities" is a Muslim ban.
For months now, Altman—who appears to be a close personal friend of Thiel—has engaged in useless handwringing over Thiel. He's said that calls for Y Combinator to terminate its support of the billionaire for "supporting a major party nominee" would be a "dangerous path to start down."
G/O Media may get a commission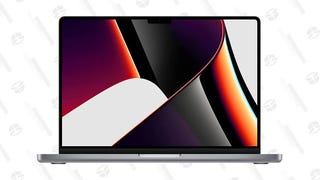 Save $300
2021 14" 1TB MacBook Pro
But in his SFO interview with Forbes, Altman was explicit in how Trump's morally indefensible Muslim ban would affect Y Combinator employees. "This is not something that just affects Muslims," Altman said. "This is something that affects all immigrants when you start not allowing people back—when they have green cards. So many of our founders are immigrants." It's bizarre, then, that Altman would continue to employ someone that backs a policy that he says actually harms Y Combinator employees.
Altman almost seems blissfully unaware of how people at Y Combinator might feel about working under Thiel. When Trump fired acting Attorney General Sally Yates last night for instructing Justice Department lawyers not to defend the Muslim ban, Altman was quick to publicly offer her a job.

It seems as though Altman didn't stop to consider that the woman who bravely rejected an executive order that is most likely illegal—and subjected herself to the Trump administration's public ridicule for doing so—probably doesn't want to work alongside Trump's most vocal supporter in the tech community.
Altman doesn't even seem to see any difference between someone who merely cast a vote for Trump versus a billionaire who served as a delegate for him.
In addition, Altman believes saying disgusting things is radically different from financially supporting someone who says disgusting things. Altman has previously said, "of course, if Peter said some of the things Trump says himself, he would no longer be part of Y Combinator." So, Thiel can back Trump with over a million dollars, but if he personally uttered some of the more reprehensible things Trump has said—well, then, that's a problem! This is illogical and intellectually disingenuous, and that's how Altman's approach to Thiel has been this whole time.
Altman declared this weekend in a blog post that it's "time to take a stand." Like with Y Combinator's eagerness to promote its ACLU partnership, it seems like Altman is excited to join other technology leaders in defying Trump, but only up to the point where it won't have any impact on him or his business.
Altman won't do the one thing within his power that could actually be construed as a rejection of the Trump administration. It's hard to know exactly why Altman refuses to do this—is it because it will eventually affect Y Combinator's bottom line, or is it because Altman just can't bear to cut ties with his friend? Either way, Altman has more power than most people to take a stand against Trump, and his refusal to do so makes him a coward.