Pint-sized pico-projectors are popping up all over the place. Will Samsung's SP-H03 be the first to find its way into your pocket? Depends on how badly you need public video playback.
Specs Samsung SP-H03
Dimensions: 1.5" x 2.75" x 2.75"
Weight: 6oz
Resolution: 854 x 480
Aspect Ratio: 16:9
Price: $300
You're camping. You've got jury duty. You want to show a couple friends a web video without crowding the whole gang around your notebook. The idea of having a high-def projector that you can take anywhere has pretty wide appeal, and the SP-H03 is a serious attempt at satisfying that want. It packs a gig of internal memory, a strap-on battery that'll last two hours, and a 30-lumen LED DLP that fires off a 28-inch-diagonal image. All in something the size of a fresh stack of Post-It notes. Throw in native support for nearly 20 file types and you've got yourself a pretty powerful projection platform.
G/O Media may get a commission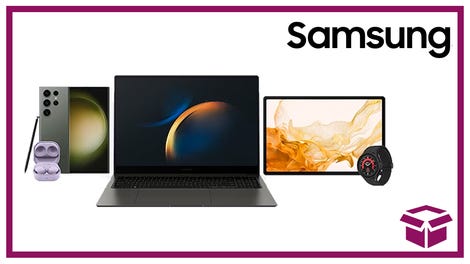 24 hour deals
Discover Samsung - Daily Deal
Setup is fairly straightforward. Find a wall at least three feet away, either connect the SP-H03 to a video source or use the touchscreen to navigate the internal memory, and hit play. For audio, it'll squawk out of its built-in speakers, but there's a 3.5mm jack for connecting something more substantial. You can plug it into the wall or use a rechargeable clip-on battery that lasts around two hours—long enough for a movie or a few rounds of video games. When sitting alone, playing a movie, the whole assembly looks like a little piece of softly humming cake.
Obviously, the SP-H03 has great portability. Its size and weight allow it to slip easily into a pocket, though at 1.5" tall, expect a lot of "or are you happy to see me?" jokes.
The image is bright enough with the lights off, but even on an overcast Portland day the image can be washed out in daylight. That's to be expected for something of this size. Supports roughly 20 video, music and image files as well as Microsoft Office Suite formats. Decent variety of inputs: VGA, composite, USB or SD. The LED will likely outlast the device, so you shouldn't have to ever replace a bulb.
Won't play some popular file types, like .mov, which definitely limits your options. Needs more modern cabling options something awful: Sure, you've got a simple composite input available with an adapter, but the lack of HDMI or DVI makes it decidedly less compatible with more modern laptops. Also, every input needs a dongle, which is a pain. One-watt speaker is loud enough to fill a small conference room, but sounds tinny—plug something beefier into the headphone jack is recommended whenever possible. There's also a constant, muted whine from the fan—not a big deal, but noticeable.
Obviously, no one will mistake the SP-H03 for a home theater machine, so don't expect to hook this up to a Blu-Ray and be blown away with full 1080p clarity and 10.1 surround sound. The resolution is good enough and the picture is bright enough for a PowerPoint presentation or a campground film festival. Overall, the SP-H03's portability and variety of input/playback options outweigh its outdated cabling and occasionally spotty video support.