This is NSFWIYAB (Not Safe For Work If You Are a Bear), but a rare occurrence captured by the San Diego Zoo Polar Cam. Ask yourself a question, people: Do our children need Baloo porn?
It happened this morning, according to Swedish reader Madonna Arsan, who apparently has nothing else to do but to check the San Diego Zoo Polar Cam every morning looking for bears having a fun time. Unfortunately, the zoo people have changed the camera view.
Apparently, the scene is a rare occurrence because bears only mate once a year—and have one-hour orgasms, or so I am told. Which makes me wonder: Would I like to have a one-hour orgasm once a year or one hour of orgasms across a year? Hmmm.
Click to viewI really don't need this kind of thinking in the morning. [Thanks Madonna]
Update: Bad news, people: Bears don't have one-hour orgasms. According to San Diego's Zoo:
In short, polar bears do not have hour long orgasms. We actually know very little about their mating habits but are learning a lot from Kaluk (the male) and Chinook (the female) at the San Diego Zoo.

Here's what we do know:

The female polar bears at our Zoo are in estrous between February and July. The San Diego Zoo has trained Chinook to allow us to get vaginal swabs that allow us to test for the cellular changes that occur when the polar bear is in estrous. However, the time of year that a bear is in estrous can vary; our keepers have heard it is different for polar bears in other zoos.

Over the past few days we have seen Kaluk mounting Chinook but do not know if this has resulted in successful breeding. Keepers conducted a vaginal swab yesterday to send off to a lab for a "pregnancy test." We're hoping for the best but if it's not positive, we expect that Kaluk and Chinook will continue to show signs of breeding until July.
Polar bears are critically endangered because of global warming. It has affected polar bears because as ice sheets melt, it prevents the bears from traveling in search of food.
G/O Media may get a commission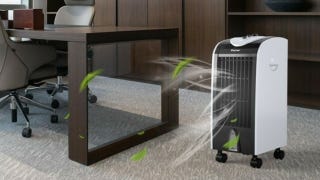 Save $10
Evaporative Portable Air Conditioner Cooler with Filter Knob