That be it, folks. Our SanDisk Indestructible Giveaway is now over. Thanks to everyone who submitted entries and thanks to SanDisk for sponsoring this contest. We have two, 2GB Cruzer Titanium flash drives to give away, and it is up to you to decide who wins. We narrowed down the entries to some of the best. Hit to jump to see all of the entries, hear their stories and vote for the winners. The two entries that receive the most votes will win the 2GB Cruzer Titanium
Voting will end on Wednesday.
Poll is at the bottom, yo.
Spencerland

G/O Media may get a commission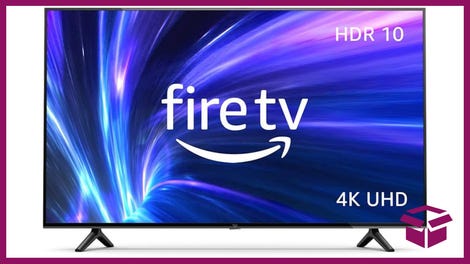 42% Off
Amazon Fire TV 50" 4K Smart TV
"Several months ago i was painting my ipod mini and messed up taping over the wheel and screen. So i got pissed of at it and decided to shoot it with a BB gun and beat the shit out of it with my katana. Now all i have is the 50 cent edition ipod wich was the only suitible name for my extreamly beat up ipod."

"Here's how some friends and I tested the strenght of a particularly bad PC. Aways crashing. Always having problems. It just sucked.
We used concussive targets that are used for long range target shooting to help persude the PC to cooperate. Much fun was had, much beer was drunk (after the shooting was over, of course)."
Sanjay N.

"A few years ago, when I was a college kid at NYU, I hopped into an elevator with my then-girlfriend and two other girls. Halfway up to the top the elevator stopped moving — the damn thing got stuck at 1 a.m.
in the morning! "We're in a college dormitory in the middle of New York City, so no worries, this won't be a problem," I thought. Wrong.
We alerted security, who told us that we'd have to wait for an engineer to arrive. An hour and a half later the engineers and security guards finally arrive on the floor above us; and now we can hear them
tinkering around. Then they announce that they a) cannot fix the elevator and b) don't have an elevator key to open the shaft door.
So the four of us had to force the door open from the inside, and then reach up to the sixth floor landing and unlock the floor latch for the engineer and guards. Now we're staring at the socks and shoes of the
security guards and lone engineer because the elevator is halfway between floor five and six.
"Okay, now hurry and get the hell out of there!" The guards tell us. We all looked at each other and then everyone scrambled up and hoisted themselves out through the wedge of space. I was last to go, and as I
brought my leg over the lip of the sixth floor elevator shaft, I felt something leap from my pocket.
My iPod. I grabbed the headphones, but the socket unplugged and the iPod disappeared like a tiny snowflake into the black maw of the elevator shaft. "Forget it, just get out," the guard said."

Dennis T.

"I have had to work with troublesome 100MB Zip drives for some years now. We have finally convinced people at my company that USB drives are a lot easier and portable to carry around. So since we can finally get rid of these 100 MB drives, being the sportsmen that we are, we finished them off. It felt really good to be done with them."

ThisGuy

"Attached are my formerly beloved Zaurus—notice how the screen protector completely failed—and the Korean "gadget" responsible for breaking it, a Hyundai Galloper which was completely unable to withstand hitting a 20 ton fish truck head-on at a relative speed of 120kph. I surprised myself by coming out of the driver's seat still able to operate a touch-screen, but the Zaurus became a linux-powered work of modern art, as useless as the Hyundai (which really wasn't that useful before I turned it into instant metal sculpture). Next time, I'm sure I'd come out with fewer injuries if I had a completely indestructible flash drive to interpose between myself and the oncoming semi."

Mark R.

"What happens when you send an HP TC1100 Tablet PC through the mail? Well, the attached photo demonstrates the end result. This is my new tablet as sent to me from our IT department. There was no doubt that somebody (not me) really goofed on this one."

"eMachines are definitely destructable"
Jonathan Keyboard

"his old keyboard had been cleaned and was sitting in the (turned-off) gas oven, drying, when my sister turned on said oven without looking inside. After about an hour, we noticed that the house was filling with (probably carcinogenic) smoke."

"Fragile: Handle With Care"

Boris, French Guy
"You're surfing on some websites...There is popup... (Ok with some really fine popup ;-) ) You're girl friend just see the popup when she walking behind you: bang! Jealousy is there! You're looking for other girls on the net, bla bla bla, bla bla bla, and just after, your laptop is flying for 5 meters onto a real wall which don't move. Here is the result. Now it is working as a great Windows Media Center in the garage, used through my Xbox 360."
Gawker Media polls require Javascript; if you're viewing this in an RSS reader, click through to view in your Javascript-enabled web browser.