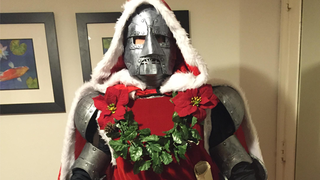 DOOM CARES NOT FOR CHRISTMAS. Well, I guess that's a lie, thanks to this incredible cosplay by Cash Branson - Santa Doom is coming to town, and he's got one hell of a naughty list.
Cash made the costume for a recent convention, and it's pretty damn incredible - from the detail on Doom's armour to his delightfully festive poinsettia and holly cloak clasp, but the absolute best part is the Naughty List he made to go with it:
One of these names is not like the others. You can check out a few more pictures of Cash's excellent costume in the imgur gallery below:
I now want a to see a Christmas Cosplay showdown between Santa Doom and Festive Squirrel Girl. Truly, a festive battle for the ages.
---
You're reading Toybox, io9's new blog for all things pop culture. From merchandise to awesome fan creations, TV recaps and critical commentary on the hot topics of the day, you can find it all here!