Sarah Huckabee Sanders is slowly taking over Sean Spicer's duties as the public face of the Trump administration, and she's already inheriting his penchant for using the James S. Brady Press Briefing Room's lectern as a bully pulpit against the media. Today she went so far as to encourage the gathered reporters, and Americans as a whole, to watch a video from Project Veritas that's critical of CNN.
Responding to a question regarding the recent retraction and firings at CNN over a poorly-sourced story about the president's connections to Russia, Sanders said:
There are multiple other instances where [CNN] has been repeatedly wrong and had to point that out or be corrected. There's a video circulating now. Whether it's accurate or not I don't know, but I would encourage everybody in this room, and frankly, everybody across the country to take a look at it. I think think of it is accurate it's a disgrace to all of media, to all of journalism.
Sanders is of course talking about American Pravda Part 1, the most recent "investigation" by filmmaker James O'Keefe's Project Veritas. In the video, veteran CNN producer John Bonifield—who appears to be unaware he's being filmed—makes several statements that might be obvious to people working in media: audiences have a tremendous appetite to learn about the ongoing investigations into Trump's potential connections to Russia, and that so far those investigations haven't turned up a smoking gun. Regardless, several quotes from Bonifield have been seized on by conservative media to cast uncertainty onto an investigation for which the president, the vice president, and the president's lawyer have all hired lawyers.
It's unclear who is filming Bonifield, where they're meeting, or when these recordings were made. We've reached out to CNN and Bonifield and have not heard back.
G/O Media may get a commission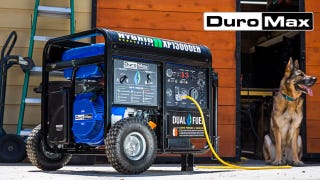 Black Friday Sale
DuroMax Generator Sale
O'Keefe, who positions himself as a renegade battling against a "broken, rotten media machine," hypes the Bonifield video as proof of journalistic malfeasance, and promises future installments. He's been attempting to dig up dirt on CNN for some time, leaking an underwhelming batch of 2009-era audio recordings from low-level staffers in February
O'Keefe has come under fire for deceptive editing in the past, and paid a $100,000 settlement in a lawsuit alleging he improperly filmed an Association of Community Organizations for Reform Now (ACORN) employee during a 2009 sting video in which he appeared to disguise himself as a pimp, and a coconspirator dressed up as a prostitute. Other—and there are not enough scare quotes in the world for this—"investigations" have created fewer waves, like the time he caught a beloved journalism professor using the word's "shithead" and "fuck" in an email.
He ends American Pravda Part 1 crowing behind the walls of his glass house that "every dishonest television network, newspaper, and social media company is now on notice."
What makes Huckabee Sanders's call to action more disturbing is that—beyond telling Americans to watch the work of someone she can't vouch for as accurate and who anyone would have little reason to trust—one of O'Keefe's videos, Taxpayers Clearing House, was funded secretly by Peter Thiel. Though O'Keefe had claimed Project Veritas was financially independent, the Village Voice determined that Thiel had given thousands to the filmmaker.
It's not known if Thiel has contributed to O'Keefe's coffers since then, but his place in Trump's inner circle in conjunction with the Deputy Press Secretary giving free publicity to a these shady investigations should raise alarm bells.
Thiel and Project Veritas did not reply to requests for comment.
Update 6:51pm ET: CNN sent along the following statement regarding the Project Veritas video:
CNN stands by our medical producer John Bonifield. Diversity of personal opinion is what makes CNN strong, we welcome it and embrace it.
A CNN executive familiar with the situation went on to describe the ghastly manner in which the sting took place, alleging that an operative for O'Keefe joined a peer mentoring group which Bonifield was a coach for and requested mentorship from him specifically, claiming to be interested in becoming a journalist and further claiming that his father had recently died. Bonifield gave this individual a tour of CNN and met with him several times all while being filmed without his knowledge, according to this executive. It's not clear what the identity of O'Keefe's operative is or if CNN will pursue legal action against Project Veritas.
Correction: A previous version of the article stated that Project Veritas was forced to pay $100,000 for filming an ACORN employee. In fact, O'Keefe settled the suit for $100,000 but was not forced to pay that amount. We regret the error.