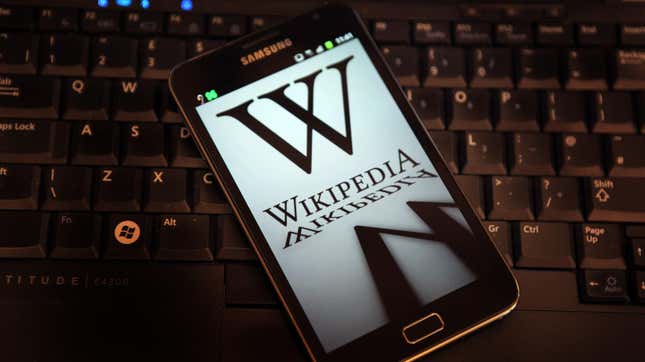 Two privileged administrators of online encyclopedia Wikipedia were reportedly arrested by Saudi Arabian officials. The pair have been sentenced to 32 and eight years in prison for editing conflict critical of the government. The prison sentences predated a larger alleged Saudi espionage operation within the company which ultimately led Wikipedia to ban 16 of of its administrators and users operating in the country.
Reddit Knowingly Downvoting Self | Future Tech
The bans were the result of an internal Wikimedia investigation revealed by Democracy for the Arab World Now (DAWN) an advocacy group founded by deceased Saudi journalist Jamal Khashoggi. DAWN says it learned of the arrests and Wikipedia bans from sources close to Wikipedia and the jailed administrators themselves.
Wikimedia administrators, sometimes referred to as editors, aren't paid employees at the site. Instead, they are volunteers who are granted privileged access to the website which can include the ability to fully edit sometimes protected web pages. Additionally, in some cases, administrators can also reportedly delete pages and block or unblock certain users. DAWN's report claims the alleged administrators close to the Saudi government became administrators and used those privileges to "control information about the country."
The imprisoned administrators, on the other hand, were reportedly arrested back in September 2020 and allegedly charged with "swaying public opinion" and "violating public morals." The DAWN alleges those arrests were politically motivated and came in response to the administrators contributing information on the site viewed as critical to the Saudi government.
"It's despicable but entirely predictable that the Saudi government has prosecuted Saudis merely for posting content about the government's human rights abuses," DAWN Advocacy Director Raed Jarrar said in a statement. "But Wikimedia also needs to take responsibility for the fact that its authorized editors are today languishing in prison for work they did on Wikipedia pages."
DAWN claims Saudi administrators were the 16 users Wikimedia revealed it banned in a public December 2022 announcement. Wikimedia, which didn't provide details about the banned administrators at the time, said the users were penalized for "engaging in conflict of interest editing on Wikipedia projects in the MENA region." Those removals followed an internal investigation started in January 2022.
"As Wikimedia projects have risen in prominence across the world, it has attracted increasing attention of those who would like to control the information published on it, for political or other reasons," Wikimedia wrote. "Community members have addressed concerns of this sort for many years, but sometimes volunteers who intervene in such cases may themselves face retaliation for their actions."
Wikimedia disputed several aspects of the DAWN report in a statement released after publication. The company said it was "unlikely" all 16 of the banned accounts were located in Saudi Arabia, though a spokesperson told Gizmodo they were unable to say definitely what country each banned administrator was based out of.
Additionally, a spokesperson for the WikiMedia foundation disputed Dawn's characterization of all banned individuals as administrators and said some of them were users.
"These organizations did not share the statement with the Foundation, and 'sources of knowledge' as cited in their release can get things wrong," Wikimedia said. "In addition, we do not have staff in the country named and never have, contrary to a message put out by the same groups on social media." The spokesperson added that it's their goal to be as transparent as possible "within essential protection policies, which is why we do not ban in secret, but instead disclose accounts impacted and (when large numbers are involved) have disclosed the rationale."
Following its report, DAWN called on Wikimedia to publicly reveal more details about its investigation, disclose a full list of the Wikipedia pages the Saudi aligned administrators edited and subject them to new review. Additionally, the group said Wikimedia should conduct an internal review of those edited pages and attach wrapping labels stating they were edited by a Saudi spy.
"The Saudi government's infiltration of Wikipedia with government agents acting as independent editors, and imprisonment of non-compliant editors, demonstrates not only its persistent use of spies inside international organizations but the dangers of attempting to produce independent content in the country," DAWN Executive Director Sarah Leah Whitson said in a statement. "It's wildly irresponsible for international organizations and businesses to assume their affiliates can ever operate independently of, or safely from, Saudi government control."
Update: 1/6/2023 6:25 p.m: A spokesperson for Wikimedia reached out to Gizmodo after publication and said it disputed multiple elements of the Dawn report. The company questioned Dawn's claim that all 16 of the banned administrators were based in Saudi Arabia. When asked to clarify, the spokesperson told Gizmodo they could not say specifically which counties the administrators were based out of and could only confirm they were based in the MENA region. Wikimeida also disagreed with Dawn's use of the word "infiltrate" to categorize the banned administrator' actions.
Update: 1/8/2023 3:00 P.M: Added additional statement form Wikimedia.
Correction: 1/6/2023 6:25 p.m: A previous version of this story said Wikimedia fired the MENA-based administrators. The administrators were actually banned as they are not employees of the company.