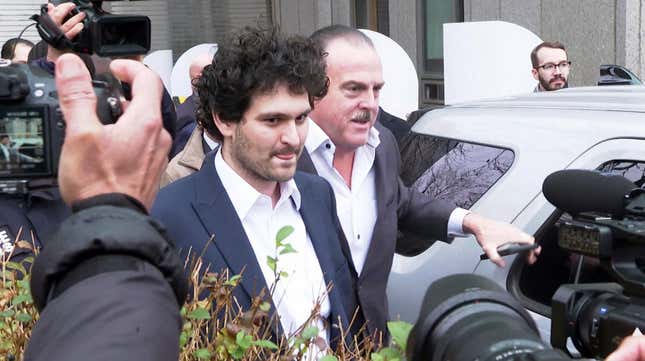 Fallen crypto founder Sam Bankman-Fried appeared in federal court for his arraignment Tuesday afternoon. The former FTX CEO pleded not guilty to all of the felony criminal charges he faces.

The FTC Just Prescribed a Can of Whoop Ass on Health Data
Bankman-Fried, or SBF as he's commonly called, is accused of illegally investing FTX user funds into the hedge fund, Alameda Research, which he co-founded and which was run by his ex-girlfriend, Caroline Ellison. SBF also allegedly used FTX customer money to buy property and donate to political campaigns. Then, it all imploded spectacularly in a "liquidity crisis."
FTX declared bankruptcy and SBF resigned. Other crypto companies with money in the failed exchange fell apart amid the contagion, and the crypto winter got even colder. Evidence of astounding financial misdeeds came to light. SBF all but admitted to journalists that he committed crimes. Authorities arrested Bankman-Fried in the Bahamas and then extradited him to the United States.
SBF is facing eight felony counts including fraud, conspiracy, and money laundering. All told, if convicted, he could face more than 100 years in prison. The failed fintech mogul was arraigned Tuesday at 2 p.m. EST in Manhattan federal court, before U.S. District Judge Lewis Kaplan. Early reports indicated SBF was expected to to file an initial, not guilty plea—and that's exactly what happened. Even under the circumstances, such a plea is fairly standard in high profile criminal cases.
Though, Alameda Research's Ellison and FTX co-founder, Gary Wang, have already both pleaded guilty in their connected cases as part of likely deals to reduce their own sentences at the expense of SBF.
In the lead up to his trial, SBF was released on an enormous $250 million bail and has been living with his parents in Palo Alto, California. The bail package is among the largest in U.S. history, and was secured via the equity in Bankman-Fried's parents' house. Note: Assets backing a bond often only need equal about 10% of the total value.

On top of his parents' support though, Bankman-Fried needs two additional signatories (at least one not related to him) on the bond by January 5 in order for it to remain valid. And Judge Lewis Kaplan is allowing SBF and his lawyers to keep the identities of those co-signers under wraps.
In a Tuesday court filing, the disgraced golden boy of crypto asked the judge to redact the names of his sureties, to protect the two unknown parties from "media scrutiny" and "harassment." "The presumption of access here is vastly outweighed by the privacy and safety interests implicated by the documents at issue," Bankman-Fried's lawyers wrote in the letter. In Tuesday's arraignment, the judge granted SBF's request for sureties anonymity.
Judge Kaplan also set a trial start date for October 2, 2023—giving the federal prosecutors and Bankman-Fried's legal team plenty of time to to pour over FTX's financial records and other evidence.

Update 1/3/2023, 2:48 p.m. ET: This post has been updated with new information from the arraignment.