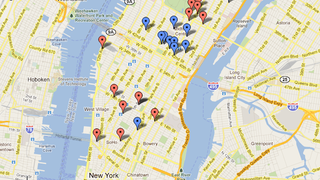 Last week sources at Google suggested that a new Maps app for iOS might arrive "before Christmas". Now, Eric Schmidt has confirmed to Reuters that Google has not yet submitted a new Maps app to Apple.
Speaking after a Tokyo-based Nexus 7 event, Schmidt denied rumors which have suggested Google already has an app ready for iOS 6. Instead, he admitted that the company has "not done anything yet".
Given the timescales usually required to get an app through Apple's approval process, all this means that iOS 6 users are definitely in for a wait before they get Google's own app on their handset. Sadly, Christmas may turn out to be a realistic timeframe after all.
Update: Bloomberg has a slightly different—and more ambiguous—take on things. From its article:
"We haven't done anything yet with Google Maps," Schmidt told reporters in Tokyo today. Apple would "have to approve it. It's their choice," Schmidt said, declining to say if the Mountain View, California-based company submitted an application to Apple for sale through its App Store.
Either way you read it though, we're still in for a wait.
[Reuters]