AUSTIN—Looking at a Pablo Picasso painting could be confusing itself. But scientists using x-rays have revealed secrets behind both paintings and sculptures of the famed artist.

The Northwestern University researchers traced the exact composition of metals in five bronze casts to a specific foundry in World War II-era Paris. Another team even revealed a hidden painting behind the artist's blue-period masterpiece, La Misereuse Accroupie.
"We can give a richer history of art that's enhanced by scientific findings," said Francesca Casadio, Executive Director of Conservation and Science at the Art Institute of Chicago, at the meeting of the American Association for the Advancement of Science in Austin, Texas.
Picasso painted La Misereuse Accroupie in 1902, and it is currently on display at the Art Gallery of Ontario. The researchers used a non-invasive technique called x-ray fluorescent spectroscopy to analyze the painting. It turns out that the artist painted his work on top of another unknown artist's painting of a landscape, and incorporated the landscape's forms into the woman's figure. You can sort of see the landscape by flipping the painting 90 degrees to the left.
G/O Media may get a commission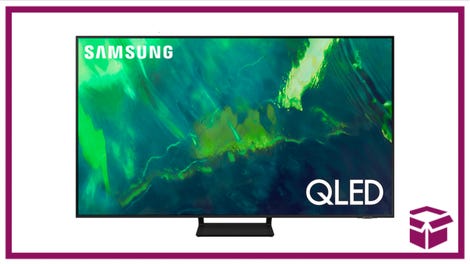 35% off
Samsung Q70A QLED 4K TV
Save big with this Samsung sale
If you're ready to drop some cash on a TV, now's a great time to do it. You can score the 75-inch Samsung Q70A QLED 4K TV for a whopping $800 off. That knocks the price down to $1,500 from $2,300, which is 35% off. This is a lot of TV for the money, and it also happens to be one of the best 4K TVs you can buy right now, according to Gizmodo.
He also made a change to the painting halfway through—he painted the woman's arm and then covered it with the cloak.
Another team shed light on some of the artist's sculptures (literally). Previously, researchers didn't know the foundry where five of his casts came from. They used the same x-ray fluorescence spectrometry method to create fingerprints of the metals in the sculptures. This revealed that the metal came from Picasso's collaborator Emile Robecchi's foundry in southern Paris, around 1941-1942.
Particle physics and art seem to go hand-in-hand, surprisingly. Even the Louvre has a particle accelerator on hand to analyze works, reports the BBC. But this research is mainly exciting for what it reveals about Picasso himself.
"If there is something that should come across, it's how resourceful artists are," said Julio Ottino, dean of the McCormick School of Engineering and Applied Sciences at Northwestern University. "They will use everything at their disposal. They know how to operate with constraints."