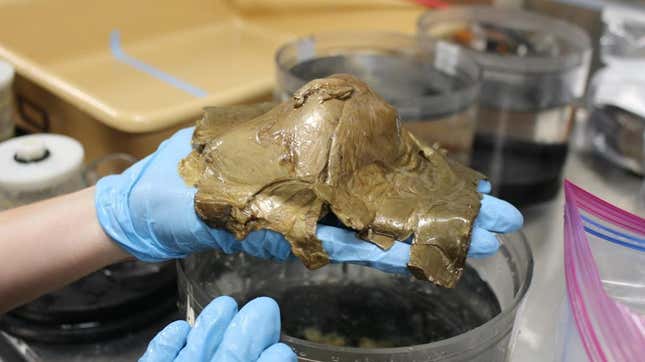 A team of researchers exploring the seafloor off Alaska last week recovered a peculiar brassy-yellow object at a depth of over 2 miles (3.2 kilometers). The researchers still don't know what it is.
"While we were able to collect the 'golden orb' and bring it onto the ship, we still are not able to identify it beyond the fact that it is biological in origin," said Sam Candio, a NOAA expedition coordinator for the ongoing expedition, in an Ocean Explorer release.
The roughly 4-inch-wide (10-centimeter-wide) structure was found firmly attached to a rock off the coast of Alaska on August 30, at a depth of 10,827 feet (3,300 meters). The object was spotted by scientists using the remotely operated vehicle Deep Discoverer, which was being operated off the NOAA ship Okeanos Explorer. The expedition during which the object was found is the ongoing Seascape Alaska 5: Gulf of Alaska Remotely Operated Vehicle Exploration and Mapping, which is slated to run through September 16.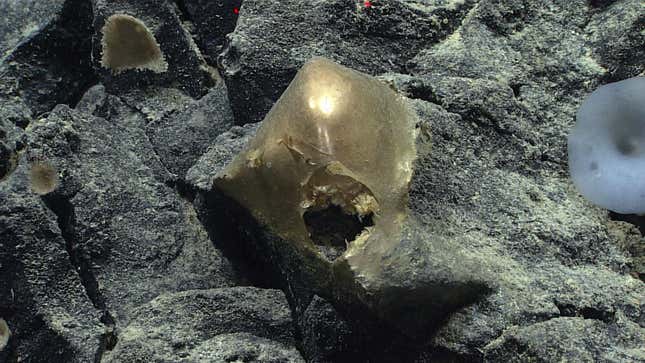 Under the sea, the mysterious object had a small hole near its base, where it was fastened to the rock. The coloration inside appeared to be similar to its external yellow-brown sheen. Initial guesses about the structure's identity included it being an egg casing, a dead part of a sea sponge, or a hitherto-unknown coral.
"We likely won't learn more until we are able to get it into a laboratory setting where we can continue to pull from the collective expertise of the scientific community with more sophisticated tools than we are able to maintain on the ship," Candio added. "While somewhat humbling to be stumped by this finding, it serves as a reminder of how little we know about our own planet and how much is left to learn and appreciate about our ocean."
The specimen was recovered by the Deep Discoverer's suction sampler and is now aboard the Okeanos Explorer, where the team will hopefully be able to identify it. Out of the water, the dome-shaped structure looks a bit like wet cardboard. But based on how it looked in its natural setting, it's probably not wet cardboard.
As we wait for more details about the golden dome, you can tune into livestreamed ROV dives happening daily at 1:00 p.m. ET. Happy hunting!

More: Deep-Sea Vents Might Solve Mystery of Ancient Ocean Carbon