What's the real reason that Paramount pushed back G.I. Joe: Retaliation? A children's book reveals some potential Dark Knight Rises spoilers. An Oscar-nominated actress returns to True Blood. Plus a new Prometheus video and lots of Amazing Spider-Man images!
Spoilers from here on out!
Top image from Doctor Who.
Iron Man 3
There's a new report out claiming to explain just how the movie's three villains fit together. First up, according to these reports, Ben Kingsley is indeed playing the Mandarin, despite Marvel's constant denials and director Shane Black going so far as to call the character kind of racist. However, he apparently isn't the main villain, with him instead being simply the power behind Memento star Guy Pearce, who will play the primary antagonist Aldrich Killian, who unleashes the Extremis nanotechnology army. Backing them up will be the relatively minor Firepower, played by Ashely Hamilton, and the recently spotted James Badge Dale as Iron Patriot. It should be stressed that none of this is even remotely confirmed, but it all seems plausible enough, as long as you buy the whole Mandarin rumor. [/Film]
The recent filming at the Cape Fear Club in Wilmington, North Carolina reportedly involved Robert Downey, Jr., supposedly an unidentified second main cast member, and a bunch of extras in military uniforms and suits like those of Secret Service agents. Further set reports suggest that parts of Wilmington are being redressed as Miami for a portion of filming. And then there's this fairly important tidbit:
While talking to some Wilmington locals, we had one source involved with the production tell us that Mandarin was definitely the villain. He said Mandarin had a set of twins that did most of his dirty work for him. Another source who had visited EUE/Screen Gems Studios told us that the sets they were building included Chinese storefronts.
G/O Media may get a commission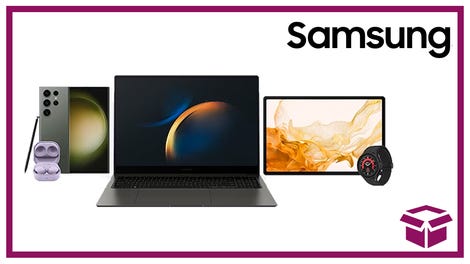 24 hour deals
Discover Samsung - Daily Deal
The "twins" referred to might well be James Badge Dale's Iron Patriot and Ashley Hamilton's Firepower, if only in the interest of economy of characters. I'd say those two could theoretically pass for fraternal twins, but obviously this is purely speculations, and indeed all these reports should be taken with a grain of salt until we hear something more official. [Comic Book]
---
The Dark Knight Rises
There's no guarantee that these children's book pages are an accurate reflection of what happens in the movie, but it probably does at least confirm that Catwoman will indeed be stealing one of Martha Wayne's necklaces while at Bruce Wayne's big fancy shindig. More pages at the link. [Comic Book Movie]
---
The Amazing Spider-Man
And here are some high resolution images of the new Spider-Man suit. [Comic Book Movie]
---
Star Trek 2
Here's an interview with Sherlock star Benedict Cumberbatch, who plays the still mysterious villain in the sequel. [Trek Movie]

Michael Dorn reveals he almost had a role in the sequel, although definitely not as Worf:
They called in November or December of last year and said "Hey, we would like to know if Michael is interested in playing a part of an officer –- a soldier." And we said "yes." Then time went by and we finally talked to them at maybe the end of January or February and they said they had changed their mind and that's as far as it went.
---
Prometheus
Here's a new featurette entitled "Space Travel." [/Film]

---
Snow White and the Huntsman
Here's a new clip spotlighting the dwarfs. [MTV Movies Blog]

---
G.I. Joe: Retaliation
Paramount's rather bizarre decision to push back the G.I. Joe sequel's release date from next month all the way to March 29, 2013 reportedly had little to do with the need for a 3D conversion and everything to do with some poor reactions from test screenings, with the only major positive reaction being to the relationship between Dwayne "The Rock" Johnson's Roadblock and Channing Tatum's Duke. That's problematic because Tatum is killed off in the first act, which is what instigates the "retaliation" of the title.
And now that Tatum has become a fairly massive star, Paramount is reportedly keen to reintegrate him into the movie one way or another, which will mean extensive reshoots that will possibly reveal his apparent death wasn't actually fatal after all. None of this is officially confirmed, of course, but it sounds as though the final movie will be very different from what was almost released. [Deadline]
---
Maleficent
Australian actor Brenton Thwaites has reportedly been cast as the prince in Angelina Jolie's Sleeping Beauty movie where she plays the evil queen and Super 8's Elle Fanning. [Film School Rejects]
---
Doctor Who
Episode eleven is reportedly the one currently filming at a Welsh manor — not the Christmas special, as originally suggested — and one fan watching the set claims to have heard the name of the new companion played by Jenna-Louise Coleman. It's reportedly Clara, although it's unknown if she also has a last name, what with there being some totally unsubstantiated rumors that she's playing a human-looking alien who might not have need for surnames. [Life, Doctor Who, and Combom]
Steven Moffat discusses the impact of Coleman joining the show:
It's just very exciting. When a new companion comes in it sort of reboots the show a little bit, it makes you look at the Doctor differently, it makes the show feel different, that's already happening. It's literally a new beginning, you're back to chapter one, in a way it's always a story of someone getting to know the Doctor, and now it's Jenna's character. There's a lot of ways (her character) will be different, but I'm not telling you what they are! Jenna is just wonderful and spiky and salty and clever: again - just as Doctor Who always does - it becomes a different show, and I'm thrilled with her, everyone's going to be.
He also assures everyone who will listen that the show's long-term prospects are just fine:
You're not getting shorter and shorter seasons, we're just splitting it over Christmas; we're making the same number of episodes as usual - I can tell by the grey hairs on my head - but we delayed it a few months to start it later in the year, that's all that's happened. There's no chance of the BBC giving up on Doctor Who: it's a huge money spinner, it's doing better than ever abroad, the global number of people watching Doctor Who has just gone up and up and up, it was the most downloaded show on American iTunes last year - not a chance of the BBC giving up on Doctor Who, not at all.
Elsewhere, he discusses further the show's new transmission schedule, which splits the series between the end of 2012 and beginning of 2013:
"I've been well up for anything that we can do to shake up the transmission pattern, the way we deliver it to the audience and how long we [make] the audience wait, simply because that makes Doctor Who an event piece."
And here's a video from stars Matt Smith, Karen Gillan, and Arthur Darvill in which they introduce Roath Lock, the show's new studio in Cardiff. [Life, Doctor Who, and Combom]

---
True Blood
The great Alfre Woodard, who is probably best known around these parts for her work in Star Trek: First Contact, will reportedly reprise her season three role as Ruby Jean Reynolds, Lafayette's schizophrenic mother. It's unknown exactly what role she will play in the upcoming fifth season. [EW]
---
Once Upon a Time
Costar Lana Parrilla discusses what the season finale means for the Regina and/or the Evil Queen going forward:
"Of course, the very final image viewers were left with as the smokeslinked through Storybrooke was that of Regina née the Evil Queen's face – curiosity-slash-concern ultimately overridden by a smirk of satisfaction - as she cast her gaze upon what Rumpel (played by Robert Carlyle) had unleashed. She seems somewhat conflicted. She's going through this huge loss with her son [Henry, now effectively Emma's ward], and yet now there is hope. If she needs magic to get her son back, then so be it. I'm curious to see what happens between Rumpelstitskin and the Evil Queen...I imagine that whatever it is, it is not going to be pretty!"
---
Warehouse 13
Here's the first promo for season four.

---
Alphas
The new showrunner Bruce Miller previews season two:
"Both how grounded and realistic, and how extraordinary and surprising, this season is going to be, will definitely surprise our viewers. John Pyper-Ferguson is coming back to continue his role as Stan Parrish, who is an Alpha who appeared in the last episode last year, whose ability is that he can heal himself. He has great recuperative abilities. But also that means he's lived a very long time. So the battle between Parrish and [the Alphas' leader] Rosen [David Strathairn] is really the centrepiece of our season. These are two very, very smart men, who both have an idealistic but very different vision of our future. The character of Hicks [Warren Christie] is going to be in a relationship that we reveal this year, sleeping with the boss's daughter. Which is very complicated, considering that he used to be dating someone else on the team, the character of Nina."
---
Additional reporting by Ben Vrignon and Charlie Jane Anders.