Yesterday, Chinese OEM Seiki officially priced its 50-inch Ultra HD TV at $1500, making it the cheapest 4K television in the history of absurd resolution. It's cheaper even than the last round of super-cheap Chinese 4Ks we saw. The price is so low, in fact, and the brand name is so unfamiliar, that you have to wonder if this television was a joke—or worse—a piece of garbage. I'm one of the first people in America to see this mythical creature, and I'll tell you right now: I can't believe my eyes.
We got a chance to watch 4K content on Seiki's 3840 x 2160, 120Hz LED beast for about 30 minutes today, and it was totally breathtaking. Much of the footage was stock 4K so, you know, it was amazing and perfectly shot and calibrated. But even with that knowledge in mind my brain was bombed by the clarity and detail of the picture. It's hard to get over the thrill of squinting at a TV up close and not seeing a pixel or a blur.
While watching footage of a tokyo cityscape, I could see the tiniest details like, for example, a tiny train navigating its way through skyscraper canyons. I also watched a 10-minute clip of animated video designed to be representative of 4K video content, and it was totally enrapturing. The TV was only 50-inches, but the picture was so immersive that you could've told me I was in movie theater.
G/O Media may get a commission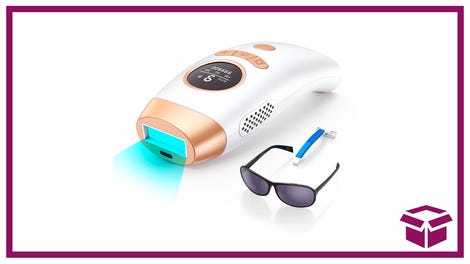 58% Off + Coupon
IPL Hair Removal Device
Now, this wasn't a full, formal test of the TV so we can't argue for sure that it's a keeper, but for a 4K, it is unbelievably cheap. Please remember, too, that there isn't a whole lot of 4K content out there, but a lot of big companies like Sony are planning to start delivering large amounts of it within the next year. 4K is a fairly safe bet for the future. Investing in a 4K panel doesn't seem as crazy today as it did a few years ago. The power of the television's 4K-scaling engine will also be a very important measure of its worthiness and we haven't seen any 1080p content on it yet.
Seiki also told us that there would be a one-year, no-questions warranty. The company is hoping to have a 65-inch 4K TV ready by mid-summer.
The TV is cheap in part because it doesn't come with any bells and whistles. It's just a straight up beautiful panel with three HDMI inputs. The simplicity is a clear rebuttal to Sony, Samsung, LG, et al, and we're willing to bet that Seike is right about one thing: People don't really care about connected TV crap and 3D or even a brand name enough to spend $25,000 on a TV. People just want simple, beautiful televisions they can afford. What good is a television the price of a sports car? Sure, at $1500, Seiki isn't gonna going to make any R&D money—but the company might actually sell some TVs. We're totally intrigued.