Earlier this year, we reported on Tomotaka Takahashi, the famous engineer who sent the first talking robot into space, and his plans to make robots as popular a consumer electronic as smartphones. He'd been teasing a humanoid phone to debut this year, and here it is: a cutesy, talking, limbed phone that hitches rides in your front pocket.
It's called RoBoHoN (a portmanteau of the Japanese words for "robot" and "smartphone," pronounced "robo-hoan"), and is a collaboration with Japanese electronics giant Sharp. RoBoHoN acts as a phone, alarm clock, email and text message secretary, camera, movie and image projector, personal assistant, taxi hailer, and a lot more. He's 7.5 inches tall, weighs 13.5 ounces (not even a pound), and also recognizes your face. He connects to wifi, 3G, and LTE.
Despite the big Sharp bucks behind the gadget, I wonder if Westerners—or at least, Americans—will respond well to the 'bot. Just like the canine Aibo before it (the robot dog whose "death" sometimes prompted owner-led "funerals"in Japan), I think Americans and Japanese alike might look at RoBoHoN as a cute toy and not as a must-have mobile device.
Cultural differences are already influencing how robots are marketed to Americans. For instance, Pepper, the cheerful, joke-telling, Japanese humanoid that sold out of its first 1,000 units in one minute, is getting an attitude adjustment for its American audiences. Instead of being super kawaii and polite, the Americanized Pepper is snarky and sarcastic. I fear RoBoHoN is veering into the overly cute category, which isn't to say it couldn't be culturally tweaked to better fit any given market.
G/O Media may get a commission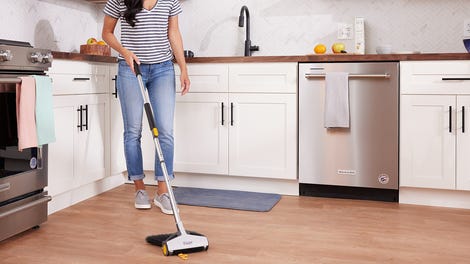 BOGO 50% Off
Flippr - BOGO 50% Off
But the real issue is how useful the thing is. Takahashi thinks that if devices are personable, fun and engaging—basically, the anti-Siri—then humans will want to interact with those machines more. But if consumers think this alternative is too wacky or unwieldy—or that it doesn't provide enough unique features compared to a conventional smartphone—it may be a while before robots become the next must-have consumer electronic.
Still, it's an interesting step into a broader market for robotics, and it does some really cool things. RoBoHoN is supposed to hit store shelves in the first half of 2016, but no price has been revealed yet. What do you think about having a walking, talking, net-connected buddy?
[RoBoHoN and Sharp via Akihabara News]
---
Contact the author at bryan@gizmodo.com, or follow him on Twitter.