Canon 50D 16-35mm
ISO 400
f/2.8
1/1000
This was a harder shooting challenge, being out in the suburbs of Chicago there's not much height. Luckily, I managed come across this perfect scenario. This is a shot of a stairwell under construction at Oak Brook Mall, in Oak Brook, IL.
-Michael Durr
I set off for the zoo with the idea of a colorful shot of flamingos, monkeys or seals for this challenge. But I forgot about the layers and layers of overhanging fence, even at the tiger's open air yard, where there was a great pedestrian bridge. Besides, the tiger never came even close. Ditto for all of the adorable children wandering through the zoo. I wasn't tall enough or fast enough to get that shot from above. Then I saw the perfect (and more compliant) subject - a family of monkeys in the concession stand. It's even hard to tell that I was shooting straight down, because they were looking up so beguilingly. Thankfully, they held very still while I moved my feet out of the way and leaned in for a shot.
Nikon D5000, 38 mm., 1/800, ISO 640, f/5.0
-Cathy de Moll
G/O Media may get a commission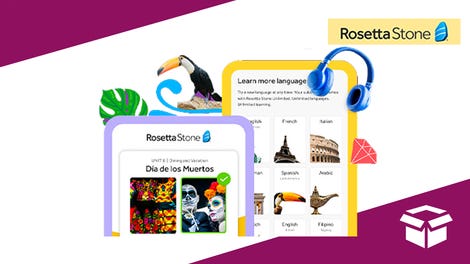 Extra 20% off
Rosetta Stone Lifetime Subscription - All Languages
Canon T2i
Kit lens at 18mm
ISO 100
f/3.5
1/15 sec
I put my camera on my tripod, did a manual focus, set the 10 second
timer, and held it out my apartment window, getting it into the
branches of the tree right outside in Roscoe Village, Chicago.
-Rob Lennox
Taken by a Canon D60, 18-200 mm lens,
80 mm focal length, 100 ISO, f 5/6, 1/200sec.
Midsummer eve. The last Friday in June. Sweden's real national day in many Swedish people's eyes. Swedes come together to dance around the flowerclad midsummer poles, eat herring and drink. Lots of drinking. Here is a shot of Jägermeister taken from straight above, the setting sun captured in the reflection. The idea was to capture midsummer in one shot, the drinks, the weather, the warmth, the sun not setting until late in the evening.
-Markus Hansson
Cheers
This week, the shooting challenge was again tough for me. I had no ideas.
Since it was so hot this weekend we rather stayed in the house and drunk there our drinks. I still had no clue what to shoot. After a while...the beer has almost gone...i realized that this could be a good shot. So here you go
Conclusion: Beer is not only a bad thing :-)
Taken with a Nikon d300, 105mm Macro, Iso 200; 1/60, F8, Sb900 Fired remotely
-Markus Enderlin
My Brother has been telling me to take part in your challenge for some
time now, I tried for the solstice but was to slow, if you would like
to see what i Wanted to enter please see:
http://www.flickr.com/photos/tjrohwer/5869536471/
Well now for Above.
So many Ideas came rushing into my head when I read the challenge,
unfortunately due to weather and time I couldn't get what I wanted.
Since my time had almost run out I sat down, made a cup of tea and
thought about it. I forgot to remove the teabags and when I looked
into the pot I saw the most awesome symmetrical Image. Capturing the
image was harder than I thought. Here I give you my best shot, though
it is not what I deem best.
I took the photo in Manual mode on my Canon 60D 1/100 f2.8 ISO800
-Tim Rohwer
At the zoo with my niece. I wanted to get a mountain goat on the rocks or
something but the animals were way too cool for school. My lil' niece was
lovely enough to jump in last minute. I wasn't anywhere near a bridge or super
tall building. Just a few feet above ground.
ISO: 200
Shutter: 100
Aperture: f/3.2
a little bit of PS if you didn't notice....
Thanks!
-Tina L. Pierce
As I was preparing my dinner salad, I stumbled upon this beautiful tomato and just had to take a picture of it. I took the picture with ProHDR on my iPhone. It's not taken from a large distance but it turned out almost perfect; one green "leg" is bent. For that reason i decided to name it "Not-So-Perfect Tomato" :)
the specs: iPhone 4+ProHDR, f/2.8 , 1/120 sec., ISO-100, fl 4mm, no flash
-Manuel Vrhovac
Well, it isn't quite a glider, but I figure skydiving is pretty close.
This photo is a still from my helmet-mounted GoPro that captures my
hands waving off everyone around me just before I deployed my
parachute. I was jumping with my team in Eloy, Arizona on Saturday,
and this is the view of our delightfully-barren landscape from above.
In the bottom left corner you can see the runway, and on the right
side you can see the vertical wind tunnel and one of the landing
areas. The focus of the picture is my altimeter, showing that I just
passed through 3,000 feet and should be thinking about opening the
parachute pretty soon. The picture quality isn't great, but I thought
it offered an interesting first-person perspective on the whole thing.
Camera settings:
Frame from GroPro Hero HD video, 1080p video setting
-Alex Swindle
Hi,
this is my photo for the "Above"-challenge.
It isn't great, I know, but it's the only photo that was taken "above" of something ... me.
I gatortaped an old Nikon S210 to my ar.drone and took off. The drone actually flew some meters (yeah ... we have the metric system here) before it crashed. The camera was unharmed but the drone didn't survive.
This is the only shot that's worth anything and I think I owe my drone to send it in.
I used a Nikon Coolpix S210 according to EXIF at f/4.6 and 1/151 sec. Focal lenght was at 6mm.
It was taped to the bottom of an ar.drone. Very professional - very destructive to the ar.drone. Don't try this at home, kids :)
-Bernhard Petracek
GoPro HD Camera in photo mode.
Thought this would be an interesting challenge using the GoPro's extremely wide angle lens. Took a few pictures through the sunroof and then had the idea for this one. Hope you like it.
-Cody Clarke
Equipment is a Nikon D90 handheld with 50mm Nikkor 1.8D lens with 3-axis bubble level on the hot shoe.
AUTO mode:
Aperture: f10
Shutter: 1/400 second
ISO 200
Auto settings for exposure and white balance.
Initially, I took some pictures from my 8th floor patio of the sidewalk below. It was not very interesting down there at 7:30 AM on a Friday in late June. So I puzzled as to what to shoot. I finally happened upon the low-hanging fruit of LEGOs. I took some pictures of the Landmark series (such as the new model for the Burj Khalifa building in Dubai). Finally I pulled out the Fallingwater model which is one of the more detailed models I had. I leveled the picture and tried to get some interesting shadows. So here we are.
-Cory
My girlfriend rescues Great Danes, which as you know are big dogs. She has a small leather couch in her living room that they spend a great deal of time sleeping uncomfortably on. For the shot I stood on a bar stool and put camera against ceiling shooting straight down. Used black and white as I thought it made for a more interesting shot.
SLT-A33 w/ Kit Lense
Aperture F3.5
Focal Length 18.0mm
Shutter Speed 1/30th sec.
ISO 800
-Felonious Max
Camera: Canon 5D Mark II
Lens: EF20-35mm
ISO 800
f 16
This shot takes advantage of some external brick repair being done on my building.
While extending the camera on a monopod, a power cable was hooked on the camera's unused flash mount.
Hopefully, the wire gives a greater sense of height and depth to the scene
Post processing involved some minor vignetting and saturation to enhance the tunnel perspective effect
-Daniel Jones
The following picture was taken on Saturday June 26th at 7pm in Caledon, Ontario, Canada. I took a photo of this bridge because as a child I was always fascinated with the high of the bridge above the roadway. The bridge is 110 feet above the river and roadway. I wanted to get the treeline parallel to the train bridge. The photo was taken on a canon 60d. Shutter Speed 1/8, F 7.1, 18mm, Iso 100, it was taken with a canon 18-200mm lens.
-John Mastrella
This shot was taken the evening of Saturday, June 26th at the Highline (www.thehighline.org/) on the West side of Manhattan. The park is built on a an elevated train track used in the Early 1900s. It's a perfect place to take a walk and enjoy the sunset. I had taken my camera with me to shoot the sunset and since we were on an elevated platform, I thought it would be great time to try and grab an "above" shot that is required for this contest. Not all parts of the elevated platform/track allows visitors to walk up to the rails to look below because of landscape that is in the way, and roped off. I finally found a spot where I was able to lean over, extend my arms and get a shot. Luckily, there was a traffic light about 30yrds away from my position, causing traffic to back up and this is why I caught 2 NYC cabs in the shot. I blindly focused on one of the cabs by extending my arms (holding the camera with the grip of death), pointed to one of the cabs, then re-composed and took the shot. Enjoy!
Tech info: Canon 5DII w/ 24-70 2.8L lens, shot in Manual mode, at f/3.5, shutter at 1/80th, and ISO 400.
-Carlos Yepez
I just got home late from a long drive back from college and my dog, Olivia was sleeping on this step. I thought it was hilarious and kind of an awkward way for a dog to sleep, so that initially prompted me to take a photo. After a few snaps, I realized I was missing a story to the shot, so I tried to make it look like I just woke up and was headed down for breakfast, but my sleeping dog was in the way.
Canon EOS Rebel T2i, EF-S18-55mm lens, ISO 3200, 28mm, f/4, 1/13 shutter.
-Frank Manda
This is the lower Multnomah falls near Portland, OR. It was taken from a bridge that stands 105 feet above the pool. The bridge goes over the top of the falls, not the pool, so I had to extend my camera out about six feet off the side of the bridge. I used a light weight tripod with a remote trigger to reach the six feet. I got a lot of worried stares when precariously extending my DSLR off the side of the bridge. I have to admit I was also pretty worried about losing my camera. I also tried getting some images from the upper falls which has a staggering 542 foot drop. Unfortunately a six foot extension would not quite reach over the falls edge from the observation deck. I decided my life was more important then jumping the railing for a picture. Canon T2i, 28mm, f/10, 1/100 sec, ISO 400.
-Ben Hugeback
Nikon D300s
Nikkor 18-55mm at 18mm
ISO: 200
Shutter: 1/100
Aperture: f/7.1
Edited to adjust the levels and rotate the image.
I was standing on my deck railing (which is wonderfully wobbly and made of rotten wood), holding onto a tree branch with my left hand and leaning my stomach over another tree branch to be able to reach forward enough to not catch my feet in the shot. My dear white cat, Loki, joined me.
-Katharine Case
Shot with a Nikon Coolpix S4100
800 ISO
Edited in iPhoto:
55 Contrast
Sharpness .80
I had just gotten a new camera after my old one had just died, so I remembered this shooting contest and decided to submit an entry with my new camera. I went up to the sort of terrace/lighthouse structure I have built into my house, and I took a few pics looking down into my front yard. They were all really boring and terrible. So as I was walking downstairs, I thought of taking a picture from above all the way down the spiral staircase. It came out really cool with interesting shadows, and all I had to do was tweak the contrast and sharpness in iPhoto to make it perfect.
-Joshua Gruenstein
I actually own several chessboards in my home but was surprised to see that my prettiest one happen to also be halved the wrong way (the line should be horizontal, not vertical). So, I just set up the board to be near an end game and took a picture of it. Shot on/with: 6/25/2011, Canon Rebel XSi, EF-S 18-55mm @ 40mm, f/5, ISO 200.
-Sheryl Delrosario
Title: TheLazyShot
Camera: Canon IXUS 95 IS
Settings:
Mode: Manual
Color: Vivid
ISO :800
WhiteBalance: Fluorescent H
Focus: Evaluative
Story:
I was thinking about places in Buffalo (NY) where I can pics from above however felt too lazy to get up from bed. So decided to take a click of myself instead. In this pic, I was trying to click as if I'm lifting weights in the gym (an irony to me being lazy). I guess I look like a hell lot funny when I do that. So now I have a good reason to never go back to that place again...
-Rishi Baldawa
I woke up Saturday AM with a mission to get over the top of some type of insect for this challenge, I knew if I got out early enough this could be pulled off. I didnt find a decent subject for some time, but finally this little guy was extremely photogenic. I havent been able to get a decent dragon fly pic yet this year so I was very hesitant to get close. I took several photos from "normal" angles prior to trying to get over the top just in case I spooked it. I was using a Canon T2i with the 31mm Opteka extension tube AND Raynox DCR 250 (Very small crop), the lens was the Canon 100mm USM at f/9 and 1/160 with home made flash diffuser. This is by far the closest I have been to a dragon, and I would of never gotten this angle had it not been for this challenge. Its hard enough to get 2 inches from a dragonfly much less get on top of it. It doesnt appear that I was at a 90 degree angle but check out the other photos and the way it was positioned http://www.flickr.com/photos/hooker771/ this was shooting straight down on it.
-Drew Eldridge
Camera: Nex-5, with the 18-55mm at 18mm. Aperture set at f3.5, but other settings were auto. Edited in WL Photo Gallery (I know). I fiddled around with Brightness and Co. and applied a red filter to get rid of nasty reflection. Besides, the Photo looks better in black and white.
My mother and I have a minor tradition every friday to have lunch at a restaurant. Usually it's Applebee's or TGI Friday's but, wanting to take a photo for the challenge, I suggested we dine at the Kingdom Tower. So, we went up to the observation bridge, looked around for our house, took some photos with our phones and, stealthily, I captured a few photos with my camera. (Photography with regular cameras is not allowed, for security reasons, I believe.) Then we went down to the restaurant at the 77th floor and had a rather fancy (but very, very good, and not too expensive) dinner. And that was that.
Oh, one more thing. I had bought the camera ages ago specifically to participate in Gizmodo's shooting challenges; but this is the first one I participate in. Wish me luck.
- Abdul Rahman S
Hi,
Camera GoPro 1080HD Hero, Exposure - 1/3000, Aperture - f/3.6, Focal Length 5mm, ISO 100
I had hiked up to Garibaldi Lake, 18km round trip for our geography class along with 40-50 other students. I knew it was going to be beautiful scenery so I packed up my radio control glider that carries a camera on-board to take some photos. I flew up very high, this was all line of sight, for this shot there was a huge source of lift that pulled my plane up really really high until it was just a speck so I had to plunge down, straight down to regain proper altitude and visual. Those islands you see there are called "Battle Ship Island" reasons I don't know, right next to them are these small cabins/huts thats were we had stop and rested and also where I flew from.
-Tuan Dinh
I was walking back to my desk at work, and was about to sit down, when I happened to look down into my glass of water and saw Marilyn Monroes face shinning through the bottom of my glass. My roommate bought me these awesome Marilyn Monroe drink coasters a while back to take to work. I remembered this weeks photo challenge and I put my iPhone carefully on top of my glass of water and got the shot. Used Camera+ app, and my iPhone 4.
-Alexiz Mendoza
Our six months old Gavin sleeping in his playpen. This was in stark contrast to the night before when he kept us up pass midnight crying for two hours.
We some how missed putting him to sleep at his usual 9:30pm time slot, so he was up and cranky. This was the first time that he actually cried that long. The night included new diaper, bottle (that he refuses to take) and a 15 minute walk outside around midnight.
So when my wife and I got back from work today, grandma had just finished putting him to nap. That's when I remembered this week shooting challenge. As new parents, but we now have a reminder to put Gavin to bed on time.
Canon 5D MKII, 50mm 2.5. 1/60 sec, f3.2, ISO 3200. I desaturated the color a bit, b/c i still like to keep some of those colorful animals. Added a vignetted to keep the focus on the subject. CS2.
-Jason Vo
I work in Midtown Manhattan, which is full of cool architectural and design details tucked away in odd corners. This manhole cover is one of the more mundane examples, but a favorite of mine. My original plan for this challenge was to seek out some epic ledge I could lean over, but this felt much more satisfying: a cool piece of design right under my nose. It looks like something that belongs more on the Battlestar Galactica than a New York City sidewalk. This was my first shooting challenge, but I'm hoping not my last. Nikon D3000 with a 50mm f1.4 lens. 1/80 s, f2.8 or 5.6 (it was a manual lens and I can't remember exactly), ISO 200. Color enhancement in Lightroom.
-Max Falkowitz
I just received my Sigma 8-16mm lens today and decided to take a shot from about chest height. The super-wide angle creates an interesting distortion. I plan on having a lot of fun with this lens. Taken on a Canon 60D, 8mm, f11, 1/60, ISO200.
-James Madara
I couldn't decide what I wanted to risk my life to take a pic of, when it was suggested that I climb up on the swingset and get the kids swinging. This is not an easy task at my age with my lack of pristine balance I had as a child. I got out my ladder and shimmied up. They decided that waiting for me to get "the good shot" of them on the teeter totter was boring so they changed to flipping. Turned out to be a great opportunity for some shots. Shot this one on my Cannon T1i ISO 400 f 9.0 1/320 sec,
-Robin P. Coats
I use a cheap Kodak C360 with standard settings.
I took this shot of the remains of the Tamales my family made for this weekend!
-Dave Burrescia
Camera: Nikon D5000 with kit lens (18-55mm)
Shot at 18mm with an aperture of 16 and an ISO of 160 (Low 0.3 on my camera)
My username is: AlexJDA
Summer is here (for those of us who have finished out GCSE's), and along with it comes the time for taking photos and generally messing around with my camera. So because I'm lazy, today I got up at 12:30, whipped out my phone and lay in bed browsing the internet. Up comes Gizmodo, which, along with the fact that I noticed my camera on my shelf, it reminded me of the Shooting Challenge.
With the idea to shoot at a 90 degree angle, I immediately thought of the roof over my kitchen which is flat, easily climbable, and about 10 feet in the air. At about 1 in the afternoon I headed outside and found that including the corner of the roof in the photo helped give it some perspective, along with the nice inclusion of my foot (which was intended to give the idea that you are standing there, which I was). I opened it in Photoshop, messed around with the curves, and found that black and white looked significantly better than plain coloured; and that was about it.
This is my first time doing anything like this, so I didn't expect miracles, but I am pretty happy with the result.
-Alex Duthie
This photo was taken with my trusty iphone as my friend forgot to charge her new Nikon.(Wah, wah, wah...) I used Camera raw to touch the images up. When I saw the challenge I thought it was kinda cool and most definately different. I had know real thoughts about how and where I would get this shot but shortly after I had that thought my friend nvited me to go to the San Diego Zoo. I said" Eureka!!!" Ill get a shot from the sky tram. Long story short I was so nervous about dropping my phone that i couldnt keep my finger out of any of the shots. The very first thing you see at the zoo is the flamingos along with random ducks and a big ole Peacock. Well I was able to lean over the railing to get a 90 degree shot of a little duck family. The longer I look at it the more I trip out. Even being 6 feet 4 inches tall and still have never seen anything from this point of view except for in an airplane.
-Jaison Fletcher
This was taken using my iPhone 4 whilst on holiday in South Korea. I was visiting the Expo Science Park in Taejeon for the first time in 17 years and got the chance to visit the Hanbit Tower, which this photo is taken from. In it's heyday, the place would have been packed with people, but now it remains hauntingly desolate. While looking out at the views, I snapped a shot of the ground, to remind me of how high up we were, and how much this place had changed.
-Jason Dewey
My wife and I took our 2 year old son the the Death Trap that is the North rim of the Grand Canyon. We had just left a family Reunion being held at Zions National park in Southern Utah and decided to hop over the see the Grand Canyon which was only 2 hours away.
The Grand Canyon is, well Grand but the park itself is a terrifying episode in is my child going to die today. Most of the trails border the cliffs of the canyon, with no form of protection to keep an over-excited two year old, who was just released from car seat hell, from leaping to his death. Now, I'am not complaining, it was a thrilling visit and I would hate to see over zealous protectionism ruin such a grand vista but the park could use some nominal safety updating. The picture I'am submitting is taken from a natural outcropping of rock that I assume was converted into a lookout point during the New Deal era and hasn't been touched since. So much time as passed since that time, that Mother Nature has worn child sized holes between the the chain link fence and the rock. Happily we all survived our trip to the North Rim death trap.
I shoot the photo on a Nikon D-5000
Lens 55-200mm
f-stop F/22
EXP 1/60
ISO 200
-Nathan White
Thank you
-Haim Bahari