Canon Digital Rebel XSi
1/40 second
F/5.0
27 mm
ISO 200
Most people walking by this small tree looked at the color of its leaves and continued to enjoy the rest of the garden. I took a closer look to see this angle, revealing some of the carefully pruned trunk hiding beneath the leaves.
-Adam Eldred

Canon Digital Rebel XSi
1/40 second
F/4.0
18 mm
ISO 200
By taking my angle even lower from the last shot I found almost a hidden world beneath the thick, colorful leaves visible from the path. The wonderful angles of the tree's branches were barely visible until almost fully lying down.
-Adam Eldred
G/O Media may get a commission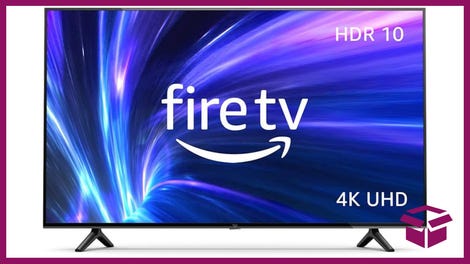 42% Off
Amazon Fire TV 50" 4K Smart TV

Canon Rebel Xsi with 18-55 kit lens
ISO 200
F/7.0 (5.63)
1/80 second
Here is my photo that I took on October 25th at Sequoia National Park. I was hiking to Tharps Log and the clouds started rolling over the mountain. It was really a very eerie feeling as this was happening. I am not a fan of Twilight but I was half expecting some werewolf action to happen. There was not too much fall foliage up there but the variety of colors and the fog makes a cool shot in my opinion.
-Andy Felt

Panasonic Lumix
For my ecology class at school we had to do several visits to the same plot of land and observe and record ecological stuff on paper. But of course since I was going to be out in nature I had to bring my camera to capture the sights on film. One part is from my first visit and the second is from my third visit, about a month apart. This spot is off the beaten path and I'm an explorer at heart and am very glad for that fact, because it would have been a shame to miss the changes and the beauty of this location. The fourth time I went, I couldn't get it at because the water in the Mississippi had risen from a recent snow fall and then melted and flooded into the area. I live almost smack dab in the middle of Minnesota, so we had an early start to Fall. I dream of the day of having a DSLR, but I am still happy, since I still get to mess with all the exposures and such with this camera.
-Andy Lindblom

Canon EOS 5D MKII with 24-70mm 2.8 L
ISO 400
Closing up the cabin in northern Minnesota with my son is a fall ritual. Here he has found "the perfect leaf, dad!"
-Bob McNamara

Kodak Easyshare Z712 IS
Both edited in photoshop CS5 as well, special help from the HDR toning adjustment, I decided to take these pictures while there were still colorful leaves on the trees and I wanted to get some good pictures of my car as well (1969 mustang) even though both ended up being edited to where the colors are changed.
-Brandon Harris

Nikon d40
Aperture priority
f/1.8
35mm focal
1/640 sec
Took a walk downtown saw a couple leaves in the shade that looked lonely.
-Brandy Hall

Nikon d40
Aperture priority
f/1.8
35mm focal
1/500 sec
In front of a house in Historical Downtown Oxnard, Ca I snuck up and took this shot real quick laying on someones lawn.
-Brandy Hall

Samsung Reality cellphone
ISO 400
Sunny White Balance
I was on a nature field trip when I looked up and was amazed by the leaves.
-Camille Eicholtz

Earlier this day i saw this contest on Gizmodo and thought of what i was going to take a picture of, and then i saw this beautiful tree. I used my iPhone 4 camera and an app called "Digital Focus".
-Cevin Church

Canon EOS 30D with the Canon EF24-105 L lens
ISO 100
24mm
f/9
1/200
-Chad Skidmore

Canon EOS 30D with the Tamron AF10-24 Ultra Wide Angle lens
ISO 100
14mm
f/7.1
1/60
We had a rare sun break this past weekend and while sitting and enjoying my morning coffee while cruising Giz and other technology sites I looked outside and saw the sun lighting up the trees in front of my house. It looked so nice outside that I quickly grabbed the camera rig and went outside to get some shots. Shot 2 was taken while laying in the frost on the street (hoping to not get run over) and shooting up through the tree.
-Chad Skidmore

Canon EOS 500D with Canon EF-S 10-22mm ultra-wide angle
105mm
F/4
ISO 400
1/1500
Located right at the centre of the forest, with freshly coloured leaves piled over years and years of past autumn leaves.
-Dallas Kwok

Canon EOS 500D with Canon EF-S 10-22mm ultra-wide angle
24mm
F/4
ISO 200
1/350
Right outside of the entrance of the forest, it was decently lit, and provided some interesting lighting effects. If you look closely, you can even see some faint spider webs along these leaves on the forest ground.
Hey, my name is Dallas, and I live in Toronto, Canada. Fall usually comes around the north a bit sooner than America, and it starts getting cold by around late October, which is why we have Thanksgiving earlier than the Americans. Anyways, I worked at an outdoor day camp during the summer, which was located at a beautiful conservation park. In my opinion, pièce de résistance of this park was the forest. In October, I took a fellow photographer friend with me to this park to take some autumn photos, and I didn't realize how beautiful it was, when it wasn't being trampled by children and in the blistering heat of the summer.
-Dallas Kwok

Canon G11
While hiking with my puppy Bandit in north Jersey. I used my camera and pointed straight down as we walked over some leaves.
-Daniel Kolasa

8 MP Motorola Droid X
1/2083 sec.
f/2.8
ISO 96
I was on my way to another job site. It was the morning after a huge
storm swept through the eastern coast and I had noticed thousands of
leaves all over everything. Each leaf had dew droplets formed all over
the surface. It was really neat! We have these small Holly-esque bushes
outside the office.
-Danny Sullivan

Today, me and my friend went for a walk/ jog in the park. It was an unusual day for fall, not like most days in the fall where one would expect the weather to be cool and brisk. It was quite the opposite today, the weather was warm and sunny like a day in Spring. The warm weather plus the wonderful smell of fall was in the air, which made our walk much more enjoyable than usual. Upon our walk in the park, I came across this area where the sun was shining through the autumn tinged trees , lighting up the path along the way. It was at this moment where i had to stop was i was doing, pull out my iphone 4 and snap a picture to remember this joyful sight.
This particular photo is the HDR version. The HDR version in particular reduced the glare from the sun and brought out more color in the leaves towards the top of the screen.
-David Wagner

Peeling Paint and Turning Leaves
Canon Rebel T2i with Canon EF 50mm f/1.8 prime lens
1/200s
f/1.8
ISO 100
I was out for a walk on Thanksgiving Monday here in Nova Scotia, Canada with some friends and decided to stop at the abandoned house next to theirs to take some pictures. The house was covered in vines with red and green leaves all over it. I was able to capture a brilliant set of red leaves in front of the house number with the peeling paint of the house only slightly blurred in the background.
-Devon Clark

Church Steeple at Night
Canon Rebel T2i with Canon EF 50mm f/1.8 prime lens
1/15s
f/1.8
ISO 3200
After having gone to see a play at the local university, I came out to my car to find a parking ticket. Feeling as though I was in the right, I decided to take pictures of the situation in order to have proof that I should not have received the ticket. I snapped this shot of the chapel steeple as I checked some settings to make sure I could capture the situation properly. As I was taking the rest of the shots I realized there was a no parking sign, so this picture was the only benefit of that shoot! I love how the moon is peeking out from behind the leaves while the cross at the top of the steeple sticks high into the dark sky.
-Devon Clark

Canon PS SX10
I took this picture on a hiking trip with my family. I saw the leaf and thought it was beautiful. I don't know the settings because I'm lame and took the picture on auto and then deleted it off my camera.
-Erica Rhodes

Canon Rebel XSi with Tamron 28-75mm f/2.8
ISO 400
f/4.0
1/60sec
32mm
Date/Time: 10/31/2010, 2:42PM
Post Processing: Output sharpening only
Took a walk through the Bronx Botanical Garden (NY) for the first time, instead of the usual Halloween activities. This one particular tree was gigantic at about 75ft, and the solid yellow color of the leaves made it absolutely stunning. I wanted to grab a shot that filled the frame with the color and decided to put my back up against the tree and shoot straight upwards which resulted in yellow as far as the camera could see.
-Ethan Handel
Canon EOS 1D Mark II
HDR
ISO 160
1/60
Taken last weekend on a hike through Shenandoah along the Appalachian trail. Great day, HDR really brought out the colors.
-Gareth Wishart

iPhone 4
Vignette Blur effect using Photoshop app for iPhone.
Photo was taken in front my friends home.
-Imran Anwar

iPhone 3
Vignette Blur effect using Photoshop app for iPhone.
Photo was taken in front my home.
-Imran Anwar

Canon EOS Digital Rebel XSi
1/60
f/6.3
ISO 100
47mm
I took this photograph (along with others) this past weekend on an abandoned monorail loop at a zoo here in Ontario. The monorail was shut down in the mid 1990's because of a crash, but the track remains standing to this day. We actually ended up lost in forest on the way out, but that's all part of the fun :P.
-Isaac Mazer

Canon Digital Rebel XT with 50mm f1.8 lens
f1.8
1/800
ISO 100
This was taken in D.C. at Rock Creek Park the day after the Rally to Restore Sanity. I went hiking with some friends, and saw this one red leaf amongst the hundreds of already dead and brown leaves. It made me stop and fall way behind the rest of the hikers. Worth it!
-Jason Grafinger

Canon Digital Rebel XT with 50mm f1.8 lens
f5.0
1/400
ISO 100
#2 was taken in Wilmington, DE at Rockford Park on 10/11... the first weekend that had some real color on the trees. I really like the holes in the leaves. Looks like they've been burnt through. I also love the little, delicate spider's web on the leaves.
-Jason Grafinger

Nikon D5000 with the standard 18-55mm lens
1/100
F5
While walking through the forest looking for fall subjects I found this reflection in a little creek with ever so slight ripples.
-John Shable

Shot these on my iPhone right outside my apartment.
-Jonathan Diaz

Canon Powershot Sx110 IS
1/60 sec
ISO 80
f/3.5
-Kalden Dhatsenpa

Canon Powershot Sx110 IS
1/640 sec
80
f/4.0
These were taken while i was raking leaves with my brother. I noticed it was a really nice day out and decided to run back in and grab my camera.
-Kalden Dhatsenpa

Panasonic Lumix DMC-FZ20 (point and shoot) with Leica 12X zoom DC Vario-Elmarit 1:2.8/6-72 ASPH
I took this photo (10/17/2010) in a wooded area near Memorial Lake (Indiantown Gap, PA). It was a bright sunny day and there was a 10-15 MPH breeze. Aiming my camera upward into the tree with the sun backlighting the leaves I took this photo (12X zoom almost fully extended) of the "dancing" leaves focusing my attention on the one larger leaf. It reminded me of the poem by George Cooper... "October's Party".
-Larry Doyle

Panasonic Lumix DMC-FZ20 (point and shoot)
Lens - Leica 12X zoom DC Vario-Elmarit 1:2.8/6-72 ASPH
Settings - unknown (taken hand-held, auto everything)
I took this photo (10/28/2010) in Memorial Gardens (Harrisburg, PA). It was an overcast, calm day and a light rain had just finished falling. Aiming my camera upward I found this wonderful branch on an oak tree... bent downward from the rain... with amazing cascading leaves containing water droplets. Under the tree the ground was fairly dry as the oak leaves shielded it from the rain. My 12X zoom lens was somewhat extended. The quote by Richard Jeffries is appropriate here: "Let us labor to make the heart grow larger as we become older, as spreading oak gives more shelter."
-Larry Doyle

Olympus E-PL1 (14-42mm lens)
f/5.6
1/80s
ISO 640
38mm
No flash
I then edited the picture using Picasa and Picnik. Increased the highlights and shadows to bring out some colors. Also used focal B/W with opacity at around 70%.
-Linlin Li

Olympus E-PL1 (14-42mm lens)
f/5.5
1/80s
ISO 250
40mm
No flash
Again, using Picasa and Picnik I increased the highlights and shadows to bring out colors. added a vignette edge for a nice frame and also to hide my fingers at the corner. Then I used Picniks CinemaScope effect which I love on this photo.
These two pictures were both taken on the same day, my birthday! I received a crystal (actually just glass) ball as a gift and wanted to try it out right away. Walked down the street, saw the beautiful trees and took some shots. It was harder than I thought it'd be, holding the ball (quite heavy) in one hand and the camera with the other since I didn't have a tripod, but I'm really happy with the way these two came out.
-Linlin Li

f/4.2
1/50
ISO 250
The pictures were taken at my mother's home in Belgium. She asked me to take some shots of the five-leaved ivy growing against the facade of her home because each year in fall they get these beautiful colors.
-Peter Proost

KODAK EASYSHARE Z1015 IS DIGITAL CAMERA
f/3.7
1/40
ISO 80
This second picture is in my eyes the story of fall.
-Peter Proost

Nikon D3000 with kit lens
Was just trapped in my apartment one day with nasty rain going on outside and noticed these leaves that had made their way onto my balcony railing with some nice water droplets still lingering. Had not spent any time taking close ups with my camera yet so decided to give this a shot. Was particularly happy with the strand of spider's web which just became visible in the background after switching to black and white.
-Rowan Forster

Canon 5D Mark II with Canon 100mm L macro lens (version II)
ISO 100
f8.0
1/160
Processing done in Lightroom.
The first (actually taken at end of morning) shot was taken as I was walking back to the car. I was looking down at the ground covering my camera from the light rain. I saw this leaf highlighted by the few rays of sun peaking through the clouds. A step back or forward and you would miss the light rays from the sun. It taught me to not give up even with the worst of conditions.
-Srinivas K Janardan

Canon 5D Mark II with Canon 100mm L macro lens (version II)
ISO 100
f8.0
1/200
Processing done in Lightroom.
Both pictures shot on October 24, 2010 at Pickerel Lake in Michigan. I went out to take fall picture in morning but very late in the season thus most of the colors were gone. The second shot was the best of the few good pictures that I managed to get. It was gray and dismal that morning. Sky was overcast and no depth to clouds. I liked this second shot for the very clear reflection that it made of the trees across the lake.
-Srinivas K Janardan

Canon XSi with 18-55mm lens
ISO 800
I took this photo on Oct 14th, thinking that i wouldn't have the fall colors for much longer, but for this particular shot i'm not sure it mattered.
-Stephen Galpin

Nikon D70s with 18-70mm (at 18mm) lens
ISO 200
f22
1/30 second
Editing: Converted to black and white and boosted contrast
Falling in Old Main
This photo was taken in front of Old Main, the administration building at Penn State University. I was walking around taking pictures and decided I wanted to take a picture of where the leaves end up. This shows a ground shot of the leaves on the ground with an almost bare tree looking up at Old Main.
-Stephen Sylvia

Nikon D70s with 18-70mm (at 34mm) lens
ISO 200
f4.2
1/40 second
Editing: Boosted contrast and saturation
Red Veins
I was walking around my neighborhood and noticed this tree with red leaves with a brick building behind it. I love how the leaves and the branches give you the appearance of blood veins.
-Stephen Sylvia

I took this photo during my normal days walk. Every time I see something nice, I always take a photo. Just think about when you are walking in a place like this.
-Tashi

SONY SLT-A33
f/5
30 mm
1/50
ISO 100
No Flash
I saw this lonely leaf fall off a tree into a flowing stream of water. The shoot had to be quick and I only had 1 attempt at it because it was on its way out into a lake.
-Tony Sheffler

Canon 50D with Tamron SP AF 90mm F/2.8 Di Macro
90mm
ISO 200
f/8.0
1/125
I currently attend the University of British Columbia, and if you've been there it's a wonderful place to see Autumn roll in. Anyways I brought my camera noting that outside my home window it was fairly sunny. However I live an hour away, so when I got on campus it was POURING. I was pretty choked, so I decided to walk straight to class. On my way though the sun decided to peek out between showers, so I took the camera out to see what I could take. I noticed a small conifer that was just covered by leaves from a nearby maple tree. This particular leaf caught my eye- mainly because it was quite large, and still had some rain drops left over from the shower. So I got in real close with the macro, and shot a burst of pictures. This one was the sharpest of the bunch. Pretty much straight out of the camera, with a small vignette applied and a small bump in colors in Lightroom.
-Vince Angeles

Canon 50D with Sigma 18-50 F/2.8 EX DC
50mm
ISO 100
f/8.0
1/100
HDR: 3
Exposures at -1,0,+1
This was taken on the same day as the first picture. The whole reason I decided to bring my camera on campus was because I would always walk by this tree with leaves that were the most stunning red I've seen locally. I would tell myself every sunny day that I should've brought my camera to catch it before it all fell off. And the day I decide to bring it, the tree was half bald! So I quickly took some shots so I could capture it before all the leaves were gone. In order to catch the break in the sky, I shot a 3-shot series and post-processed in Photoshop to really emphasize the red.
-Vince Angeles

Canon T2i with the ef-s 18-55is lens
Aperture 5.6
ISO 400
47mm
1/100
This is my Sunflower that died from the frost. It no longer looks up or follows the sun. I shot this by focusing on the little needles on the leaves while blurring the rest of of the composition. I planted my Sunflowers late in the season so they didn't get a chance to fully mature. I woke up one morning to see that the frost has gotten to them. I saw another type of beauty that day and decided to shoot it.
-Vitaly Zubenko

Taken nearby a bus stop with an iPhone 4 when I was waiting. Having "The Best Camera Is The One That's With You" in mind and everything was post-processed on the way within the phone. Montreal Canada has many rainy days recently. It is quite unusual compared to previous years. This picture depicts drowned maple leaves with some artificial traces on the right side and strong sun reflections on the left side. Voila an unintentional environmentalist message.
-Wesyu Lu

iPhone 4 using the Camera+ app using one of the Lightbox filters in Camera+
A friend of mine from Japan who now also lives in Toronto asked me to go on a bike ride in the city. I had at first thought it would be a ride through out the downtown core with not much in the way of seeing the nature side of things, but a 10 minute bike ride from our homes we found ourselves in beautiful Tommy Thompson Park looking across at the city core. While it's easy to say I've taken much nicer photos with my DSLR, I have to say I'm always kinda blown away with the photos the iPhone takes.
-William P

Olympus E-PL1
ISO 250
Shutter Speed 1/80 sec
Fall in Texas isn't a blaze of color like in a traditional autumn memory. Instead its a brief, quick fade to grey. Colors wash away like a painting left out in a rain storm. This little Zinnia suffered through the hell of a Texas summer heat and, now that its getting cool out, started to simply fade away.
-Will Thornhill

Olympus E-PL1
ISO 200
Shutter Speed 1/100 sec
The other thing that autumn in Texas brings is the wind...like a warning of the grayness lurking on the plains. And it will cut right through you. So, a high contrast black and white leaves of grass getting whipped by the first fall winds. A reminder of the austerity to come.
-Will Thornwill