Canon 550D
F/5.6
1/40 shutter speed
ISO-800
31mm focal length
This shot I really quite liked. To me, it kind of looked like the little plant was trying it's hardest to stay green whilst everything around him was turning brown. Just goes to show, Kermit was right: It ain't easy being green.
For this shot I was lying on the ground, totally prone, just to see if I could almost get a "plant's eye view".
-Alex Lane
Canon 550D
F/5.6
1/40 shutter speed
ISO-1000
18mm focal length
I found this really unusual structure in the woods, rather creepy. I felt very much like I was in a Blair Witch movie!
G/O Media may get a commission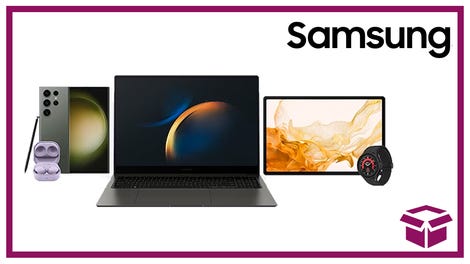 24 hour deals
Discover Samsung - Daily Deal
For this shot, I wanted to use the log as a leading line to the structure so that your eyes automatically follow the log, and almost have no choice but to look at the structure. I decided to angle the shot a bit so that you got the sense that it was out of the norm.
-Alex Lane

This photo was taken October the 2nd. Was walking back home from going to a baby shower. The camera I used was a Pentax K100D Super, lens was 18-55mm, ISO was at 1600.
-Amanda Lee
The picture was taken with my nikon d3000 camera and the standard 33-55mm lens, if i remember correctly, in my backyard in Aarhus, Denmark.
I used automatic iso settings, because I back then did not know what iso settings did. I did some simple photoshop editings to make it look like a painting,
and to simplify the picture.
In some ways the picture depicts the transition from summer to fall because of the contrasts in the leaves.
-Andreas Chatterton
Here is my second submission. It was taken on 25th of October on a hike to Tharps Log in Sequoia National Park. I guess it is not a traditional "fall leaves" photo. However the ground ferns are turning and it gives a great contrast with the green moss on the trees. Once again the clouds were rolling over the mountains making the trees drip with water from the moisture in the air. Again, it was pretty eerie.
Camera - Canon Rebel Xsi with 18-55 kit lens.
ISO speed - 160
Shutter speed - 1/25 second (4.63)
-Andy Felt
Camera: D90
Lens: Nikon 55-300mm VRII
Mode: Aperture Priority
Focal Length: 300mm
F-Stop: F8
Shutter Speed: 1/800 (image 1), and 1/320 (image 2)
I was at the local park trying to take a picture of the seagulls. It was a pretty cloudy day so the trees and leaves looked very dull. However, when the clouds passed by, the sunlight made the leaves look really nice. The sunlight lit the leaves and gave them a translucent glow. But by the time I noticed it and got my camera ready, the clouds were blocking the sun again. I waited for another 15 minutes, and when I got my chance, I took the photos of the sunlight behind the leaves.
-Avishek Shrestha
I was taking a brief lunch near the capitol building in Madison, WI when I caught the afternoon sun near one of the larger churches here. I originally tried shooting the sun through the leaves of the tree, but then decided to get a new perspective and ended up on my belly. The result is something that I was really pleased with.
-Brandon Kerr
For this challenge I decided to test the limits of my iPhone 4, and so I took both of my shots in the Hipstamatic app. The only post processing performed was the resizing of my images in CS5.
Again, for this challenge I was really hoping to aim for new perspective and, right place and right time, found this tree on campus with its leaves turning. I like how the orange leaves seem to almost be on fire with sun shining through them so brightly.
-Branden Kerr
Canon 1ds.28mm lens, shot at 1/125,5.6,at 100 iso, used two photos for this one other photo was shot at1/125, fstop 18.
I jog by here every other day,this place is awesome it's a little park around this lake with no way to get to this island which by the way it has an old foundation on it where a building once sat, not sure what could have been there and why.
-Brandon Gasaway

I was out for a hike with my wife at around the park near our house in early October. I normally bring my Kodak V803 with me, but today I thought why bring a camera now that I have an iphone 4? It was pretty windy most of the hike and the majority of the shots had very blurry water. On these two shots the wind died down enough to get some great mirrored shots off the water.
Equipment - iphone 4
Normal camera mode, no settings, no HDR
A little touch up in Microsoft Office Picture Manager to bring out the colors of the leaves that had changed.
-Brendan Dence
This Shot, was taken with a lot less drama... I left the house and was greeted by Fog... Vertically Thin Fog.... but Fog never the less... This was just after Sun-Up... and as I got into the car... ( a rather magnificent little beast...) I saw the Sun streaming through the Fog and Illuminating the end of my driveway... So I leapt forth, camera in hand and snapped off several exquisitely composed shots... hoping for the best... Later that very same day, after down-loading them to my shiny New Computer... I was delighted to see that once again I had triumphed over
the Automatic settings that came with my new Canon D60. I have since chalked it up to Luck... blind luck indeed...Both Shots were taken with a Canon D60, using a Tamron 24 / 70mm Zoom Lens,
The Leaf was Shot at... ISO 125... at a 250th of a second at f 6:3... The Focal Length was 28mm... The camera was mounted on a Tri-Pod. The Fog Shot was at ISO 100... at 500th of a second at f 7:5... The Focal Length was 57mm. Both Photos were run through Adobe Lightroom 3 and compressed using Adobe Elements 7. Everything that needed to be adjusted, poked, tweaked, prodded, and nudged... was... sometimes more than once.
-Charles Carroll
This Photo of the Leaf is... to the best of my knowledge the very first leaf to fall here on Cape Ann this year... I was walking along the Coast Road when I heard... or... rather felt a slight shift of the local balance... then glancing to my right, as I often do...
I witnessed this Leaf detach itself from it's branch and with a barely audible sigh, settle slowly to the ground... Rushing over I scooped it up and returned to my cavernous studio, and subjected it to several hours of Spotlights, Klieg lights,
Reflectors, Remote Flashes, and in the end Direct Exposure to the Sun..Of the several thousand shots... this is the only one that survived the Editing process... So, here it is... hope everyone likes it....
-Charles Carroll
I'm new to the digital photography world so I'm experimenting with using my camera on fully manual. It's fall time in Seattle and the leaves are beautiful. I loved being able to capture so many colorful leaves at various depths in this shot. I really allows me to see the impact of various aperture settings.
-Chris Carlson

Simply used the iPhone 4 camera with no HDR.
I was walking out of my stratigraphy lab and thought this would make a nice picture. The KU campus is always so pretty during the fall, but I always forget to bring my Nikon with me. So unfortunately the only pics I have of it are via my iPhone. However this one came out quite nice. Don't ya just love fall?
This was taken on the University of Kansas Campus, right outside Lindley Hall.
-Chris Clemmons
I used the iPhone 4 (ISO 80, 4mm, f2.8, 1/2011) for this photo.
I was driving back from Walden Pond, and as I crossed the Concord/Lincoln town line, I noticed on the side of the road this beautiful field enclosed by a line of trees whose leaves were starting to change. I pulled over and took a couple of pictures with a Canon 7D, and as I was putting it away, I thought of trying out the HDR feature on my iPhone. I aimed the iPhone slightly towards the sun to catch the sun's rays, wondering how much detail in the trees and grass the HDR feature would allow me to capture. I was impressed with the overall results, considering how limited the iPhone camera is. This was the second shot I got, with a color effect applied using the CameraBag iPhone app, softened slightly with Nik Software's Color Efex Pro to reduce some of the camera noise, and cropped using Aperture.
-Chris Portal
Canon Rebel Xti, Aperture Priority Mode, f/11, 200 ISO
Went out shooting today to take a break from studying, and decided to photograph some vibrant Fall foliage that had caught my eye but was fading quickly with mountaintop winds whipping away leaves daily. This picture was snapped right before sunset, on eye level with the tall grass and leaves.
-Clayton Powers
Canon Rebel Xti, Macro Mode, f/13, 200 ISO
After cleaning up a picnic with my family in the area of Frozen Head national park, I pulled out my trusty Canon and snapped a few shots of the leaves that had fallen in the spot where our lunch had been minutes before. Increased DOF to emphasize the light and dimensionality of the subject.
-Clayton Powers
Camera: Nikon D300
Lens: AF-S Micro Nikkor 105mm 1:2.8G ED
Aperture: f/6.7
ISO: 400
Exposure Bias: +5 EV
This was taken next to the house where my dad grew up. It took a few shots to get the right exposure. I was seeing sunspots for a while after finally getting it right. This photo is hanging in my cube as a reminder.
-Cory Cousins
Camera: Nikon D300
Lens: AF-S Micro Nikkor 105mm 1:2.8G ED
Aperture: f/5.6
ISO: 400
I shot this photo next to a dirt bike trail near an old strip mine. I was startled by a grouse taking off a few feet away shortly after taking the shot.
-Cory Cousins
"Beautiful Decay": Here in South Eastern Idaho Fall come fast and is merciless, it seems like one day its summer and the next is winter so i was out during the short few weeks of this beautiful season. this shows the beauty of the already decaying leaves surrounded by those more stubbourn ones that only have a few chosen days left till they are Fertilizer.
Canon EOS 5D Mark II f-stop f/4 Shudder 1/125sec ISO 500
-Dustin Landon
Out hunting sunsets during fall in the foot hills of idaho. little tweaks in levels to bring the forground out,
Canon 5dmk2 F/4.5 1/40sec iso 100
-Dustin Landon
Shot with Canon Rebel XTi with 18-55mm kit lens ISO 100. The idea was to capture a wooden bridge towards the fall and I found a nice tree from Ruoholahti, Helsinki, Finland and took a photo of it.
-Eero Konttinen
Shot with a canon xti
100 iso
75-300 lens ( i think)
hdr image -2 0 +2
This is a picture of a tree in Akin park in Evansville, IN. It was one of the first trees to start turning colors in the park, so I decided to take a picture of it.
-Erik Bell
Nikon D80
18-105mm Nikkor VR Lens
Shot at:
ISO 200
1/160s
f/4.8
42mm
Shot at the Connecticut College Arboretum on the first day of November.
Caught the sunlight shinning through the leaves giving them a deep red color while still revealing the details in the leaves.
-Jeremy Domen
This picture was taken with a Nikon D5000 with a 18-55 mm lens. It was taken at a pond by a beautiful church. My family and I walked by there to admire the beautiful autumn leaves and take some pictures.
-Jessica Weller
This was taken with a Nikon D500 with an 18-55 mm lens. It was taken by a small pond nearby my house. I was out taking pictures, and I loved how the light hit the lamppost and how the autumn colors fell behind it.
-Jessica Weller
View of Mount Moran looking across the Oxbow Bend of the Snake River in Grand Teton National Park.
Date: September 30, 2010
Camera/Lens: Nikon D300 DSLR with Nikon 18-200mm lens zoomed to 34mm.
Exposure: 1/400 at f/10 (ISO 500)
Having been to Grand Teton once before, my wife and I knew that the aspen and cottonwood leaves are at their peak fall color around the end of September, so we planned this trip around that. We had a perfect day with almost no wind to ripple the water and ruin the reflections of the mountains and the trees.
-Jim Chambers
A shower of aspen leaves, Grand Teton National Park.
Date: October 4, 2010
Camera/Lens: Nikon D300 DSLR with Nikon 18-200mm lens zoomed to 48mm.
Exposure: 1/320 at f/9 (ISO 400)
Having been to Grand Teton once before, my wife and I knew that the aspen and cottonwood leaves are at their peak fall color around the end of September, so we planned this trip around that. We were very lucky to be driving down this park road when the wind picked up and blew a shower of colorful aspen leaves onto the road.
-Jim Chambers
I live near Seattle and after seeing this contest posted I decided yesterday to drive down to the Seattle arboretum and take advantage of the nice weather. For both of these photographs I used my Nikon D70 on manual setting with an ISO of 400. The first photo I submitted was taken with my portrait lens, a 50mm f/1.4D AF Nikkor. The second photo was taken with my 18-70mm AF-S DX Nikkor.
The first photo submission was taken inside the Japanese Garden park, which is located at the Seattle arboretum. This photo required very little post processing and leans heavy towards the "pure" scale. The whole tree was just as colorful as this close up of some of the leaves. The rules mention we're allowed to use two submissions, so use the second one to experiment and get creative, so I did. During post processing of my second submission, I was able to achieve a subtle heart shaped bokeh effect in my depth of field. I figured since the photo was already so warm by itself it would compliment the atmosphere of the photo.
-John Hull
I used my 50mm 1.8 along with my XTi to take this picture. I took thi
picture in Branson MO during my trip back to the states in October. I was
amazed at how the leaves turned red back home. In china where I live,
such a phenomenon never happens. This picture reminds me of the beauty of
fall back in my homecountry. f/9 1/500 -0.67ev 200ISO.
-Lucas Lim
Nikon d60
iso 500
standard lens
1/500 sec at f/5.6
I like the leafs colors and how it encompasses the feeling of autumn, and the tree in the background as if the leaf was falling from the tree. But really, its attached to my window.
-Marcus Garcia
camera Pentax K20D slr
lens TAMRON AF 18-250mm F3.5-6.3
focal length 220 mm
ISO 200
f/6.3 1/180
Story:
After a lot of strolling at a local photo festival in my hometown. My head full of impressions and images. I crossed a small canal. The fallen leaves caught my attention. A moment of peace. Time to make a photograph. With this image I celebrate the silent beauty of the autumn leaves. Floating. Showing their abstract quality.
-Monique van der Lint
camera Pentax K20D slr
lens TAMRON AF 18-250mm F3.5-6.3
focal length 250mm
ISO 100 F6.3 !/180s
Story:
Staring over the soothing waters. I could not resist capturing this single floating leave. A first sign of the season. Fall.
-Monique van der Lint
Canon 5D MKII with Canon 17-40 F4 @ 17mm / ISO 200 - f/11 - 1/80s
Ok, you probably didn't expect any B&W entry for this one. Actually I turned down the saturation by accident in Lightroom and I was quite please with the result. That IR like was captured in the Phoenix Park in Dublin, Ireland. About one hour before sunset.
-Nicolas Curri
Canon 5D MKII with Canon 17-40 F4 @ 40mm / ISO 200 - f/8 - 1/60s
Same city, same day, other park with the Botanic Garden this time. I was trying to get some decent classic fall shots before I found much more fun to look up under the flaming trees.
-Nicolas Curri

Nikon D300
ISO: 1250
Lens: Nikon 18-200mm f/3.5-5.6
Focal Length: 52mm
Aperture: f/4.8
Shutter Speed: 1/80sec
Fill Flash: Nikon SB-900
-Travis Patton

I took both of these pictures in my parent's back yard in Kingston, TN. It was getting dark and I knew I didn't have much time to get a good photo. I cranked up the ISO and flipped it into manual. It took me several shots for the flash not to blow out the photo, but I think that I got what I wanted :-). I then processed the photos with Lightroom 3.
Camera: Nikon D300
ISO: 1250
Lens: Nikon 18-200mm f/3.5-5.6
Focal Length: 56mm
Aperture: f/4.8
Shutter Speed: 1/80sec
Fill Flash: Nikon SB-900
-Travis Patton
Nikon D70s, 180mm Nikkor ED f2.8 (image shot at f8) 200ISO
While hiking the other day, I decided to bring a large silver christmas ornament with me to take some reflected shots of fall leaves in a sphere. I also use a larger sphere made of steel after a glass one I used last winter broke and cut my wrist along with one tendon. This glass ornament is only 4 inches in diameter, so it's not as tricky to handle in the wild. While I was taking some pictures, a family walked by. They were quite curious as to why I was taking pictures of a christmas ornament lying on the forest floor. I snapped them as they continued on their way.
-Peter Barvoets
Nikon D70s
180mm Nikkor ED f2.8 (shot at f8) at ISO200
This image was shot in my favorite Cemetary, Albany Rural, just outside of Albany, NY. This reflect'o ball I am using is 10" in diameter and is stainless steel. I have taken images in gazing balls before but decided to switch to steel after the one I was using last January broke when I dropped it on a workbench and a shard of glass cut my wrist, right through one tendon. Didn't hit a vein though. So it's steel from now on.
-Peter Barvoets
Fall leaves on the curb by my old house. One of my favorite photos I've taken.
Taken with a Nikon D70 on auto. 18-55mm standard lens. Pop up flash most likely.
-Peter Picchi
Nikon D50
Lens: 18-70mm F/3.5-4.5G @52mm
ISO 200 F/5.6 1/50s
I found this "caught" leaf at a relative's house in Des Moines, IA. It had floated down overnight and was caught up in a spider's web that was strung between the house and a clothes line. The wind had twisted it around a bit until it ended upright as seen in the photo.
-Rick Walstrom
Nikon D50
Lens: 18-70mm F/3.5-4.5G @ 70mm
ISO 200 F/13 1/125s
I was out for a walk in our neighborhood when I noticed the beautiful leaves at the local cemetery. After trying out a couple of different perspectives, I settled on shooting from under the tree out towards the service road nearby. The light hit the branches just right to highlight the bright orange and yellow colors.
-Rick Walstrom
Canon EOS Rebel XTi
Canon EF-S 55-250mm f/4-5.6 IS Lens
Full manual shooting mode
Shot at 55 mm
1/80 sec, f/11, ISO 800
Shot on the morning of Nov. 3rd (2010), it was about 40 degrees outside and I was on my girlfriend's 5th floor condo's metal balcony at 7-ish in the morning wearing only boxers. This is looking East towards Lake Michigan in the Hyde Park neighborhood of Chicago (yes, 2 blocks from President Obama's house). Auto levels in Photoshop was used.
-Rob Lennox

I'm Ryan Crowe, a 16 year old student from Reading, UK. These pictures are actually for my 'Autumn Leaves Project' so this contest was perfect. They were quite random, and I'm not sure why I took them. I had been riding about places looking for fresh leaves on my bike. Me and my friend James just sat down next to our bikes, and so I just took a quick snap! Neither have been edited, just pure camera raw-ness!
Both were taken using a Canon EOS 1000D 50mm f/5.6 ISO 400, on a sunny Saturday afternoon.
-Ryan Crowe
Taken with a Nikon D5000 1/200 f/5.3 ISO200 42mm. After spending nearly two hours walking through a nearby park I came home to find it had rained and thought the leaves in my driveway looked pretty with the water and shot this photo "blind". After all that running around the photo I liked best was the one right in my driveway! I did bump up the saturation slightly in post-production.
-Sarah Ganos
Taken with a Nikon D5000 1/320 f/5.0 ISO 200 26mm. While walking through the park I managed to find this tree with nearly all it's leaves still on it. The sun had just come out on a particularly dreary day and I liked how the sun shown through the leaves and really brought out the detail of the leaf with all it's little veins. In post-production I cropped to bring attention to the detail of the leaf and slightly bumped up the saturation.
-Sarah Ganos
These photos were taken with a Nikon D40x in Boone, NC. We took a 2-day roadtrip up from our not-conducive-to-fall-foliage hometown, Savannah GA.
-Sarah Meurer
Canon 5D II
Canon ef 50mm f/1.4
ISO: 100
f/4
Shutter: 1/800
wb @ 4700K
This was shot at around 2:30 PM on Oct. 29, 2010, a few minutes after my new ef 50mm lens was delivered. It was shot at the parking lot at my work in Cypress, CA.
It's hard to find that iconic "Fall/Autumn" type pictures living in Southern California. Or maybe it is for me :D
There isn't much to the story of this picture. I thought it was interesting to see these leaves fallen and laying in a small puddle after a light rain. Maybe my twisted take on life and how the one minute you're sitting atop a tree and the next you're down in the gutter. Ultimately these dead and dying leaves will help regenerate life again.
-Saret Son
Took an early morning excursion to Pillsbury Crossing near Manhattan, KS hoping to find some good fall colors next to the 40 foot waterfall. Unfortunately most of the trees were already stripped of their leaves and the falls were down to a trickle. Fortunately there was one area about 100 feet down river that still had a few trees with some color and some decent flow to the river. This shot was taken with a Canon T1i with a Sigma 10-20mm attached. ISO 100, focal length 10mm, f/22. 5 Shot HDR processed with Photomatix Pro 4.
-Scott Ackerman
Both these pictures were taken in Grand Teton National Park this fall. Both were taken with a Canon 5D and a 24-105mm lens. Picture 3-4 is a 9 picture HDR panorama at Oxbow Bend. Three shots per angle and processed in Photomatix. The other picture was taken with me lying on my back in a grove of trees. The falling leaves were added in Photoshop to give the picture more interest. Grand Teton NP is a most amazing location for fall photography.
-Scott Moss
I took both of these pictures on my Canon Lide 500F Scanner. Not sure they actually qualify for the competition but what the heck, you might like them.
I collected the leaves from my garden and arranged them on the scanner flat bed. Once scanned I imported them in to Lightroom 3 and processed them to bring them to life as they were a bit dull and flat straight off the scanner. I then made 3 virtual copies which I flipped horizontally or vertically as required and put them all together in the Print module of Lightroom, finally printing to file as a JPG file.
This one I placed a sheet of black card over the leaves before closing the scanner lid. Looks rather like a leaf kaleidoscope.
-Toby Haskins
I grabbed my camera and took these on my walk to class. Both of these I took are using a Sony Nex-3 with the standard lens that comes with it. I boosted the color of the second one (leaf) in iPhoto, but the first on is as is. Both were taken in Durham, UK where I am going to grad school.
-Tyler Cling