Equipment: manfrotto tripod, canon EOS rebel t2i, Focal Length: 35, ISO 100, Shooting in Raw, edited on Photoshop CS5.5
My friend and I LOVE gizmodo as well as photography. Even though we just photograph for a hobby, in high school we hope to become really really good photographers.
My backyard is beautiful (as you see) because the lighting is perfect with such gorgeous flowers. I think the flowers next to my friend are some of my favorite. Our first trial was him showing just his face but he suggested just his feet to make it a little more curious. It looks as though he's five years old and when the photo gets smaller it looks as though you are going back in time.
- Jacob
G/O Media may get a commission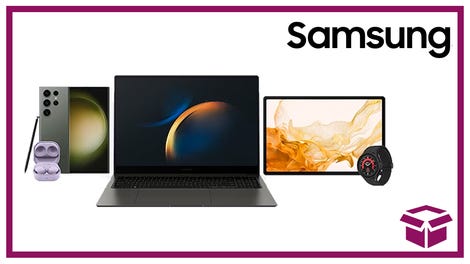 24 hour deals
Discover Samsung - Daily Deal
Canon50D, Canon 50mm f1.8 II lens - ISO 100.
I chose to shoot my muse and use circles for the frames. I used a HulaHoop for my 'frame". Shot in my backyard in various outfits. I planned out this shoot by first drawing, then designing in Illustrator. Final editing was done in PS5. It came as I had hoped - so I am pleased :)
:) Jen Tyler
I'm always late on entering these challenges and finally am entering one. I saw
your example of a frame and thought it was an example not a submission. I told
my son I wanted to do something like that.
We went up to the school because I was actually going to teach my other son to
drive. Well I just told my other son just to drive around the school parking lot
because I was going to take pictures of my other son holding a frame. Thankfully
my other son did not crash into anything while I was taking pictures of my other
son.
My camera information.
Sony Dslr A300
f-stop f/5.6
exposure 1/1600
ISO 200
Lens Sony DT 4-5.6/55-200 (I am down to one lens...my other one broke)
- Tiffany
Winner: The Winner is the Winner
My idea only makes sense if I actually win the challenge and end up as the main picture on the front page so please!…do the needful!
My lovely wife took the picture on her Canon T2i with a very long exposure so that almost the only lighting was from the iPad glowing up on my face. I was going to process it in photoshop but I decided to do four rounds of shooting instead, each time putting the previous shot on my iPad and then taking the shot again. Just kidding! I used photoshop.
If you zoom in real close, you can see that I already liked the results on Facebook.
50mm lens. 3 second exposure at f/4.
— Kevin Lawrence

Hello,
That was not an easy one! I thought I'd just walk in the street and the idea would pop up ... and it did :-)
I first pictured the slate of a flower shop, which gave me the idea of menus in Parisian cafés. With the help of lightroom, finally got something quite matching with my idea.
Nicole
Hi Gizmodo,
This is my take on a Royal Flush. I took the picture of the toilet bowl with a Nikon D90 at ISO 200, f/11, 1/60s shutter speed with an on-camera Nikon SB-700 flash using a Nikon 18-200mm lens. I took the inside picture of the cards with the same camera and lens at ISO 200, f/11, 1/60s shutter speed with an off-camera Nikon SB-700 flash to camera right at 1/8 power triggered by Nikon SC-29 TTL remote cord.
I'll admit that I was out of ideas until inspiration hit me in the water closet. So I incorporated my muse into the frame.
Thanks,
Mashuqur Rahman

"Guard's View"
Taken with a Canon EOS Rebel T3, 18 - 55 mm lens, ISO 100, f/5, 1/60. On a trip to Philly with a group of my students we visited the Eastern State Penitentiary, the oldest in the US. This is a view of cell block 1 from where the guards would stand. The penitentiary was built in a radial design, so the guards could stand in one spot and see each of the 7 original cell blocks.
- Brian
Cheryl MacLean
Canon 60D, Tamron lens 18-270 mm
f/20, ISO 400
My daughter was playing with bubbles with her friend and I took some photos to fulfill my photo-a-dayquest. It wasn't until I was looking at the results on the computer that I realized there were two concentric circles outlining her lips - the bubble and the wand. Bingo - two frames!
My friend took a picture of me taking a picture of him. I then took a picture of him displaying the photo he took in his camera's LCD screen. We then uploaded the picture I took (of him taking a picture of me taking a picture of him) to his SD card to display on his camera's screen. So I took a picture of him displaying the picture I took of him displaying the picture he took of me taking a picture of him while also using my iPhone's camera to frame his eyes while he simultaneously used his iPhone's front facing camera to capture me photographing it all.
*cue Inception trailer sound effect*
BWWAAAAAAAAHHHHMMMM
I took the photo with my Nikon d5100 at these settings:
18mm lens
2500 ISO
F18 aperture
1/10 second shutter
- Dan
Title: Untitled
Camera: Canon 550d (T2i)
Lens: Canon 50mm f/1.4
Aperture: f/7.1
ISO: 400
Shutter: 1/6s
Story:
I missed out on the last few shooting challenges and didn't want to miss this one as well. So whilst playing around with the bundled EOS utility, I noticed this frame within a frame effect that shooting the monitor itself was having and I thought to myself, what an easy peasy way of getting a frame photo! without the PS BS! So I setup a few possible scenarios that I could explore including a nude supermodel sitting in a rare Bugatti Type 57 eating an apple pie. Alas! It was not to be! The power went out and all I had left was about 40 mins of battery on ze old lappytop. So quick as I could, I took a picture of the Rothkoesque masterpiece "Untitled - Notepad" and then proceeded to copy->paste new layer->perspective adjust->merge layer a few times in GIMP (some PS BS was required after all ) and hey presto a few shabby seconds later I had the above results (subsequently resized in picasa).
-Arya J. (bl1tzkr13g911)
When I saw this challenge I thought of incorporating Mother's Day's into it, so Happy Mother's Day mom! I took this with my Canon T3i, ISO 1600, 1/500 at F5.6.
- Tracy
Here's my "Frame" entry.
Technique:
Shot the image today, 5/12/2012 on a Canon 5DMKII, 24-105mm lens at 24mm, RAW, ISO 320, 1/2000, F4. I cropped and flattened the perspective in PS CS6 using the lens distortion and perspective crop tools, then did heavy Photoshop work, painting and the like, to eliminate a lot of glare issues and add depth, lighting, shadowing to the concentric stars. I noticed the stars needed some kind of depth, like an inch of inset, to really read. I added a slight high pass filter overlay, honestly kept the tone and hue pretty flat, didn't do much color work, I kind of liked the milky lifted blacks on this one.
Story:
First thing when I saw this competition: I wanted to get away from square frames. Living in Hollywood, a Star on the Walk of Fame seemed a natural fit. Then I thought it a good play on tourism in general. I blended right in with my surroundings, everyone thought I was just a tourist who wanted a snap of MJ. I picked Michael Jackson because, duh, it's Michael Jackson - The King of Pop - and this is Pop Art :)
Cheers
Stephan
Hi Gizmodo!
I just got a Cannon T3i and am loving learning how to use it! On Saturday, I used the standard 18-55mm lens with the ISO set to 800. My boyfriend and I went to explore Baker Field. (I am from a town called Bakersfield in California) We thought it would be comical to bring my parents there when they come to visit. On our way back home we stopped at 190th station on the 1 and A line and walked the crossover tunnel that spits you out onto Broadway. The door you are looking at is to the entrance of that tunnel that takes you to the station. That particular door did not have a window in it, so it was really neat to see through. It is actually a combination of two photos. The door itself, and then what was taken inside the window being the other. (I took the second a bit closer so the lighting would show through. Anyway! I thought it looked pretty neat and thought I would share! Thanks for your time!!
Cheers,
Sarah Blevins
Shrugging off Photoshop, I stuck with old school photography and nothing else. Set up camera on a tripod, lock it down well, lock down camera settings on manual to keep light and color consistent, and the rest is a simple loop :
—> Shoot Pic —> Transfer to PC —> Set as desktop image —> Repeat —>
To avoid moving the target pc I administrated it from another computer on my network using VNC - not really necessary but I had the resources so why not.
Canon PowerShot SX20 IS, 1/40 sec. ,f/3.2, ISO-200
Cheap tripod
- BazookaJoe2.0

This picture involves 4 components that I've taken with my Nikon D40:
A section of the Sutro Baths, a picture of a painting, a picture of
waterfalls at the Yerba Buena Arts Center, and a close-up of my hands.
All of these components were photoshopped together to create a frame
within a frame within a frame.
- Stacy
Camera: Kodak EasyShare DX4530
Focal Point: f/2.8
Exposure: 1/10s
My smartphone has an app called On Screen Phone that allows to control
it from my PC, and see what is seen in the actual phone's screen. So
this challenge is an image of my phone's screeen, dislaying my pc's
screen through the Camera app.
The PC screen is displaying a "phone" showing the same image from the
actual phone's screen, that, as you already know, is an image of the
PC screen as seen by my phone's Camera app. And everything in real
time
Too long, didn't read: A Droste effect.
A side-note: The camera used for this challenge was/is my first
camera, 5MP, circa 2003. And that phone is my first smartphone, 5MP
too.
- Antonio
I was shopping in a store when I saw these framed mirrors that they
used to write the dressing room numbers on. I had an idea to use this
as my "Frame Within A Frame" picture. I cropped the photo (8x10) to
make the photo look square like a frame. I also flipped the image to
make it appear that I am taking a photo of YOU through the frame!
NIKON D700, Focal Length 24mm, Aperture f/2.8, Exposure 1/80 sec,
ISO-1100, 24mm lens.
-Mike Saechang
Hi, this is my entry for the contest, I don't know if you can consider it, since I couldn't include the lanrger (Wallpaper size) image, since it's the scan of the film, and I don't have a larger size of it.
Im currently studying Cinema Direction in Buenos Aires, Argentina, and I know of a gallery in the neighborhood of San Telmo, where I went to take some pictures last year and I loved the place, so I went down once againm and got this shot.
I used an Olympus OM 101 with a 35–70mm/F3.5–4.5 PF, 400ISO Kodak film.
f4, 1/500.
Hope it fits the requirements.
- Gali
My name is Morten Karlsen
and i'm from Denmark. (The capital of Sweden) LOL
In this picture I don't think the subject is as important as the technic used.
For a gadget site I hope this will right up your alley.
I had bought a Eye-fi card in that hopes of using it with my Canon 7D with a card-adapter.
But with the errors occasionally popping up on the card it was a no go for me. The card-adapter was to blame.
When these photos was taken I tried to sell it to my friend. He owns a Canon 600D with a SD slot (No adapter)
so it worked flawlessly every time. And just to show him I repeatedly took pictures of my iPad 2 using the app Shuttersnitch.
The app tells all of the details from the camera used to take the shot. A little later i saw this contest! :-)
Taken with a Canon 600D
ISO 400
f/5.6
1/60
50 mm 1.4 Lens